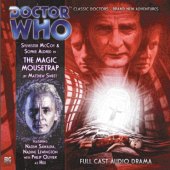 The Magic Mousetrap
(Matthew Sweet)

Following on from November 2008's "Forty-Five", the Seventh Doctor, Ace and Hex return to the Big Finish Doctor Who audio range in a season of three new adventures.



April's "The Magic Mousetrap", by historian, journalist, broadcaster and "The Year of the Pig" author Matthew Sweet, has been directed by Ken Bentley. The Seventh Doctor's first story in this run kicks off with a typically theatrical, larger-than-life story that sees The Doctor end up at a Swiss sanatorium in the year 1926, where director Ludovic 'Ludo' Comfort uses parlour games to keep his rich and famous patients busy. The Doctor soon suspects, however, that someone's playing a more sinister game. Someone with a score to settle…

The Doctor is played by Sylvester McCoy, Ace by Sophie Aldred and Hex by Philip Olivier who find themselves pitted against the return of an old enemy - The Toymaker.



This four-part story guest stars Nadim Sawahla (father of Julia Sawahla, and best known for playing the role of Doctor Hamada in Dangerfield), Nadine Lewington (Holby City) and Paul Antony-Barber (Doctor Kendrick in the season 28 television story "Rise of the Cybermen/The Age of Steel"). Also starring are: Joan Walker, Andrew Fettes and Andrew Dickens.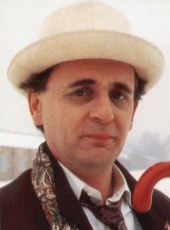 Seventh Doctor

As revealed by director Ken Bentley, 'I was over the moon when I first read "The Magic Mousetrap" It's so theatrical, and that's certainly a style - given my background in theatre - that I'm comfortable with. It's set in a sanatorium nestled on the side of a Swiss mountain, and getting the exterior scenes to sound right took a little work. We needed the exteriors to sound majestic, and we needed the characters' voices to carry across valleys and bounce back at them from the mountains beyond. But it's not just about the sound design at work, its about the actors inhabiting that place, making you believe they're there, seeing it and breathing it'.



Being set in the Alps and therefore rather isolated the writer points out that the sanatorium setting is 'a place entirely cut off from the world. Once you enter, it's very difficult to escape. That's a situation that seemed to be crying out for the arrival of the TARDIS. Oh, and an early version of the story originally had Agatha Christie in it - until "The Unicorn and the Wasp" bagsied her'.



'I'm very excited about directing this season' director Bentley has also announced. 'They're all very different scripts and demanded a clean slate each time, a different approach to casting, the style of performance, right down to different demands on sound design and music. As directors go I'm also a bit of a chameleon and thrive on contrast, so working on three very different stories was a thoroughly enjoyable exercise - and over the course of the three stories we do develop a thread that's been concerning some fans for a while...'



It has also been revealed that we shall hear our heroes, Ace and Hex, as we have never heard them before…
---
Companion Chronicles

This release also includes the first of a 12-part Companion Chronicles mini-series which are a bonus feature on the monthly Doctor Who plays since April 2009. Each of the 10-minute episodes has been written by Marc Platt and has been directed by Lisa Bowerman.


This special story called "The Three Companions" brings together Sir Alistair Gordon Lethbridge-Stewart (aka The Brigadier) (played by Nicholas Courtney) and Polly (played by Anneke Wills), who discover that their past travels with The Doctor share a common link... Meanwhile, Thomas Brewster (played by John Pickard) is watching from a distance, and he is now the owner of a stolen TARDIS...



Episode One: "Polly's Story": The present day. Polly Wright, former companion of the Second Doctor, tracks down Sir Alistair Lethbridge-Stewart via the Internet. As they chat online, they realise that they have a shared experience - and one that began on a world far away.


---
Big Finish Magazine - Vortex: Issue 2 (April 2009)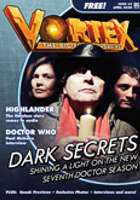 Vortex: Issue 2

Issue 2 of 'Vortex - The Big Finish Magazine' was also sent out to subscribers with this release.



In this issue...
1. Editorial - Nicholas Briggs

2. Sneak Previews and Whispers - Doctor Who: The Companion Chronicles "The Three Companions", Doctor Who: "Patient Zero" and Cyberman 2.

3. In The Studio - The Glorious Revolution.

4. Q&A - Matthew Sweet.

5. Q&A - Ken Bentley!!!

6. Interview - Paul McGann.

7. Feature - War Stories.

8. Feature - The Gathering.

9. Upcoming Releases - April 2009 - January 2010.

10. Team Twitter.

11. Behind-The-Scenes - "The Three Companions".
| | |
| --- | --- |
| Published By: | Big Finish Productions Ltd |
| Managing Editor: | Jason Haigh-Ellery |
| Editors: | Nicholas Briggs and David Richardson |
| Assistant Editor: | Paul Spragg |
| Contributors: | Trevor Baxendale, Ken Bentley, Cavan Scott, Jonathan Clements, Colin Harvey, Eddie Robson, Matthew Sweet and Mark Wright. |
| Design and Layout: | Alex Mallinson |
| Published: | April 2009 |
| Page Count: | 20 |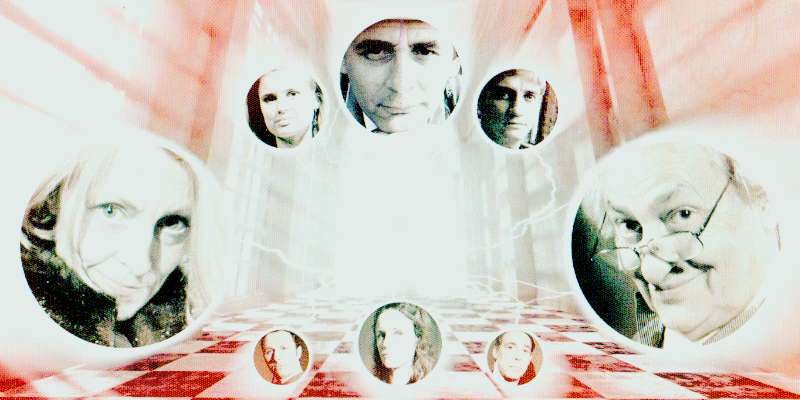 Notes:
Featuring the Seventh Doctor, Ace and Hex.
Serial Number: 7W/J
Number of Episodes: 4
Cover Length: 120 minutes
Main Story Episode Lengths: 1 = 23'02", 2 = 25'40", 3 = 30'01", 4 = 30'43"
Main Story Total Length: 109'26"
Extra Story Episode Length: 1 = 12'25"
Also features 18 minutes of trailers and special behind-the-scenes interviews with the cast and producers.
This stories take place after "Survival" and follows on from "The War Lord".
Cover Illustration: Alex Mallinson
Recorded: Unknown
Recording Location: Moat Studios
Released: April 2009
ISBN: 978-1-84435-408-5
---
On the Back Cover:

Switzerland, 1926: The Doctor finds himself halfway up an Alpine mountainside, on his way to an exclusive sanatorium for the rich and famous run by the Viennese alienist Ludovic 'Ludo' Comfort. In between bouts of electric shock therapy, Ludo's patients – including faded music hall turn Harry Randall, chess grandmaster Swapnil Khan and Lola Luna, darling of the Weimar cabaret scene – fill their time with endless rounds of Snap!, among other diversions.



But The Doctor soon suspects that someone's playing an altogether more sinister game. Someone with a score to settle…

---
On the Inside Cover:

Writer's Notes: Matthew Sweet


Four years ago I was sent to a sanatorium in the Swiss Alps. Hahlbruck: the clinic where Thomas Mann set his novel, The Magic Mountain. I went to interview the last patients - elderly gentlemen, some of whom had taken a British bullet in the Second World War. There was something otherworldly about the place - just the sort of otherworldliness into which the Doctor might plausibly wander.



So when Big Finish gave me one of their shopping lists - Doctor Who meets Agatha Christie - there was no problem about where to set the story. Then Agatha had to go off to investigate the case of a giant wasp. Doctor Who has three explanations for the destruction of Atlantis - one explanation of Christie's disappearance was probably enough.



So that left more room to tell the story of another inmate of the sanatorium - one who some listeners may have encountered before...


Directors Notes: Ken Bentley



We kick off the latest Seventh Doctor season with a story that's quite literally mental.



I come from a stage background and I've long been hankering for a theatrical script to direct for Big Finish. When this one landed on my doormat I thought all my birthdays had been rolled into one.



It's an inventive and utterly bonkers journey into the mind of one of the Doctor's most infamous foes. But The Magic Mousetrap is not merely a frivolous tale, Sweet is cleverer than that - in this game of life and death there are no winners. He's found the point where comedy meets tragedy - drama's holy grail - and that's no small achievement.
---
Who's Who?

The Seventh Doctor

First television appearance: "Time and the Rani"
First chronological Big Finish audio appearance: "Unregenerate!"



He has been exploring the universe for hundreds of years. He fights injustice. He defeats evil. He helps people. The Doctor and Ace have had many adventures – and they're now joined by Hex, a youthful former nurse from the twenty-first century. In this regeneration, The Doctor can be impish, devious even, but also greatly compassionate; whimsy and melancholy do battle inside this persona, but his friends know they can always rely on him...


Ace

First television appearance: "Dragonfire"
First chronological Big Finish audio appearance: "The Fearmonger"



Dorothy McShane, who likes to be known as Ace, was a schoolgirl living in Perivale West London when she was transported far across time and space to the Iceworld colony by a time storm. There, she met The Doctor and since then the pair have travelled the universe together, fighting evils and righting wrongs. Over time, a close bond has developed between the two.


Hex

First chronological Big Finish audio appearance: "The Harvest"



Thomas Hector Schofield discovered at an early age that the name 'Hector' wasn't exactly designed to give him the easiest of times at a Merseyside school, so he began referring to himself as 'Hex'. Moving down from to London to complete his medical training, Hex began working as a staff nurse at St Gart's Hospital in Shoreditch. There he encountered Ace and The Doctor, helped them fight off a Cyber incursion and ended up aboard the TARDIS. Since joining them, Hex has seen enough monsters, hostile situations and aliens to last most people a lifetime. But clearly not him...
---
Full Cast List:
The Magic Mousetrap
The Doctor
Sylvester McCoy
Ace
Sophie Aldred
Hex
Philip Olivier
Ludovic Comfort
Paul Anthony-Barber
Lola Luna
Joan Walker
Swapnil Khan
Nadim Sawalha
Queenie Glasscock
Nadine Lewington
Harry Randall
Andrew Fettes
Herbert Randall
Andrew Dickens
Orderly
Andrew Dickens
Robot
Andrew Fettes
Companion Chronicles - Episode One: "Polly's Story"
Polly Wright
Anneke Wills
Sir Alistair Lethbridge-Stewart
Nicholas Courtney
Thomas Brewster
John Pickard
The Production Team:
The Magic Mousetrap
Writer
Matthew Sweet
Director
Ken Bentley
Companion Chronicles - Episode One: "Polly's Story"
Writer
Marc Platt
Director
Lisa Bowerman
Both Stories:
Sound/Music
Richard Fox and Lauren Yason
Theme Music
David Darlington
Script Editor
Alan Barnes
Producer
David Richardson
Executive Producers
Nicholas Briggs and Jason Haigh-Ellery