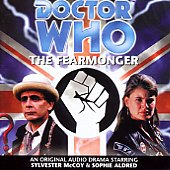 The Fearmonger
(Jonathan Blum)

February 2000's release called "The Fearmonger" is written by Jonathan Blum, directed by Gary Russell and was recorded on the 4th and 5th September 1999. This Seventh Doctor story stars Sylvester McCoy as The Doctor and Sophie Aldred as Ace. There is also a special appearance by Jacqueline Pearce (who played Servalan in Blake's Seven and Chessene in "The Two Doctors") as Sherilyn Harper. It also stars: Hugh Walters (who was in "Revelation of the Daleks" and "The Deadly Assassin"), Vince Henderson (who is also Sophie Aldred's husband), Mark McDonnell, Mark Wright, Jonathan Clarkson, Jack Gallagher and John Ainsworth.

A political war is being fought over the issue of race in a future Britain. Through broadcasts and political rallies, the extremist New Britannia party has infused the populace with prejudice and hate - hate on which a centuries-old creature is feeding.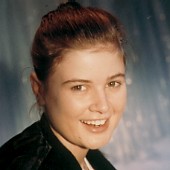 Ace

The Doctor and Ace are on the trail of a monster that not only knows their every move but appears to be able to anticipate their actions too. Sherilyn Harper, the head of the New Britannia Party survives an assassination attempt by a seemingly crazed man. The Doctor suspects that there is far more to the affair than the failed slaying of a politician and that a monster is on the loose. As he and Ace fight their way through the prejudices which blind everyone touched by a very particular monster, they face the prospect of the entire world being plunged into a bitter war of mistrust and mutual loathing.



It is all The Doctor can do to try to find and stop the Fearmonger before it destroys any other lives. But it will not be easy as its efforts to stir up fear and hatred upon which it can feed usually go unnoticed, except by those who are sensitive to its presence.

While making full use of a talk-radio host, who is loving every minute of the unrest, The Doctor and Ace find themselves not only on the wrong side of the law but being shot at by the people they are trying to help. They are in a race against time to reveal the truth before the whole situation erupts...


Notes:
Featuring the Seventh Doctor and Ace.
Serial Number: 7R
Number of Episodes: 4
Cover Length: 110 minutes
Episode Lengths: 1 = 25'52", 2 = 26'04", 3 = 25'07", 4 = 23'17"
This story takes place after "Survival".
Cover Illustration: Clayton Hickman
Recorded: 4th and 5th September 1999
Recording Location: NU Groove Studios
Released: February 2000
---
On the Back Cover:



One would-be assassin is in a mental ward. Another's on the run. Their intended victim is stirring up the mobs. Terrorists are planning a strike of their own. A talk-show host is loving every minute of it. A Whitehall insider whispers about a mysterious UN operative, with a hidden agenda. Everyone's got someone they want you to be afraid of. It'll only take a little push for the situation to erupt -- and something is doing the pushing. But you can trust The Doctor to put things right. Can't you?
---
On the Inside Cover:



Amazing. Ten years to the month after I wrote my first headline for my local Who-club's newsletter - "Season 27 (New Series 1) delayed; McCoy, Aldred may leave" - they're back, and I'm writing for them. I could never have predicted the twisting paths that Doctor Who and I would take over that decade... but somehow everything came together at just the right time. How very convenient, isn't it?



Unlike my fellow authors, I didn't have the luxury of attending the recording sessions for "The Fearmonger" - intercontinental travel costing what it does, but even so, I'm grateful for the chance to reconnect with the Seventh Doctor. I still love the rumpled mage, the thousand-year-old clown, the odd little man with his unexpected power. And beside him, Ace, facing a big frightening universe with spirit and attitude, with the most amazing and scary and wonderful person we could ever imagine as our best friend.



It's a joy to have them back.
Jonathan Blum,
December 1999
---
Full Cast List:
Part One
The Doctor
Sylvester McCoy
Ace
Sophie Aldred
Sherilyn Harper
Jacqueline Pearce
Stephen Keyser
Mark Wright
Walter Jacobs
Mark McDonnell
Mick Thompson
Vince Henderson
Paul Tanner
Jonathan Clarkson
Roderick Allingham
Hugh Walters
Part Two
The Doctor
Sylvester McCoy
Ace
Sophie Aldred
Walter Jacobs
Mark McDonnell
Roderick Allingham
Hugh Walters
Sherilyn Harper
Jacqueline Pearce
Paul Tanner
Jonathan Clarkson
Mick Thompson
Vince Henderson
Alexsandr Karadjic
Jack Gallagher
Part Three
The Doctor
Sylvester McCoy
Ace
Sophie Aldred
Alexsandr Karadjic
Jack Gallagher
Walter Jacobs
Mark McDonnell
Tannoy Voice
John Ainsworth
Paul Tanner
Jonathan Clarkson
Roderick Allingham
Hugh Walters
Mick Thompson
Vince Henderson
Sherilyn Harper
Jacqueline Pearce
Part Four
The Doctor
Sylvester McCoy
Ace
Sophie Aldred
Mick Thompson
Vince Henderson
Walter Jacobs
Mark McDonnell
Roderick Allingham
Hugh Walters
Sherilyn Harper
Jacqueline Pearce
Paul Tanner
Jonathan Clarkson
Alexsandr Karadjic
Jack Gallagher
The Production Team:
Writer
Jonathan Blum
Director
Gary Russell
Sound/Music
Alistair Lock
Theme Music
Mark Ayres
Producers
Gary Russell and
Jason Haigh-Ellery
Executive Producers for the BBC
Stephen Cole and
Jaqueline Rayner