| | | |
| --- | --- | --- |
| | The third and final part of the 'Key 2 Time' season for the Fifth Doctor and his new companion, Amy as they search for the Key to Time and in an epic race to save the universe. | |

The Key 2 Time mini-series of audio adventures concludes this month with "The Chaos Pool" - the first monthly Doctor Who audio release from Peter Anghelides.



'The idea of putting things into seasons is something we've been talking about for a long time', explains executive producer Nicholas Briggs, 'and as Doctor Who fans, let's face it, we think of stories in terms of seasons. This is the beginning of a move to, retrospectively, put all our stories into three-story blocks'.



Together the three stories form a new three-part mini-series featuring an all new quest for the Key to Time - first seen in television show back in 1978/79. The Fifth Doctor, played by Peter Davison, is joined by a brand new companion called Amy played by Ciara Janson, a sentient Tracer created to find the all-powerful Key to Time.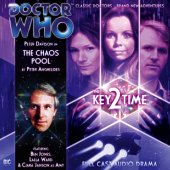 The Chaos Pool
(Peter Anghelides)

The third and final part of the 'Key 2 Time' season, was released in March 2009. Titled "The Chaos Pool" this story sees the Fifth Doctor become embroiled in an epic race to save the universe. It has been written by Peter Anghelides and has been directed by Lisa Bowerman. It was recorded on the 22nd and 23rd April 2008.



"The Chaos Pool" sees the return of Lalla Ward, as companion 2nd Romana, to the audio series. This story also sees the return of Laura Doddington, as Zara, and David Troughton, as The Black Guardian. Also starring are: Ben Jones, Toby Longworth, Cate Hamer, Will Barton, Lisa Bowerman, Nicholas Briggs and Jeremy James.

As announced in issue 406 of the Doctor Who Magazine 'And so the Key 2 Time season of audio adventures winds towards its much-anticipated finale, with a suitably climactic story which has - in some ways - been rather a long time coming...'.



As to the origins of this story writer Peter Anghelides has revealed; 'I was originally asked to be involved in the very first series of Big Finish's Doctor Who audio stories, back in 1999. Foolishly I told them at the time that I was too busy. So it's taken me ten years to get another chance!'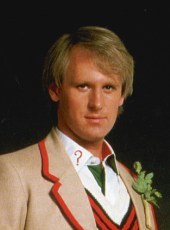 Fifth Doctor

The other writers of the 'Key 2 Time' season, Simon Guerrier and Jonathan Clements, had been involved for several months by the time Peter Anghelides became involved. 'I was able to see their outlines before I came up with my proposal. I circulated my outline and drafts around to Simon and Jonathan as well as producer David Richardson and script editor Alan Barnes – and as I wrote, I looked for links to the other stories and I was able to incorporate elements from those into mine.'



And as to the mixed response to the climax of that original Key to Time series back in 1979 (where some fans complained that the climax wasn't suitably climactic!) Peter Anghelides has huge responsibility to make sure that "The Chaos Pool" does not meet the same fate. 'The finale of that original Key to Time season is full of delights! I was a teenage Doctor Who fan when it was first shown, and I'd forgotten how delicious that Doctor-Romana partnership is - the frisson of initial mistrust, then grudging respect, and finally an effective partnership, teasing or colluding when they encounter other people.'

The main challenge though was to be inventive as the original, without repeating it!.


---
Big Finish Magazine - Vortex: Issue 1 (March 2009)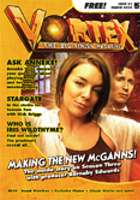 Vortex: Issue 1

Issue 1 of 'Vortex - The Big Finish Magazine' was also sent out to subscribers with this release.



In this issue...
1. Editorial - Nicholas Briggs

2. Sneak Previews and Whispers - Doctor Who: The Companion Chronicles "The Mahogany Murders", Bernice Summerfield 10.1 "Glory Days" and Doctor Who: The Lost Stories "The Nightmare Fair".

3. In The Studio - A Dalek in Atlantis.

4. Feature - The Eighth Doctor & Lucie Adventures: Season Three.

5. Upcoming Releases - March - December 2009.

6. Q&A – Anneka Wills.

7. Feature - It really was a Wildthyme.

8. Feature - Making Magic.

9. Interview - Richard Fox & Lauren Yason.

10. Behind-The-Scenes - "Mission to Magnus".
| | |
| --- | --- |
| Published By: | Big Finish Productions Ltd |
| Managing Editor: | Jason Haigh-Ellery |
| Editors: | Nicholas Briggs and David Richardson |
| Assistant Editor: | Paul Spragg |
| Contributors: | Neil Corry, Barnaby Edwards, Richard Fox, Cavan Scott, Lauren Yason, Anneke Wills and Mark Wright. |
| Design and Layout: | Alex Mallinson |
| Published: | March 2009 |
| Page Count: | 20 |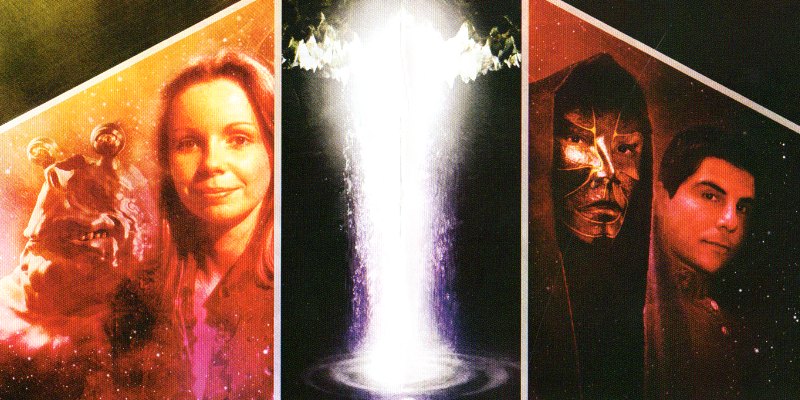 Notes:
Featuring the Fifth Doctor, Amy and 2nd Romana
Serial Number: 6R/C
Number of Episodes: 4
Cover Length: 120 minutes
Episode Lengths: 1 = 25'30", 2 = 23'01", 3 = 23'54", 4 = 28'16"
Total Story Length: 102'41"
Also features 45 minutes of trailers and special behind-the-scenes interviews with the cast and producers.
This story takes place between the television adventures, "Planet of Fire" and "The Caves of Androzani"and after "The Destroyer of Delights".
Cover Illustration: Alex Mallinson
Recorded: 22nd and 23rd April 2008
Recording Location: Moat Studios
Released: March 2009
ISBN: 978-1-84435-365-6
---
On the Back Cover:

The ageless leader of a dying race believes that salvation lies within The Chaos Pool, a place that even the Guardians of Time have been unable to locate. Meanwhile Commander Hectocot and his Teuthoidian followers move in for the kill - again and again and again... These are two species from opposite ends of Time - so how can they co-exist?



In their search for the final segment of the Key to Time, the Doctor and Amy become caught in the crossfire. As the end of everything approaches, old friends and enemies reveal themselves and the final battle between the forces of Chaos and Order ignites…

---
On the Inside Cover:

Writer's Notes: Peter Anghelides


I was a schoolboy during the first Key to lime series. As much as the wild concepts and titanic events, I loved the personal dilemmas faced by individual characters. 8mm the Heretic chooses to he exiled rather than recant. Madam Lamia stays loyal to cruel Grendel even though her love is unrequited. And could Professor Rumford's Cailleach have a bicycle?



Three decades later, I'd lust rewatched the DVD box set when Big Finish commissioned this script. "We need a huge climax for our mini-series," they explained. I nodded sagely: "I can do that."



Then I read story one, which starts with planet-wide destruction and builds into a threat to the entire universe. Where do you go from there?



Back to my love for the original series, of course, raising the stakes for individuals. The Chaos Pool confronts the Doctor and his new friends with their own impossible choices. This apocalypse is personal.


Producer's Notes: David Richardson



The Key 2 Time mini-series began with the destruction of life on Mars and the revelation that the universe was dying in The Judgement of Isskar, and went onto focus an the ongoing conflict between the waning Guardians of Time in The Destroyer of Delights.



Pity poor Peter Anghelides, who was sent the scripts for the first two stories with the message, 'Finish this... I want it bigger, epic, culminating in a massive final episode'. And he delivered.



Actually, the fact that the first two stories were written before Peter began was a huge advantage. It meant that the mythology was established, and he could go back and exploit elements that we had already seen. So, if we got it right, The Chaos Pool should be a fitting and satisfying ending to the whole Key 2 Time saga. And one brimming with surprises for longtime Doctor Who fans...
---
Who's Who?

The Fifth Doctor

First television appearance: "Castrovalva"
First chronological Big Finish audio appearance: "The Land of the Dead"



He has been exploring the universe for hundreds of years. He fights injustice. He defeats evil. He helps people. In his fifth incarnation, The Doctor is more restrained in temper, calmer in attitude and visually younger in appearance than he used to be. He looks for the best in people and tries never to deliberately offend or cause trouble. Some may underestimate him because of his comparatively youthful nature. But those enemies who do, do so at their own risk…


Amy

First chronological Big Finish audio appearance: "The Key 2 Time: The Judgement of Isskar".



One of two artificial lifeforms that have been sent to our Universe by The Grace, a race of pan-dimensional engineers. Both are living Tracers, designed with the sole purpose of locating and assembling the six segments of the Key to Time. This one selects the Doctor to be her assistant, but soon the dynamic reverses – she gets a name, begins to experience the wonder of creation, and learns the potential for evil that exists in people's hearts… even her own sister. And, as Amy's journey with the Doctor continues, so her innocence begins to fade and she finds emotions. No longer just a Tracer, Amy is becoming a person.
---
Full Cast List:
| | |
| --- | --- |
| The Doctor | Peter Davison |
| Amy | Ciara Janson |
| Zara | Laura Doddington |
| Madam President | Lalla Ward |
| Captain Pargrave | Ben Jones |
| Commander Hectocot | Toby Longworth |
| The Voice | Cate Hamer |
| Maddenjot | Will Barton |
| The Black Guardian | David Troughton |
| The APs | Lisa Bowerman |
| The Grace | Lisa Bowerman, Nicholas Briggs, Ciara Janson, Laura Doddington & Jeremy James |
The Production Team:
| | |
| --- | --- |
| Writer | Peter Anghelides |
| Director | Lisa Bowerman |
| Sound/Music | Simon Robinson |
| Theme Music | David Darlington |
| Script Editor | Alan Barnes |
| Producer | David Richardson |
| Executive Producers | Nicholas Briggs and Jason Haigh-Ellery |