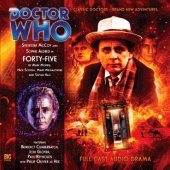 Forty-Five
(Mark Morris, Nick Scovell, Mark Michalowski & Steven Hall)

November 2008's release is a special story as Big Finish Productions celebrates Doctor Who's 45th anniversary. Starring Sylvester McCoy, as the Seventh Doctor, this release has the aptly-named title, "Forty-Five". Echoing the format first introduced with the popular audio "Circular Time" and continued with "100", this release comprises four single-episode standalone stories that each have thematic links to the number '45'.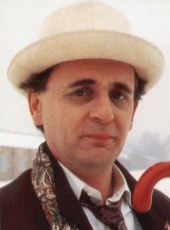 Seventh Doctor

'Script editor Alan Barnes came up with the idea', as revealed by Executive Producer Nicholas Briggs. 'We thought it was a good chance to work with some great writers we hadn't worked with before. So expect some surprising and different stories...'.



The four individual stories have been written by Mark Morris, Nick Scovell, Mark Michalowski and Steven Hall. The Director is Ken Bentley.



All the writers on "Forty- Five" are new to Doctor Who on audio. 'We're moving towards using these four-story releases as a 'nursery slope' for writers new to us, and to the medium' Alan Barnes has explained.



Of the writers, Morris and Michalowski will be most familiar to readers of the BBC Books Doctor Who novels. Doctor Who fans may also be familiar with Nick Scovell's name as he has acted in the occasional audio adventure, and has also presented stage adaptations of a few old Doctor Who adventures. 'Nick S was recommended to me after Nick Briggs provided the Dalek voices for his theatre productions' Alan Barnes has revealed. 'In fact Nick's story was originally intended to feature as the bonus on a three-part release, but it turned out it fitted very naturally with the "Forty-Five" idea'.



And what of the fourth author? You may have noticed Steven Hall's name on the shelves of Waterstone's - he's the author of successful novel "The Raw Shark Tests". 'Not only did Steven's story idea knock me sideways but it also suggested a way to connect up all four segments of "Forty-Five"... I was keen to ensure "Forty-Five" reintroduced the ongoing story of the Seventh Doctor, Ace and Hex whose adventures resume decisively in 2009', Alan Barnes has also revealed. 'So it's a good jumping-on point for new listeners.., and with a surprise or two for those who've been with us for the long haul!'


1. FALSE GODS - by Mark Morris



In the blistering heat of the Egyptian desert Howard Carter and his team search for the lost tomb of Userhat, a servant of the god Amun. What they discover sheds new light on the history of the world as we know it.

2. ORDER OF SIMPLICITY - by Nick Scovell



Dr. Verryman has devoted his life to the advancement of knowledge. When his experiments on a remote planet threaten the entire human race only The Doctor can help - if he puts his mind to it.

3. CASUALTIES OF WAR - by Mark Michalowski



Opportunity knocks in postwar London. But when a tea leaf steals from the wrong woman it becomes a race against time to discover the truth. Only some truths are best left untold.

4. THE WORD LORD - by Steven Hall



In a top secret military bunker deep beneath the Antarctic ice a mysterious death threatens peace negotiations and could spell disaster for the inhabitants of Earth. Can The Doctor cross the t's and dot the i's? Or will his efforts get lost in translation?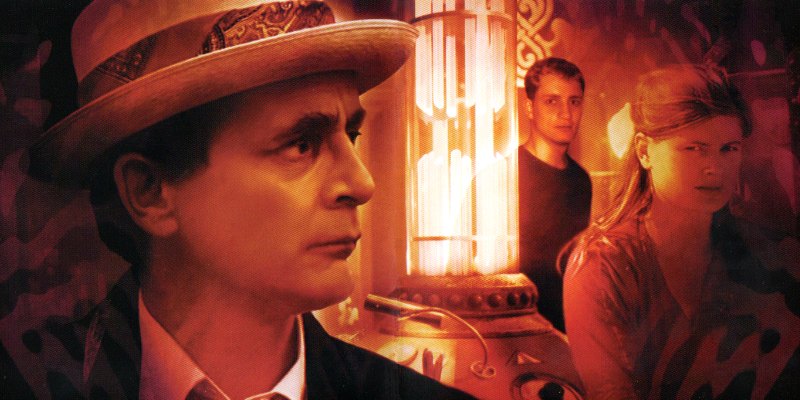 Notes:
Featuring the Seventh Doctor, Ace and Hex.
Serial Number: 7W/H
Number of Episodes – "False Gods": 1, "Order of Simplicity": 1, "Casualties of War": 1 and "The Word Lord": 1
Cover Length: 120 minutes
Story Lengths – "False Gods": 28'02", "Order of Simplicity": 29'05?", "Casualties of War": 26'05" and "The Word Lord": 26'05"
Total Story Length: 109'17"
Also features 39 minutes of trailers, music and special behind-the-scenes interviews with the cast and producers.
This stories take place after "Survival" and follow on from "The Dark Husband".
Cover Illustration: Simon Holub
Recorded: Unknown
Recording Location: Moat Studios
Released: November 2008
ISBN: 978-1-84435-324-8
---
On the Back Cover:

In Egypt, archaeologist Howard Carter unearths an ancient secret buried in the Valley of the Kings. On the Island of Mendolovinia, a deranged academic attempts to push back the frontiers of the human mind. In war-torn London, a cockney spiv takes possession of a bizarre alien object. And in a military bunker in the cold heart of Antarctica, the strangest and deadliest of The Doctor's many enemies lies in wait.



Four adventures in time and space to mark Doctor Who's 45th anniversary, Featuring the Seventh Doctor, Ace and Hex.

---
On the Inside Cover:

Writer's Notes:

Mark Morris


In a twenty-year writing career encompassing seventeen novels, dozens of short stories and thousands of words of non-fiction, I had never turned my hand to scriptwriting until Big Finish come knocking at my door. But I'm delighted to have finally taken the plunge, and to have been presented with the opportunity to add my own modest contribution to a range of adventures that has given me such pleasure over so many years.


Nick Scovell



The consequences of technology is a notion that fascinates me. How far will our desire for progress drive the people with the intellect and desire to push it forward? Perhaps we are for too comfortable living with technology and its benefits. Maybe there will come a point when we attempt to go too far. Would someone, somewhere, notice and warn us? Or maybe, attempt to stop us? How far would we be allowed to go..?


Mark Michalowski



Casualties of War has been a real rollercoaster of a ride: from the initial commission from Alan Barnes through to the recording session in October. It's hard to believe that in only five months, the writing of Casualties of War has taken so many twists and turns: from aborted, not-quite-working ideas through to the finished thing, it's been an amazingly steep - and enjoyable - learning curve. Who'd have thought there was so much to a 25-minute audio play, eh?


Steven Hall



Spoiler Alert! After 900 years of adventures in time and space (and 45 years of TV, print and audio) how do you really challenge The Doctor? It's a tough call! With the Word Lord I tried to create not just a dark reflection of everyone's favourite Time Lord, but a character with the sort of abilities that might make The Doctor feel how all those monsters must whenever the TARDIS arrives...

---
Who's Who?

The Seventh Doctor

First television appearance: "Time and the Rani"
First chronological Big Finish audio appearance: "Unregenerate!"



He has been exploring the universe for hundreds of years. He fights injustice. He defeats evil. He helps people. The Doctor and Ace have had many adventures – and they're now joined by Hex, a youthful former nurse from the twenty-first century. In this regeneration, The Doctor can be impish, devious even, but also greatly compassionate; whimsy and melancholy do battle inside this persona, but his friends know they can always rely on him...


Ace

First television appearance: "Dragonfire"
First chronological Big Finish audio appearance: "The Fearmonger"



Dorothy McShane, who likes to be known as Ace, was a schoolgirl living in Perivale West London when she was transported far across time and space to the Iceworld colony by a time storm. There, she met The Doctor and since then the pair have travelled the universe together, fighting evils and righting wrongs. Over time, a close bond has developed between the two.


Hex

First chronological Big Finish audio appearance: "The Harvest"



Thomas Hector Schofield discovered at an early age that the name 'Hector' wasn't exactly designed to give him the easiest of times at a Merseyside school, so he began referring to himself as 'Hex'. Moving down from to London to complete his medical training, Hex began working as a staff nurse at St Gart's Hospital in Shoreditch. There he encountered Ace and The Doctor, helped them fight off a Cyber incursion and ended up aboard the TARDIS. Since joining them, Hex has seen enough monsters, hostile situations and aliens to last most people a lifetime. But clearly not him...
---
Full Cast List:
| | |
| --- | --- |
| False Gods | |
| | |
| The Doctor | Sylvester McCoy |
| Ace | Sophie Aldred |
| Hex | Philip Olivier |
| Howard Carter | Benedict Cumberbatch |
| Jane Templeton | Lucy Adams |
| Robert Charles/Robot | Paul Lincoln |
| Creodont | Jon Glover |
| | |
| Order of Simplicity | |
| | |
| The Doctor | Sylvester McCoy |
| Ace | Sophie Aldred |
| Hex | Philip Olivier |
| Dr Verryman | Jon Glover |
| Mrs Crisp | Lucy Adams |
| Thing 1 | Paul Lincoln |
| Thing 2 | Benedict Cumberbatch |
| | |
| Casualties of War | |
| | |
| The Doctor | Sylvester McCoy |
| Ace | Sophie Aldred |
| Hex | Philip Olivier |
| Joey Carlisle | Paul Reynolds |
| May | Linda Marlowe |
| Audrey/Miss Merchant | Beth Chalmers |
| PC Miller | Andrew Dickens |
| | |
| The Word Lord | |
| | |
| The Doctor | Sylvester McCoy |
| Ace | Sophie Aldred |
| Hex | Philip Olivier |
| Commander Claire Spencer | Linda Marlowe |
| Nobody No-One | Paul Reynolds |
| Captain James Hurst | Andrew Dickens |
| Private Fenton | Paul Lincoln |
| System | Beth Chalmers |
| | |
The Production Team:
| | |
| --- | --- |
| Writers | Mark Morris, Nick Scovell, Mark Michalowski and Steven Hall |
| Director | Ken Bentley |
| Sound/Music | Richard Fox, Lauren Yason, Matthew Cochrane and Steve Foxon |
| Theme Music | David Darlington |
| Script Editor | Alan Barnes |
| Producer | David Richardson |
| Executive Producers | Nicholas Briggs and Jason Haigh-Ellery |