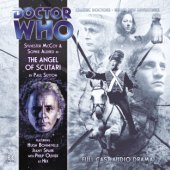 The Angel of Scutari
(Paul Sutton)

The final story in this mini-series of back-to-back adventures for the Seventh Doctor, in June 2009 - "The Angel of Scutari" by Paul Sutton, author of adventures including "Exotron" and "No More Lies" - sees the TARDIS arriving at the scene of one of history's greatest military disasters - the Crimean War.



Separated from his friends in time and space, Hex has to deal with the horrors of life in a Crimean field hospital - as an assistant to Florence Nightingale!
In this historical tale The Doctor is played by Sylvester McCoy, Ace by Sophie Aldred and Hex by Philip Olivier. They are joined by guest stars Jeany Spark (Wallander, Tess of the D'Urbervelles) as Florence Nightingale, while Hugh Bonneville (Notting Hill, Five Days. Lost in Austen) plays Sir Sidney Herbert. Also starring are: John Paul Connolly, Alex Lowe, John Albasiny and Sean Brosnan.



"The Angel of Scutari" has been directed by Ken Bentley and was recorded on the 16th and 17th January 2009.



Arriving in the middle of the Crimean War after whizzing through time and space is one thing - discovering that you've already been there is quite another. This is what happens to the Seventh Doctor and his companions in "The Angel of Scutori". As revealed by director Ken Bentley 'The lovely thing about this story is that it's one of those rare opportunities in Doctor Who where the story itself plays with time. Normally, The Doctor turns up in an unusual time and place, and the story follows through chronologically. This time, The Doctor turns up. and the first thing he discovers is that he's already been here, and has to go back in time a little bit further in order to ensure the continuity of the timeline. Writer Paul Sutton has really grabbed time by the ears, and done something interesting with it'.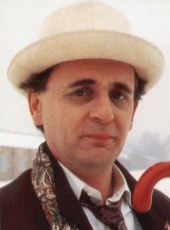 Seventh Doctor

Big Finish Productions it seems found that the structure of the story caused some logistical problems during recording. 'We never record in order anyway,' director Ken Bentley has explained. 'If you've got to take a story that's out of sequence, and record it out of sequence, you can just end up not really knowing where you are! You have to work hard to keep on top of where everyone is in the story, so you can absolutely pin the scenes down, and make all the actors feel comfortable. It's not an enormous challenge, but it is a little bit trickier'.



Jeany Spark, who plays The Lady with the Lamp herself, Florence Nightingale sums-up this story: 'It explores a lot of different alleyways, like love, and a relationship to God, and loyalties, and what it means to be in war. It's actually quite complex, but I think it's a really brilliant historical war drama'. As to the part she plays: 'Florence is not written as a sympathetic character. She's a pioneer, who stands alone. She's a bit prim, and a bit godly. She's actually a much more interesting person than I thought she would be'.


Florence Nightingale is just one face from the past to crop up in "The Angel of Scutori". There is also William Russell and Tsar Nicholas I. In fact, the majority of this story's characters are real people. As revealed by director Ken Bentley 'It's important to remember that we're telling stories that are fiction, not fact. Although we're dealing with real events, and we're dealing with characters that did live, it's a fictional environment, and we therefore have a bit of artistic license. We made various choices on this production, allowing ourselves a bit of flexibility...'


---
Companion Chronicles

This release also includes the third part of "The Three Companions" - the 12-part Companion Chronicles mini-series which are a bonus feature on the monthly Doctor Who plays since April 2009. Each of the 10-minute episodes has been written by Marc Platt and has been directed by Lisa Bowerman.


This special story brings together Sir Alistair Gordon Lethbridge-Stewart (aka The Brigadier) (played by Nicholas Courtney) and Polly (played by Anneke Wills), who discover that their past travels with The Doctor share a common link... Meanwhile, Thomas Brewster (played by John Pickard) is watching from a distance, and he is now the owner of a stolen TARDIS...



Also starring in this episode is Russell Floyd.



Episode Three: "The Gathernaut": On a planet scheduled for cremation in 35 minutes, The Doctor, Polly, Ben and Jamie meet an unlikely ally.
---
Big Finish Magazine - Vortex: Issue 4 (June 2009)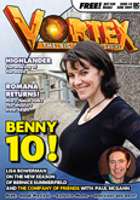 Vortex: Issue 4

Issue 4 of 'Vortex - The Big Finish Magazine' was also sent out to subscribers with this release.



In this issue...
1. Editorial - Nicholas Briggs

2. Sneak Previews and Whispers - Doctor Who: The Companion Chronicles "The Pyralis Effect", Dark Shadows: "Echoes of Insanity" and Highlander: "Kurgan Rising".

3. In The Studio - Blue Forgotten Planet.

4. Interview - Lisa Bowerman.

5. Upcoming Releases - June 2009 - March 2010.

6. Gallifrey.

7. Q&A - Mary Tamm.

8. Letters.

9. Team Twitter.

10. Q&A - Jamie Robertson.

11. Behind-The-Scenes - "Leviathan".
| | |
| --- | --- |
| Published By: | Big Finish Productions Ltd |
| Managing Editor: | Jason Haigh-Ellery |
| Editors: | Nicholas Briggs and David Richardson |
| Assistant Editor: | Paul Spragg |
| Contributors: | Alan Barnes, Lisa Bowerman and Jamie Robertson |
| Design and Layout: | Alex Mallinson |
| Published: | June 2009 |
| Page Count: | 20 |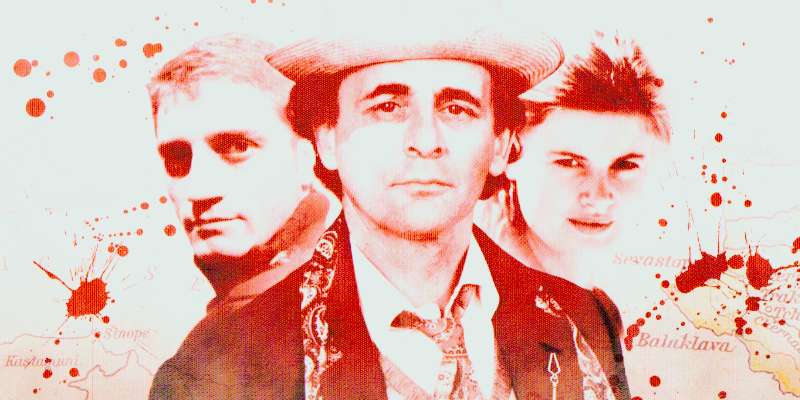 Notes:
Featuring the Seventh Doctor, Ace and Hex.
Serial Number: 7W/L
Number of Episodes: 4
Cover Length: 120 minutes
Main Story Episode Lengths: 1 = 26'06", 2 = 26'40", 3 = 24'45", 4 = 24'17"
Main Story Total Length: 101'48"
Extra Story Episode Length: 3 = 11'01"
Also features 16 minutes of trailers and special behind-the-scenes interviews with the cast and producers.
This stories take place after "Survival" and follows on from "Enemy of the Daleks".
Cover Illustration: Alex Mallinson
Recorded: 16th and 17th January 2009
Recording Location: Moat Studios
Released: June 2009
ISBN: 978-1-84435-410-8
---
On the Back Cover:

October 1854: As the British Army charges into catastrophe in the Crimea, the Minister for War sends Miss Florence Nightingale to take charge of the field hospital at Scutari. But there's already an angel of mercy working with the wounded at Scutari. A first-rate fellow who's turned up out of the blue. Goes by the name of Schofield; Thomas Hector Schofield...



With the Doctor and Ace lost in the siege of Sebastopol, Hex has rediscovered his calling. But there's cannon to the left of him, cannon to the right of him - and a deranged spycatcher-in-chief on his case.

---
On the Inside Cover:

Writer's Notes: Paul Sutton


The Angel of Scutari could have been about Daleks. Around May 2008 I was asked to pitch a Dalek story. I didn't get the slot but I was then asked to submit any other ideas I may have had. We went through a few - a Western, a Hungarian historical, a present-day mad-computer thing - and then Alan Barnes and Nick Briggs suggested I look at the Crimean War. I started researching and was hooked immediately.



Working titles included 'War and Penitence', and 'The Siege of Sevastopol' (with a 'v'). Angel of Scutari emerged in its final form with the help of Alan and Nick, who dug me out of the structural problems I'd buried myself in.


Directors Notes: Ken Bentley



It may not have escaped your notice that our hero and his companions have been on a journey. With this, the final story in the Seventh Doctor's 2009 season, we reach that journey's end.



One of the most exciting things about Sutton's play is that he juggles with the nature of time itself, a rarely tackled treat for fans of the eponymous time-travelling hero. In this moving tribute to the Doctor and his companions, all three find themselves scattered across time and Eastern Europe, left to fend far themselves.



But it's to Alan Barnes that I doff my cap. He's been steering this ship for months and he drops anchor in a place none of us would visit willingly. He knows what makes a good ending and he delivers in spades. But it's far from easy listening.



The big question is: what happens next? Who knows...
---
Who's Who?

The Seventh Doctor

First television appearance: "Time and the Rani"
First chronological Big Finish audio appearance: "Unregenerate!"



He has been exploring the universe for hundreds of years. He fights injustice. He defeats evil. He helps people. The Doctor and Ace have had many adventures – and they're now joined by Hex, a youthful former nurse from the twenty-first century. In this regeneration, The Doctor can be impish, devious even, but also greatly compassionate; whimsy and melancholy do battle inside this persona, but his friends know they can always rely on him...


Ace

First television appearance: "Dragonfire"
First chronological Big Finish audio appearance: "The Fearmonger"



Dorothy McShane, who likes to be known as Ace, was a schoolgirl living in Perivale West London when she was transported far across time and space to the Iceworld colony by a time storm. There, she met The Doctor and since then the pair have travelled the universe together, fighting evils and righting wrongs. Over time, a close bond has developed between the two.


Hex

First chronological Big Finish audio appearance: "The Harvest"



Thomas Hector Schofield discovered at an early age that the name 'Hector' wasn't exactly designed to give him the easiest of times at a Merseyside school, so he began referring to himself as 'Hex'. Moving down from to London to complete his medical training, Hex began working as a staff nurse at St Gart's Hospital in Shoreditch. There he encountered Ace and The Doctor, helped them fight off a Cyber incursion and ended up aboard the TARDIS. Since joining them, Hex has seen enough monsters, hostile situations and aliens to last most people a lifetime. But clearly not him...
---
Full Cast List:
The Angel of Scutari
The Doctor
Sylvester McCoy
Ace
Sophie Aldred
Hex
Philip Olivier
Florence Nightingale
Jeany Spark
Tzar Nicholas I
Hugh Bonneville
William Russell
John Paul Connolly
Brigadier-General Bartholomew 'Barly' Kitchen
Alex Lowe
Lev Tolstoy
John Albasiny
Sir Hamilton Seymour
Sean Brosnan
Sir Sidney Herbert
Hugh Bonneville
Russian DungeonGuard
John Paul Connolly
Preston
John Albasiny
Sebastopol Soldier
Sean Brosnan
Companion Chronicles - Episode Three: "The Gathernaut"
Polly Wright
Anneke Wills
Sir Alistair Lethbridge-Stewart
Nicholas Courtney
Thomas Brewster
John Pickard
Gerry Lenz
Russell Floyd
The Production Team:
The Angel of Scutari
Writer
Paul Sutton
Director
Ken Bentley
Sound/Music
Toby Hrycek-Robinson
Companion Chronicles - Episode Three: "The Gathernaut"
Writer
Marc Platt
Director
Lisa Bowerman
Sound/Music
Richard Fox and Lauren Yason
Both Stories:
Theme Music
David Darlington
Script Editor
Alan Barnes
Producer
David Richardson
Executive Producers
Nicholas Briggs and Jason Haigh-Ellery