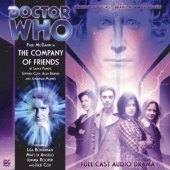 The Company of Friends
(Lance Parkin, Stephen Cole, Alan Barnes & Jonathan Morris)

The release for July 2009 is a series of plays featuring the Eighth Doctor, and companions from the comics and books...



"The Company of Friends" - the latest audio release from Big Finish Productions - promised to be something very special indeed. All four stories have been directed by Nicholas Briggs and were recorded on the 30th and 31st October 2008.



The double-CD set of four self-contained 'short story' episodes has become a well-established annual tradition for the Big Finish Productions Doctor Who audio adventures with the Fifth, Sixth and Seventh Doctors all having taken their turn in previous years. Therefore it was only a matter of time before a set of single-episode stories for the Eighth Doctor would be released.



However, what sets this release apart from the others is the scale of ambition in exploring a few slightly different aspects of the Eighth Doctor's history. Because in "The Company of Friends" he is paired up with a different companion in each episode – and not all of them have appeared on audio before but those that are new should seem familiar from other media.



Thus we have a tale involving Bernice Summerfield, Fitz Kreiner, Izzy Sinclair and Mary Shelley.



As revealed by script editor Alan Barnes 'This was entirely my idea, I'm afraid. We at Big Finish have done an awful lot with the Eighth Doctor, but we're conscious that he has had a life outside our audio adventures, and I thought this gave us a good opportunity to show the man in a slightly different light - different dynamics with different companions...'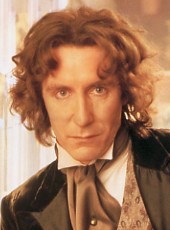 Eighth Doctor

There's actually a lengthy list of characters Big Finish Productions might have chosen to bring to life; Samantha Jones, Anji Kapoor, Trix MacMillan, Fey, Destril... The reason why Big Finish Productions have used the ones they have is explained by Alan Barnes 'Realistically we could only pick one companion for each episode, so we went for the characters that we felt had the most distinctive 'voices'. There isn't time to fill out their entire backstory, so they needed to be characters who were very 'immediate'. Bernice, you could argue, was the very first Eighth Doctor companion she appeared in the novel "The Dying Days" not long after the 1996 "Doctor Who: The Movie" and, of course, at Big Finish we have a long-established strand featuring Bernice. We also wanted a male voice, and Fitz, from the BBC Books range, was the only significant male character. Anyway, the likes of Anji and Trix not only were they rarely alone with The Doctor, they have very complicated backstories. I wouldn't say never, but it would be a big ask to present them convincingly in 25 minutes and in the context of a worthwhile, entertaining story.. As for Izzy, well I invented her, in a former life as editor of the DWM comic strip. Izzy, I think, comes across to the reader or listener very quickly because she's essentially a 'female fanboy'. The interesting thing I found writing for Izzy now is that she's become a period piece. I was first writing her in 1996, and more than ten years on, I was struggling a little, until I realised that.'




"Benny's Story" guest stars Lisa Bowerman as Bernice Summerfield, making her first return to Doctor Who since "
The Dark Flame
" in 2003. This story, written by Lance Parkin, finds The Doctor and Benny reunited during a perilous archaeological excavation on the planet Epsilon Minima.



Also starring are: Richard Earl and Su Douglas.




"Fitz's Story", by Stephen Cole, features Fitz Kreiner - the popular companion who appeared in 50 of the BBC's Eighth Doctor novels between 1999 and 2005. Fenella Woolgar (Agatha Christie in "The Unicorn and the Wasp") guest stars as Commander Hellan Femor. Fitz himself is played by Matt di Angelo, who is perhaps best known for playing Deano in EastEnders and for coming second in the 2007 series of Strictly Come Dancing.



'Finding the right actor to play a much-loved character like Fitz was a real challenge', says director and executive producer Nicholas Briggs, 'but we were all delighted with Matt's performance'.



Also starring are: Paul Thornley and Su Douglas.




Popular Doctor Who Magazine comic strip companion, Izzy Sinclair, makes her audio debut in "Izzy's Story" which has been written by her creator Alan Barnes. Jemima Peoper (Lost in Austen, Hex) plays Izzy in a fantastical tale that sees the travellers returning to the town of Stockbridge.



Also starring are: Steve Hansell, Teddy Kempner, Anthony Glennon, Robert Forknall, Katrina Cooke, Robert Forknall and Ian Hallard.


Finally "Mary's Story", by Jonathan Morris, teams The Doctor with real-life historical author Mary Shelley played by Julie Cox. Although this character hasn't actually appeared in Doctor Who fiction before she was mentioned in "Storm Warning" where The Doctor recalled his adventures with her.

Also starring are: Anthony Glennon, Robert Forknall, Ian Hallard and Katrina Cooke.


---
Companion Chronicles

This release also includes the fourth part of "The Three Companions" - the 12-part Companion Chronicles mini-series which are a bonus feature on the monthly Doctor Who plays since April 2009. Each of the 10-minute episodes has been written by Marc Platt and has been directed by Lisa Bowerman.


This special story brings together Sir Alistair Gordon Lethbridge-Stewart (aka The Brigadier) (played by Nicholas Courtney) and Polly (played by Anneke Wills), who discover that their past travels with The Doctor share a common link... Meanwhile, Thomas Brewster (played by John Pickard) is watching from a distance, and he is now the owner of a stolen TARDIS...



Also starring in this episode is Russell Floyd.



Episode Four: "Cremation Point": As the end of a world approaches, Polly, Ben and Jamie attempt to escape the Gathernaut.
---
Big Finish Magazine - Vortex: Issue 5 (July 2009)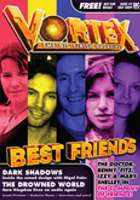 Vortex: Issue 5

Issue 5 of 'Vortex - The Big Finish Magazine' was also sent out to subscribers with this release.



In this issue...
1. Editorial - David Richardson

2. Sneak Previews and Whispers - Sherlock Holmes: "The Last Act" and Doctor Who: The Lost Stories: "Paradise 5".

3. In The Studio - The Prisoner of Peladon.

4. Behind-The-Scenes - The Prisoner of Peladon.

5. Feature - The Company of Friends.

6. Upcoming Releases - July 2009 - April 2010.

7. Interview – Fairs Fayre.

8. Feature – Not Waving... But Drowning…

9. Letters.

10. Team Twitter.

11. Q&A - Barnaby Edwards.
| | |
| --- | --- |
| Published By: | Big Finish Productions Ltd |
| Managing Editor: | Jason Haigh-Ellery |
| Editors: | Nicholas Briggs and David Richardson |
| Assistant Editor: | Paul Spragg |
| Contributors: | Alan Barnes, Stephen Cole, Barnaby Edwards, Nigel Fairs, Simon Guerrier, Jonathan Morris and Lance Parkin |
| Design and Layout: | Alex Mallinson |
| Published: | July 2009 |
| Page Count: | 20 |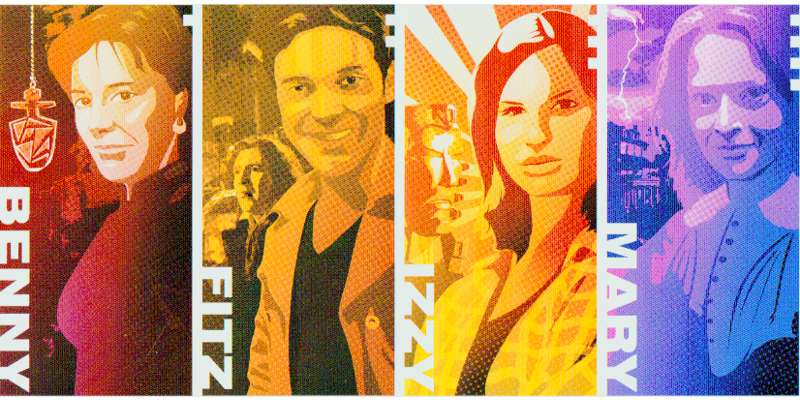 Notes:
Featuring the Eighth Doctor, Bernice Summerfield, Fitz Kreiner, Izzy Sinclair and Mary Shelley.
Serial Number: 8ZL
Number of Episodes – "Benny's Story": 1, "Fitz's Story": 1, "Izzy's Story": 1 and "Mary's Story": 1
Cover Length: 120 minutes
Story Lengths – "Benny's Story": 28'12", "Fitz's Story": 35'54", "Izzy's Story": 32'37" and "Mary's Story": 31'20"
Total Story Length: 128'03"
Extra Story Episode Length: 4 = 11'52"
Also features 13 minutes of trailers and special behind-the-scenes interviews with the cast and producers.
These stories take place after "Doctor Who: The Movie".
Cover Illustration: Alex Mallinson
Recorded: 30th and 31st October 2008
Recording Location: Moat Studios
Released: July 2009
ISBN: 978-1-84435-411-5
---
On the Back Cover:

Deep in the mines of Epsilon Minima, Professor Bernice Summerfield is up to her neck in it - as usual. The Countess Venhella has hired her to recover a lost Time Lord artefact: a TARDIS key, it turns out. Guess whose?



On the planet Entusso, the Doctor and Fitz Kreiner investigate Alien Defence Incorporated - your one-stop shop for protection against extraterrestrial invasion! But which is the greatest menace: the hideous Vermin Queens or ADI itself?



TARDIS travel opens one's eyes to a universe of possibilities, reckons the Doctor
For geek girl Izzy, it's also a fantastic way to track down ultra-rare back copies of 'Aggrotron!', the most dangerous comic in history...



Switzerland, 1816: at the Villa Diodati, Lord Byron's house guests tell each other tales to curdle the blood and quicken the beatings of the heart. With a monster on the loose outside, young Mary Shelley isn't short of inspiration.

---
On the Inside Cover:

Writer's Notes:

Lance Parkin


It's a while since I wrote The Dying Days, the first meeting of the Eighth Doctor and Benny Summerfield. While it was never discussed, because Virgin knew they'd lost the licence to publish Doctor Who books, I'm sure that Eighth Doctor New Adventures would have brought back Benny as his companion - we all know that she's a popular and enduring character. I think they work well together, and it's lovely to get the chance to try to demonstrate that with Paul McGann and Lisa Bowermon as my playthings.


Stephen Cole



I was glad to be asked to write Fitz into his first Big Finish audio, a decade after I helped create him for the BBC's Doctor Who novel range. He was still there more than 50 books later and I think he worked because he was a believable mix of fault and virtue - he was sensitive, sometimes cowardly, a fantasist, a chancer, a joker a musician, a would¬-be Casanova... Best of all, he was fun to write for - then and now!


Alan Barnes



Nothing's ever struck me quite so hard as the horrific realisatian that the funky geek-queen I invented to accompany the Eighth Doctor in the pages of the Doctor Who Magazine comic strip is now – aaargh! - a period character, Britpop Britain made flesh. Izzy was (variously) part Jarvis Cocker, part Louise Wener from Sleeper; part the girl off the Trainspotting poster, part Kira off This Life… and part me. Unlike me, however, Izzy is as fresh and vibrant as she ever was in the heady days of 1996; she, at least, gets to Live Forever.


Jonathan Morris



July 2008, and I receive an email from Alan Barnes. It's an unusual brief. Ever since Storm Warning he's been hinting in his stories at an untold adventure where the Doctor met Mary Shelley. Now he wants me to be the one to write it, based on his original outline: Mary, Byron, Shelley and Polidori, 1816 and the origins of Frankenstein. Quite an honour. The only drawback being, I'd actually have to read Frankenstein first...
---
Who's Who?

The Eighth Doctor

First television appearance: "Doctor Who - The TV Movie"
First chronological Big Finish audio appearance: "Storm Warning"



A mysterious traveller in time and space, whose only real home is his fantastical ship, the TARDIS. In his eighth incarnation, the Doctor is enthusiastic, inquisitive and full of life - which might explain why he finds it so easy to befriend people who want to travel with him.


Professor Bernice Summerfield

First chronological Big Finish audio appearance: "The Shadow of the Scourge"



A professor of archaeology and then some. Over the course of her eventful life, Benny has had time to develop more than a few additional fighting skills, which she regularly puts to use in fighting evil and whatnot alongside her friend the Doctor.


Fitz Kreiner

First chronological Big Finish audio appearance: "The Company of Friends"



Born in Germany in 1936, but brought up in London's Archway Fitz is a drinker, smoker, ladies man… oh, and dreamer. He boarded the TARDIS after helping the Doctor uncover aliens in a mental home in 1963, travelling alongside Sam Jones and latterly Anji Kapoor.


Izzy Sinclair

First chronological Big Finish audio appearance: "The Company of Friends"



Born to unknown parents in 1979, but brought up in the sleepy village of Stockbridge by adoptive parents Les and Sandra Sinclair, sci-fi nut Izzy boarded the TARDIS in 1996, after helping the Doctor escape a trap set by the Celestial Toymaker.


Mary Shelley

First chronological Big Finish audio appearance: "The Company of Friends"



Born in 1797, Mary Shelley wrote Frankenstein (1818) - conceived, she always claimed, during her residency at the Villa Diodati, Switzerland, in the company of Percy Shelley, Lord Byron, John Polidori and Claire Clairmont. But Mary wasn't telling the whole truth...
---
Full Cast List:
Benny's Story
The Doctor
Paul McGann
Benny
Lisa Bowerman
Klarner
Richard Earl
Venhella
Su Douglas
Fitz's Story
The Doctor
Paul McGann
Fitz Kreiner
Matt di Angelo
Commander Hellan Femor
Fenella Woolgar
Michael Rond
Paul Thornley
Gem Weston
Su Douglas
Izzy's Story
The Doctor
Paul McGann
Izzy Sinclair
Jemima Rooper
Grubb/The Man
Steve Hansell
Grakk/Clerkie/The Camp Robot
Teddy Kempner
Courtmaster Cruel
Anthony Glennon
Foreman
Robert Forknall
Juror
Katrina Cooke
Captain Cannibal
Ian Hallard
Mary's Story
The Doctor
Paul McGann
Mary Shelley
Julie Cox
Percy Shelley
Anthony Glennon
Lord Byron
Robert Forknall
John Polidor
Ian Hallard
Claire Clairmont
Katrina Cooke
Companion Chronicles - Episode Four: "Cremation Point"
Polly Wright
Anneke Wills
Sir Alistair Lethbridge-Stewart
Nicholas Courtney
Thomas Brewster
John Pickard
Announcer
Russell Floyd
The Production Team:
The Company of Friends
Writer (Benny's Story)
Lance Parkin
Writer (Fitz's Story)
Stephen Cole
Writer (Izzy's Story)
Alan Barnes
Writer (Mary's Story)
Jonathan Morris
Director
Nicholas Briggs
Sound/Music
Matthew Cochrane
Companion Chronicles - Episode Four: "Cremation Point"
Writer
Marc Platt
Director
Lisa Bowerman
Sound/Music
Richard Fox and Lauren Yason
All Five Stories:
Theme Music
Nicholas Briggs
Script Editor
Alan Barnes
Producer
David Richardson
Executive Producers
Nicholas Briggs and Jason Haigh-Ellery