"Kingdom of Silver" - An Adventure in Three Episodes
"Keepsake" - A Single Episode Adventure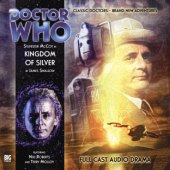 Kingdom of Silver and Keepsake
(James Swallow)

The first of two releases for September 2008 is a three-part story called "Kingdom of Silver" and a one-part story "Keepsake". Both have been written by James Swallow, and directed by Ken Bentley and Nicholas Briggs and were recorded on the 8th and 9th May 2008.



"Kingdom of Silver" is a Seventh Doctor story and features the return of the Cybermen voiced by Nicholas Briggs. It is set on the planet Tasak, a world where nanotechnology is being applied to cure sickness, and an alien threat is stirring.



When The Doctor arrives on the planet Tasak he finds a local power struggle in full swing, as the House of Argentia seeks to engage rival cadres in a peace conference that will bring stability in the wake of a devastating world war. However, alien artefacts have been located on a sacred island known as the Heart. Giant, silver statues are buried in underground tunnels - and The Doctor soon recognises that Tasak is a Cyberman tomb-world waiting for its resurrection signal...



Sylvester McCoy is joined by Terry Molloy (who played the part of Davros in the 1980s), as Magus Riga, Neil Roberts (Charmed, Babylon 5 and Sliders) as Temeter and Kate Terence as Sara. Also starring are: James George, Bunny Reed and Holly King.



"Kingdom of Silver" is another audio drama featuring Sylvester McCoy's Seventh Doctor travelling alone. However, as revealed by Nicholas Briggs 'Ace and Hex will be back, never fear! I think the Seventh Doctor works very well on his own. He's kind of a mysterious intruder who turns up and pokes his nose in things because of his insatiable curiosity'.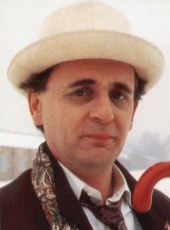 Seventh Doctor

And as to the foe The Seventh Doctor has to face writer James Swallow has revealed. 'The Daleks were frightening, but if they caught you, you'd only be dead. If the Cybermen got you, you become one of them. I wanted to try to recall some of that creeping horror about the early Cybermen - the idea there are millions of them out there waiting for the call to arms, ready to absorb entire worlds! I imagine the look of it as all brass and steel. The juxtaposition of the seamless silver lines of the Cybermen against the whole rivets-and-boilerplate technology of the steam age is just cool!'



And waiting they are. Ahead of the Cybermen's much anticipated television return in the 2008 Christmas Special, the metal marauders are lurking buried beneath the surface of the planet Tasak, waiting to strike. 'It's based on something introduced in the classic Patrick Troughton era adventure, "The Tomb of the Cybermen"', explains executive producer and Cyber-voice artiste Nicholas Briggs 'So it feels like a Troughton adventure with a modern twist. Our story is about an ancient but superior technology feeding into an emerging, industrialized society'.



And according to the story's co-director Ken Bentley - 'What's really clever is how James has imagined the impact the Cybermen might have on a society that's new to the audience. It's a fresh story in a new environment, but because the audience has prior knowledge of the Cybermen, you immediately understand the gravity of the situation'.



Accompanying "Kingdom of Silver" is a single episode, Cybermen-less, story called "Keepsake" that is also written by James Swallow and directed by Ken Bentley and Nicholas Briggs.



Joining Sylvester McCoy, as the Seventh Doctor, are: Neil Roberts, Kate Terence, Terry Molloy, James George and, Nicholas Briggs.



Sifting through the technological junk of Reclaim Platform Juliet-November-Kilo, The Doctor discovers evidence of a personal tragedy involving some friends of his. Where will the story of their fate lead?


---
Big Finish Magazine - Issue 12 (Autumn 2008)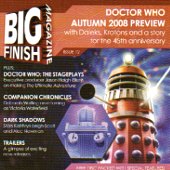 Big Finish Magazine
- Issue 12

Issue 12 of the 'Big Finish Magazine', a series of behind-the-scenes CDs given away free to subscribers, was also sent out with this release.



Doctor Who Autumn 2008 Preview with Daleks, Krotons and a story for the 45th anniversary.



On this issue...
1. Introduction - Nicholas Briggs, executive producer of the Audio Adventures of Doctor Who and Voice of the Daleks, opens the twelfth Big Finish Magazine.

2. Doctor Who Preview - Script editor Alan Barnes reveals what is in store in the coming months, as Doctor Who celebrates 45 years.

3. How To Be A Doctor Who Director - Ken Bentley, co-director of Kingdom of Silver, gives his perspective on this Cybermen epic.

4. Doctor Who - The Stage Plays - Executive Producer Jason Haigh-Ellery on a labour of love… reviving the Doctor Who stageplays for audio.

5. The Companion Chronicles - Deborah Watling discusses her return in The Great Space Elevator, 40 years after leaving Doctor Who.

6. Dark Shadows – Behind the scenes of the new audiobooks with Kathryn Leigh-Scott and Alec Newman.


7. Additional Trailers – All the latest Big Finish Productions, including peeks into the worlds of The Companion Chronicles and Sapphire and Steel.

Presented by Nicholas Briggs and David Richardson. Edited Nigel Fairs. Mastered by David Darlington. Design by Alex Mallinson. Length 1 hour 7 minutes.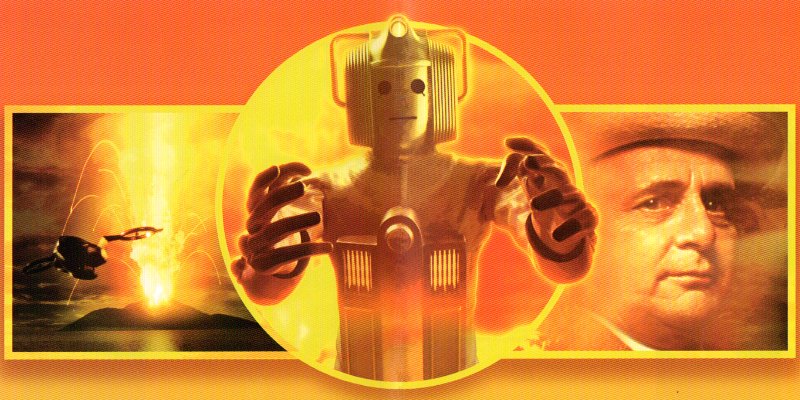 Notes:
Featuring the Seventh Doctor.
Serial Number: 7Z/D
Number of Episodes – "Kingdom of Silver": 3 and "Keepsake": 1
Cover Length: 120 minutes
Episode Lengths – "Kingdom of Silver": 1 = 32'06", 2 = 24'18", 3 = 33'24" and "Keepsake": 1 = 24'43"
Total Story Lengths – "Kingdom of Silver": 89'48" and "Keepsake": 24'43"
Also features 38 minutes of trailers and special behind-the-scenes interviews with the cast and producers.
Both stories take place between "Survival" and "Doctor Who: The Movie" and after "The Death Collectors".
Cover Illustration: Alex Mallinson
Recorded: 8th and 9th May 2008
Recording Location: Moat Studios
Released: September 2008
ISBN: 978-1-84435-321-7
---
On the Back Cover:
"Kingdom of Silver"



The Doctor arrives on Tasak in search of refreshment, armed with nothing more than a kettle. But this is a time of crisis for a civilisation about to enter an industrial age.



Mindful that a devastating war is only recently over, the wise and revered Magus Riga will do almost anything to save his people from the follies of the past. But the road to hell is paved with good intentions. And the planet Tasak is host to ancient powers buried deep and long forgotten. Can visitors from another world avert disaster or will their intervention drag this innocent world into the Orion War?


Includes Bonus One-Part Adventure:

"Keepsake"
---
On the Inside Cover:

Writer's Notes: James Swallow


It was with no little trepidation – but admittedly, a lot of glee too – that I was grateful to be given a chance to write a Cyberman story. The children of Mondas have always been my favourite Doctor Who monster; as wee lad I was never really afraid of the Daleks, because I lived in a block of flats back then and with flawless kid logic, I knew they'd never make it up the stairs to get me. But the Cybermen were a different story…



See, if a Dalek got you, you'd just be dead, but if you fell into the clutches of the Cybermen they would make you one of them. That whole body-horror, loss-of-self thing scared the hell out of me; and what I found fascinating about them was that on some level, you could actually empathies with those poor Mondasians who had taken the first ill-fated steps down the road to Cyberhood.



Both Kingdom of Silver and the coda Keepsake play on these themes, on the ideas of a road to hell "paved with good intentions" and the questions of what it is that defines us as human or artificial.


Co-Director's Notes: Ken Bently



It's one thing to come up with a new idea that involves an old adversary – another thing entirely to throw in a mythology of your own invention and successfully bolt the whole lot together.



James Swallow's absorbing and satisfying tale of power and greed is a rip-roaring yarn from the get-go. That he manages to combine and contain multiple epic storylines is praiseworthy enough – but his real accomplishment is to make it appear so effortless. It's easy to take for granted the amount of skill and hard work it takes to write this well.



Testament to this is how much the cast enjoyed working on both Kingdom of Silver and Keepsake. I get no greater thrill as a director than to see actors enjoying their work and this time round I have James to thank for that.



I hope you have as much fun listening to it as we had making it.
---
Who's Who?

The Seventh Doctor

First television appearance: "Time and the Rani"
First chronological Big Finish audio appearance: "Unregenerate!"



He has been exploring the universe for hundreds of years. He fights injustice. He defeats evil. He helps people. Since his regeneration, The Doctor has been a little unpredictable. One moment he can be frivolous and fun, the next he's thoughtful and serious.
---
Full Cast List:
| | |
| --- | --- |
| Kingdom of Silver | |
| | |
| The Doctor | Sylvester McCoy |
| Temeter | Neil Roberts |
| Sara | Kate Terence |
| Magus Riga | Terry Molloy |
| Merel | James George |
| Ardith | Bunny Reed |
| Etin | Holly King |
| Cyber-Control/Cybermen | Nicholas Briggs |
| PA Voice | James George |
| Guard 1 | Nicholas Briggs |
| Guard 2 | Terry Molloy |
| | |
| Keepsake | |
| | |
| The Doctor | Sylvester McCoy |
| Two 'Mark | Neil Roberts |
| Robot | Kate Terence |
| Examiner 2 | Terry Molloy |
| Corvus | James George |
| Exanminer 1/Auto PA | Nicholas Briggs |
The Production Team:
| | |
| --- | --- |
| Writer | James Swallow |
| Director | Ken Bentley and Nicholas Briggs |
| Sound/Music | David Darlington |
| Theme Music | David Darlington |
| Script Editor | Alan Barnes |
| Producer | David Richardson |
| Executive Producers | Nicholas Briggs and Jason Haigh-Ellery |