"Time Reef" - An Adventure in Three Episodes
"A Perfect World" - A Single Episode Adventure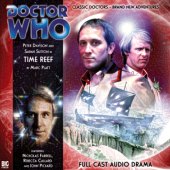 Time Reef and A Perfect World
(Marc Platt & Jonathan Morris)

"We discover the story of what Brewster has really been doing with the stolen TARDIS..."



The second of the two releases for September 2008 is another double story release. Both are Fifth Doctor and Nyssa stories directed by Barnaby Edwards.



"Time Reef" is a three part story written by written by Marc Platt. Joining Peter Davison and Sarah Sutton is John Pickard reprising his role as Thomas Brewster ("The Haunting of Thomas Brewster"). Also starring are: Nicholas Farrell, Beth Chalmers, Sean Biggerstaff, Sean Connolly and Rebecca Callard.



Marc Platt has provided at least a couple of scripts for the Doctor Who audio adventures each year. Coming almost simultaneously with his latest Companion Chronicles story "The Doll of Death" this is the latest Fifth Doctor audio adventure.



'With each new story', Marc Platt has revealed, 'I have to find what the theatre director Nicholas Hytner once called the "right world". It's the characters as much as the story concept that provide the complexity, mainly because characters start going off to do their own thing rather than what the writer planned'.



'Once I know how the place works, then the story fits in. It's the Robert Holmes principle - flesh out the past and stir in a few grisly jokes. On Time Reef, the desert island idea had been knocking round my head for a while, but the characters are new for the new story'.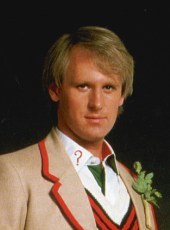 Fifth Doctor

Some of the writer's previous audio scripts have been among the most accomplished in the range - most obviously the Cybermen adventure "Spare Parts". On this widely-acclaimed success Marc Platt has revealed 'Anything can spark off an idea - "Valhalla" came from termite mounds in Madagascar, "Skull of Sobek" from Egyptian hieroglyphics, "Doll of Death" from Pollock's Toy Museum - and then you just slot the Doctor Who bits in. But it never gets boring'.



'And then there's the tiny world of the Time Reef they are all stuck on, and the weird Ruhk creature that crawls across its surface. And, much to The Doctor's annoyance, there's the story of what Brewster has really been doing with the stolen TARDIS and what else he stole in the process...'



As to the ongoing 'Thomas Brewster' story arc into which Time Reef slots, Audio Script Editor Alan Barnes requested a Fifth Doctor, Nyssa and Brewster story. His brief was 'off Earth, sci-fi-ish... a bit peculiar would be good'. With both Jonny Morris' and Paul Magrs' Brewster scripts to work from the rest was up to Marc Platt. 'I wasn't given a specific direction to go in with the Brewster character. Besides which, Thomas Brewster is such a great character - huge fun to write with all his Dickensian colloquialisms and a real needle in The Doctor's side. He's sad, cheekily sharp, selfish and so out of his depth. Nyssa's patience is sorely tried and The Doctor is just about ready to throttle him'.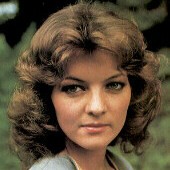 Nyssa

'I never set out to write 'comedy' as such, the funny bits tend to emerge from the situation. I guess I find life can be a bit macabre and finding that funny is my way of coping, but it also gives the characters more depth and makes them more sympathetic. I also have this habit of turning things on their heads. Lady Vuyoki in Time Reef is the archetypical defenceless princess stranded on a rock - like Ariadne deserted by Theseus - but you soon discover that in Vuyoki's case, there might be a good reason why she was stranded, and maybe it's better to have left her well alone. Poor Thomas Brewster is, of course, utterly besotted.... but Nyssa isn't fooled for one minute!'



The single episode story accompanying "Time Reef" is "A Perfect World" written by "The Haunting of Thomas Brewster" writer Jonathan Morris.



Joining Peter Davison and Sarah Sutton are: John Pickard - reprising his role as Thomas Brewster, Rebecca Callard, Beth Chalmers, Nicholas Farrell, Sean Connolly and Sean Biggerstaff.



Who wouldn't want a perfect world? Thomas Brewster for one.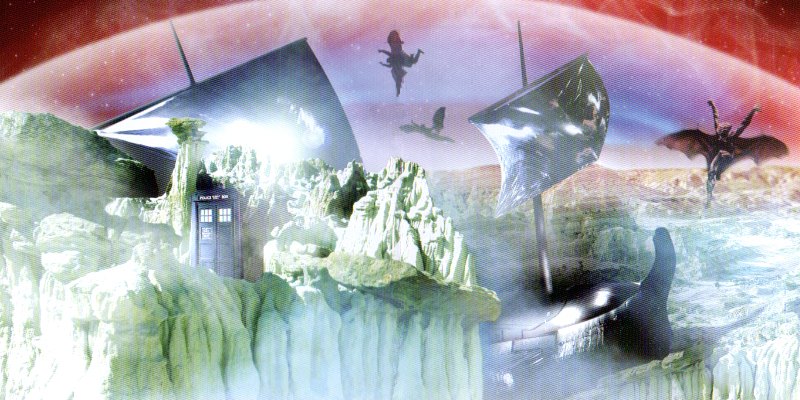 Notes:
Featuring the Fifth Doctor, Nyssa and Thomas Brewster.
Serial Number: 6C/M
Number of Episodes – "Time Reef": 3 and "A Perfect World": 1
Cover Length: 120 minutes
Episode Lengths – "Time Reef": 1 = 22'35", 2 = 26'20", 3 = 24'54" and "A Perfect World": 1 = 26'44"
Total Story Lengths – "Time Reef": 73'49" and "A Perfect World": 26'44"
Also features 26 minutes of trailers and special behind-the-scenes interviews with the cast and producers.
Both stories take place between "Time-Flight" and "Arc of Infinity" and after "The Boy That Time Forgot".
Cover Illustration: Grant Kempster
Recorded: Unknown
Recording Location: Moat Studios
Released: September 2008
ISBN: 978-1-84435-322-4
---
On the Back Cover:
"Time Reef"



A curse on this damned reef - and curse The Doctor who brought us here!



Drawn by the siren call of a distress beacon, the TARDIS crash-lands on an uncharted time reef. However, The Doctor, Nyssa and Brewster are not the only mariners marooned on this barren rock, however. Commander Gammades and his crew of returning war heroes have been similarly shipwrecked, as has the beautiful but mysterious Lady Vuyoki.



But there's something else here, too. A thing of darkness which crawls blindly across the surface of the reef hunting for prey: the Ruhk.


Includes Bonus One-Part Adventure:

"A Perfect World"
---
On the Inside Cover:

Writer's Notes: Marc Platt on Time Reef


At the end of Jonny Morris's corking story The Haunting of Thomas Brewster, cosmic Artful Dodger Brewster "borrowed" the TARDIS, marooning The Doctor and Nyssa in Victorian London. "Now carry on," said Alan Barnes in his e-mail, "Off-Earth/sci-fi-ish. A bit peculiar would be good."



The Doctor and Nyssa have been stranded for months before Tom reappears, but how long was he away in his own personal time stream? Five minutes or five years, joyriding round Time and Space in a ship he can't control with a load of possessions he doesn't own, tangling with alien cultures he does not understand?



It's up to The Doctor to clear up the mess and salvage what's left of his own worldly goods and reputation. Director Barney Edwards heroically fleshed the story out with a dream cast, giving the peculiar bits all the reality needed to create the strange new world that Thomas Brewster has caused.


Writer's Notes: Jonathan Morris on A Perfect World



My four favourite parts of the process of writing a Doctor Who audio:
1. Being asked.

2. Getting paid.

3. Going to the recording. For The Haunting of Thomas Brewster, I'd just suffered a severe bout of flu, and could only manage to pop into the studio for about an hour in haze of Lemsip. But for A Perfect World I was there for the whole thing. Because of the way the studio is arranged, you can't see the actors, you just hear their voices coming through the speakers and it's like, well, it's like alchemy. Characters that had previously only existed in your imagination become real; just like you imagined, but also better than you'd imagined. You just sit there, smiling, trying to be cool about the whole thing when really you want to leap about in a frenzy of excitement and joy.

4. Listening to the finished play.
---
Who's Who?

The Fifth Doctor

First television appearance: "Castrovalva"
First chronological Big Finish audio appearance: "The Land of the Dead"



He has been exploring the universe for hundreds of years. He fights injustice. He defeats evil. He helps people. In his fifth incarnation, The Doctor is more restrained in temper, calmer in attitude and visually younger in appearance than he used to be. He looks for the best in people and tries never to deliberately offend or cause trouble. Some may underestimate him because of his comparatively youthful nature. But those enemies who do, do so at their own risk…


Nyssa

First television appearance: "The Keeper of Traken"
First chronological Big Finish audio appearance: "The Land of the Dead".



Nyssa began travelling with The Doctor after the untimely death of her father. She is the product of the highly civilised society of the planet Traken. She is logical and pragmatic - a great believer in science and reason but is also compassionate and caring. Together, she and The Doctor have visited Earth at various points in its history - Alaska in the 1990s, Switzerland in the 1960s, America in the 22nd Century - as well as both Traken and Telos in their respective infancies.


Thomas Brewster

First chronological Big Finish audio appearance: "The Haunting of Thomas Brewster".



London orphan Thomas Brewster survived the horrors of a Victorian workhouse, only to end up a 'mudlark' dragging salvage from the banks of the filthy Thames. When The Doctor and Nyssa helped free him from the clutches of entities using his dead mother's image, Brewster repaid them by stealing the TARDIS. Rescued from the time vortex, Brewster's now back where The Doctor can keep an eye on him. But where did he go, exactly, in his earlier TARDIS travels?
---
Full Cast List:
| | |
| --- | --- |
| Time Reef | |
| | |
| The Doctor | Peter Davison |
| Nyssa | Sarah Sutton |
| Thomas Brewster | John Pickard |
| Gammades | Nicholas Farrell |
| Vuyoki | Beth Chalmers |
| The Ruhk | Sean Biggerstaff |
| Lucor | Sean Connolly |
| Ruhk | Beth Chalmers |
| Eumachus/Mr Plester | Sean Biggerstaff |
| Coris/Mr Phyton | Sean Connolly |
| Connie | Rebecca Callard |
| | |
| A Perfect World | |
| | |
| The Doctor | Peter Davison |
| Nyssa | Sarah Sutton |
| Thomas Brewster | John Pickard |
| Connie | Rebecca Callard |
| Taz | Beth Chalmers |
| Phil | Nicholas Farrell |
| Trev | Sean Connolly |
| Sophie/Mum/Answer Machine | Beth Chalmers |
| Newsreader | Nicholas Farrell |
| Taxi Driver/Newspaper Seller | Sean Connolly |
| Richard | Sean Biggerstaff |
The Production Team:
| | |
| --- | --- |
| Writer ("Time Reef") | Marc Platt |
| Writer ("A Perfect World") | Jonathan Morris |
| Director | Barnaby Edwards |
| Sound/Music | Simon Robinson |
| Theme Music | David Darlington |
| Script Editor | Alan Barnes |
| Producer | David Richardson |
| Executive Producers | Nicholas Briggs and Jason Haigh-Ellery |