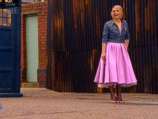 Dressed for the Period

With the intention to see Elvis Presley perform in New York The Doctor and Rose Tyler arrive in the TARDIS in a London terraced street in 1953 at the time of Queen Elizabeth II's coronation. They are startled to see two men rush a man, covered by a blanket, into a car and drive away. In hot pursuit on a scooter they lose them.



They also witness Tommy Connolly, a local boy who claims that this has been happening all over their street, being chastised by his father - all because he's 'respected' in this part of town and wants no part of whatever's going on.



The Doctor uses his psychic paper to convince the Connolly's that he's a government official so that he can question Tommy and his mother about the disappearances... and learns about something even stranger that has affected Grandma - something that has completely removed her face.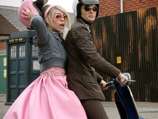 Going for a Ride

The Doctor goes investigating and runs into Detective Inspector Bishop who has been looking into the strange ailment that has robbed people of their faces. Meanwhile, Rose does her own investigating and ends up in Magpie's shop because everything that's happened seems to be linked to people who bought television sets from him.



However, Rose is in for a shock when a strange creature on a television screen begins to talk to her, and soon, Rose's face has been removed from her body... and she's inside the television…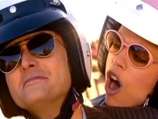 The Doctor and Rose

The Doctor and Bishop also make their way to the Magpie shop, where The Doctor discovers the truth about what's happened to Rose, and confronts the evil image, called The Wire, on the television screens. He discovers that The Wire is an alien who escaped execution by transforming itself into pure energy, and who has come to Earth to reconstitute itself... but it needs a massive amount of human energy in order to do so, which will be provided by the many television sets the reluctant Magpie has issued.



But The Doctor is too late to stop Magpie and The Wire from using a portable device to turn the Alexandra Palace broadcast tower into a receiver, which The Wire can use to consume as many souls as it wants as everyone sits down to watch the Coronation.



As The Doctor climbs the tower, pursuing Magpie so that he can stop The Wire it seems that he is too late. And so it is up to Tommy to follow the instructions The Doctor gave him to attempt to trap The Wire and to return those affected by it back to normal - including Rose.