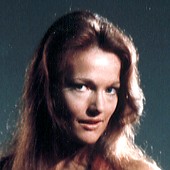 Leela
(1977 - 1978)
Louise Jameson
Born in 1951 Louise Jameson, on leaving school, trained briefly as a secretary before joining the Royal Academy of Dramatic Art (RADA) at the age of 17. On leaving RADA in 1971 she appeared extensively in theatre including The Royal Shakespeare Company. Television roles followed including Cider with Rosie in 1971, Tom Brown's Schooldays in 1971, Z Cars in 1972 and Emmerdale Farm in 1973. After leaving Doctor Who she went straight to the Bristol Old Vic in The Merchant to Venice. Other theatre work followed including Romeo and Juliet and King Lear. Television appearances include The Omega Factor in 1979, A leading role in the well acclaimed Tenko (1981 - 82), Bergerac (1985 - 90) and Casualty in 1990. She was also in the Disney film Stick with me Kid. She also co-stared, along with other cast members from Doctor Who, in the BBV video productions The Terror Game and The Zero Imperative in 1994 and also The Devil of Winterborne in 1995. From January 1998 she could be seen playing the part of Rosa di Marco in the popular BBC1 soap Eastenders. However, she left this programme in August 2000.

Leela was a rebellious member of the warrior Sevateem tribe, even known to speak up to her father when she was a child and continuing this tradition well into adulthood. She met The Doctor after being exiled from her tribe for heresy, having spoken out against her people's worship of the mysterious Xoanon. Her ancestors were an exploration team from Earth but after centuries of being marooned on an unnamed planet half of the crew, the survey team (Saveteem), had reverted to savagery while the other half, the technicians (Tesh), had become guardians of a super computer that had unintentionally been driven mad by The Doctor on a previous visit. After assisting The Doctor in reconciling the Sevateem and Tesh, giving The Doctor time to repair Xoanon, Leela forced her way into the TARDIS, preferring danger and adventure with The Doctor rather than staying with the newly reconciled tribes ("The Face of Evil").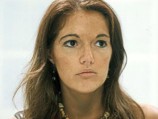 The Face of Evil

She was the first alien companion since Susan - although her ancestry was human, her life having begun on another planet means that she can still be counted as 'alien' in the sense that she wasn't born on Earth - and was one of the most bravest and independent. Despite being a complete contrast to previous companions her role was still mainly a person that The Doctor could talk to so as to explain things to the viewer. She was originally conceived as a primitive cave girl who was very much a variation of the primeval Raquel Welch character in One Million Years BC and Eliza Doolittle, the cockney flowergirl, from My Fair Lady. These two elements resulted in a sexy leather clad savage with distinct animal awareness and childlike curiosity.



To convey the image of an exotic savage she wore a skimpy leather costume. She was however persuaded, by The Doctor, on a number of occasions to change out of this primitive attire and to wear more lady like clothes, most notably when she wore an elaborate dress to attend the theatre during visits to Victorian London ("The Talons of Weng-Chiang", "Horror of Fang Rock"). However, she never found them comfortable and took the earliest opportunity to change into more practical clothes like in the story "The Horror of Fang Rock", where she borrowed clothes from one of the lightkeepers so as to change out of her sodden dress. Even in these instances, it was never long before she reverts back to her leather costumed savage appearance.



There was a great bond of affection between her and K9 and whereas The Doctor and K9 represent intellect against her instinct her lack of understanding did result in her being rather humourless especially with The Doctor. However, she always retained her savage dignity and with her primitive naiveté she was bright, assertive, proud and curious. She saw herself as an equal to any man and was not phased by her encounters with other humans, creatures or aliens. She also possessed a strong awareness of herself; when on Pluto, she briefly fell victim to the fear-inducing drug that was pumped into the air by the controlling Company, but when K9 informed her of the source of her fear was an airborne chemical Leela was swiftly able to ignore it ("The Sun Makers"). Being a warrior and huntress she had great strength, lightning reactions and possessed useful primitive instincts. She was more than able to look after herself despite the dangerous alien environments she found herself in, often rallying others to take action against their enemies, such as when she encouraged the natives of Easter Island to fight the pirates who had come to enslave them ("Eye of Heaven"). Her latent sixth sense, including an acute ability to read the body languages of those around her, enabled her to be alerted to potential dangers or untrustworthy people.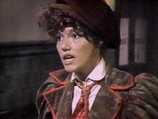 The Talons of Weng-Chiang

Everything she did was totally instinctive. She saw everything as a potential threat and so had an underlying tendency to kill first and ask questions later. With a raw natural intelligence she much favoured direct action. She was very impulsive and had a deep loyal devotion to her beliefs, friends and especially to The Doctor who she sensed was a good person even though she did not fully agree with his principals. Although from a warrior society, Leela recognised that courage was not merely a matter of automatically engaging in violence but of finding the courage to do what was right, as shown most keenly in her friendship with Cordo, a worker on Pluto ("The Sun Makers") - although a naturally timid man, she recognised his bravery when he agreed to help her rescue The Doctor after he was captured by the Company - while also expressing disdain of an upper-class woman's fear when trapped in a lighthouse and under attack from a Rutan ("Horror of Fang Rock"). While respecting less conventional forms of courage, Leela was still a warrior at heart, to the extent that she briefly betrayed The Doctor to aid the ancient warrior queen Boudica in her rebellion against the Romans despite The Doctor's warnings against interfering with history as she respected Boudica's desire to save her people ("The Wrath of the Iceni"). However, Leela quickly changed her mind when she witnessed the scale of Boudica's desire for revenge against the Romans driving her to commit brutal actions against even the Romans' British slaves, helping The Doctor escape and rejecting Boudica's orders.



The Doctor strongly disapproved of her violent nature and especially her use of poisonous Janus thorns. Due to her upbringing, and because she saw violence as an obvious way of survival, it was very difficult for her to understand why The Doctor was so against her use of weapons; even when she was persuaded not to kill instantly, it took little provocation for her to revert to old methods, such as when she was captured and nearly executed because she allowed a guard to live to warn his fellows ("The Sun Makers"). She had a natural skill with every type of weapon including, once she had seen them in action, even the more advanced types, but she continued to prefer her trusty hunting knife, having great difficulty aiming when she first used a conventional gun with bullets in battle (Although the ease with which she mastered its purpose should not be overlooked). Despite her confusion as to why The Doctor wanted her to learn more, she swiftly took to his lessons, even asking him to take her somewhere specifically so that she could receive an education, even if such trips didn't always go according to plan ("Renaissance Man").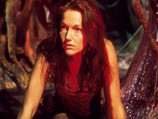 The Invisible Enemy

Her 'if in doubt kill it' mentality often drove The Doctor to distraction, but despite this it was her animal instincts that often proved to be his salvation, most notably when they found themselves facing several ruthless predators on a planet created to serve as a training area for an extinct race of hunters ("Last Man Running"). Regardless of her background, Leela was not a mindless killer, recognising the importance of honour in any conflict, such as when she disapproved of the Solar Knights hunting helpless animals while still helping The Doctor as he tried to save the Knights and the Zygon group attacking them ("Zygon Hunt"). The Doctor was unhappy with her tendency to kill and her liberal use of her hunting knife even when she used it to protect him, although The Doctor soon came to terms with her savage upbringing and used her animal talents and instincts to his advantage. After Leela killed a Sontaran platoon that was still in its cloning tanks when The Doctor had been planning to try and reprogram them to be a more benevolent race, he briefly contemplated taking Leela home as he felt that this action showed that she had learned nothing from her time with him, but soon accepted that Leela had made what she felt was the right choice rather than just resorting to her former standard violence ("The King of Sontar"). On a number of occasions, when he made good use of her accurate fighting skills, he was equally quick to complement her, like in "The Invasion of Time" when she killed a Sontaran by accurately throwing her knife into its probic vent.



Even though originally being from an advanced and technological race she was ignorant of high technology. But despite this she quickly became accustomed to the TARDIS and the concept of time travel. She was though very inquisitive and keen to learn - such as when she quickly asked The Doctor how the TARDIS could be larger inside than out ("The Robots of Death") - which The Doctor was keen to take advantage of. Despite The Doctor's attempts to civilise her he soon realised that he was fighting a losing battle. In "The Talons of Weng-Chiang" she demands that the police put a prisoner to 'the torture'. Even the sophisticated Victorian, Professor Litefoot, found himself following her lead to eat a meal without using a plate or cutlery. Even though her tribal culture was at odds with The Doctor he did have some success in taming her and her animal instincts did mellow. A particularly keen example of this was when she briefly left The Doctor's company to help Marshall, a former prisoner of The Rocket Men, find a new life after the destruction of their base, but she was swiftly captured by The Master as part of his latest trap for The Doctor, forcing Marshall to sacrifice himself to save The Doctor and Leela ("Requiem for the Rocket Men" and "Death Match"). However, she was still a savage and reverted to a primitive at the first sign of danger.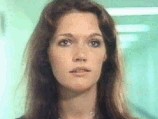 The Sun Makers

After the Sontaran's failed attempt to invade The Doctor's home planet she decided to remain behind with Commander Andred. Due to the bond of affection between them K9 too decided to stay behind to look after his 'mistress'. Despite the difficulties involved in living on Gallifrey due to her outside origins, Leela nevertheless made a good life for herself. When the Fifth Doctor was forced to return to Gallifrey to fulfil his responsibilities as President ("The Five Doctors"), Leela helped his current companion Tegan stay with him, working with The Doctor to make arrangements for Tegan to become the official Earth ambassador to Gallifrey ("Time in Office"). Not only did Leela essentially act as The Doctor's 'bodyguard' during his time as President, but when faced with the possibility of using his new position to change Time Lord policy to one of active intervention, Leela was the one who told The Doctor that this would make him no better than his enemies, putting him in a position of power where he may become a tyrant rather than his current role of assisting where he could. Some time after this, Leela actually conceived the first natural pregnancy on Gallifrey for centuries (Although the evidence would suggest that she later suffered a miscarriage) shortly before she helped the Seventh Doctor and fellow companions Ace, Romana and Chris solve the mystery of the disappearance of The Doctor's old Family home, Leela even apparently learning The Doctor's real name ("Lungbarrow"). After a brief reunion with the Eighth Doctor where she worked with fellow companions Romana and Charley Pollard to save him from being used as Rassilon's assassin ("Zagreus"), Leela went on to become a close friend and unofficial bodyguard to Romana as she encouraged a more liberal Gallifrey that encouraged relations with other societies.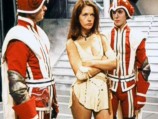 The Invasion of Time

Even as their friendship grew, the two former companions faced several problems as they worked to create a new Gallifrey, most notably from the 'Free Time' organisation - a group of terrorists objecting to Gallifrey's monopolisation of time travel - the opposition of Darkel - a Gallifreyian Inquisitor who objected to Romana's policies - and the later resurrection of the ancient Gallifreyian Imperiatrix known as Pandora, whose biodata had managed to find a host in Romana's first incarnation, Pandora later using this biodata to create a new body based on Romana's first body. While investigating corruption among the Celestial Intervention Agency, Leela and Andred divorced after Andred regenerated during a confrontation with an Agency assassin; in an attempt to infiltrate the Agency, Andred claimed that he was the assassin and the dead man was him, his mind so confused by the post-regenerative trauma that he didn't stop to think what his actions would do to Leela until it was too late. The subsequent Gallifreyian civil war between Pandora and Romana also had a significant impact on Leela, Andred being slain in the conflict before he and Leela could effectively reconcile, K9 being destroyed when a bomb was set off in an attempt to discredit Romana, and Leela being left blind after a percussion grenade she was setting as part of the effort to destabilise Pandora's power detonated prematurely, the arton energy released by the explosion permanently damaging Leela's eyes, although she managed to adapt to her handicap over time. While travelling through alternate realities with Romana to find a cure for the Dogma virus that had infected the Time Lords, Leela's eyesight was restored when she was forced to drink vampire blood on a world where the Time Lords lost in their war against the vampires, although she was also tortured by another alternate version of herself. Settling on a world where Gallifrey never developed time travel, Leela set herself up as leader of Gallifrey's former slaves after Romana took the place of her assassinated counterpart and began a series of reforms, to the point where Leela was tempted to remain on their new world to continue her efforts to help her people until a Dalek invasion forced them to depart for their own world, which they were able to restore.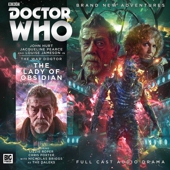 The Lady of Obsidian
(Andrew Smith)

Some time after the restoration of Gallifrey, Leela was lost in the early days of the Time War with the Daleks, apparently being killed during a battle at the Pillars of Consequence ("The Lady of Obsidian"). Although it was long assumed that Leela had died in this battle despite her body never being discovered, it was later revealed that she had actually been struck by a Disruptor Dalek, one of the Daleks' early temporal weapons, capable of disrupting the target's timeline so that they were erased in all potential timelines. In Leela's case, some freak event - possibly a mixture of her own personal strength and the fact that she killed her attacker at the same time as it shot her - meant that, while she was thrown out of history, she eventually returned to life in the Obsidian Nebula, albeit with her mind now a twisted tangle of memories of all the lives she might have lived, ranging from her remembering the people she might have married if she had stayed on her home planet to remembering all the deaths she had almost experienced in her travels with The Doctor as though they had all killed her. Despite this, she was eventually able to reach some form of mental stability, acting as 'the Lady of Obsidian', leading a fleet against attacking Daleks in that part of space, but she was forced to shift her focus to fighting 'the Unlived', beings from potential timelines that were attacking the truly alive through a rift created when a Dalek attempted to escape them via emergency temporal shift.



This new conflict continued until the area of space where the Obsidian Nebula was located was visited by the War Doctor, an incarnation of The Doctor who had rejected his name and deliberately influenced his regeneration into a persona who could be a warrior in the Time War. Despite his rejection of his past identity, the War Doctor swiftly recognised Leela, and Leela, despite her fragmented memories of all the times that her alternate selves had died because of The Doctor, trusted him enough to let him help seal the rift that allowed the Unlived into this universe. With this victory, The Doctor was then able to use the TARDIS telepathic circuits to help Leela re-organise her mind to confirm what was real and what was false. Leela subsequently helped the War Doctor save Gallifrey from the new threat of the Enigma Dimension, a mysterious reality that disrupted all known laws of physics; the Daleks had been able to turn the Enigma Dimension on Gallifrey by simply asking it to destroy them, but Leela's simple view of Gallifrey, in contrast to the moral complexity of the Time Lords after so long at war, gave the Enigma Dimension a moral perspective that prompted it to withdraw from the conflict and spare both sides ("The Enigma Dimension").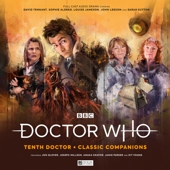 Tenth Doctor Classic Companions
(John Dorney, Lizzie Hopley and Roy Gill)

While the precise details of Leela's final fate are unknown, The Doctor at least believes that she was killed in the later days of the Time War. During an investigation of a dimensional anomaly, the Tenth Doctor and K9 encountered what appeared to be Leela, but was soon established to be an alternate version of her brought to this reality along with an alternate version of The Doctor himself ("Splinters"), as this Leela had no memory of being the 'Lady of Obsidian'. After this Leela helped The Doctor and K9 dispose of the corrupted alternate Doctor by throwing him out of the TARDIS, she chose to help the village where she had been staying rebuild, although it was suggested that she might take the alternate Doctor's TARDIS and resume her own travels. Unknown to The Doctor, another version of Leela - who may be the 'real' Leela - has been witnessed as a prisoner of the Z'nai - a race she once encountered with The Doctor who had been turned onto a path of war by their ruler - with the Z'nai interrogating her to try and get information about Gallifrey, the civilisation lost and Leela growing old at an accelerated rate, her aging having been retarded by Gallifrey and her body now 'catching up' after Gallifrey's destruction. Despite her age, Leela managed to slay her interrogator; although this left her trapped in her cell with her fellow prisoners, the machines that had tortured them the only thing sustaining their lives, Leela was last seen comfortable with the prospect of her death, assured that she would not be alone as she told her fellow prisoners stories of the warrior who fought with words, truth and honour, confident that she and The Doctor will meet again in the next world.