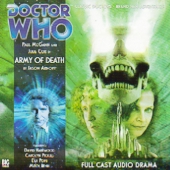 Army of Death
(Jason Arnopp)

After leaving Big Finish Productions main Doctor Who monthly range of audios in "The Company of Friends", to start his own dedicated series of stories, the Eighth Doctor is back in a brand new three-part mini-series in which he is joined once again by Mary Shelley, the author of Frankenstein.



Paul McGann returns with Julie Cox, who first played the role in "The Company of Friends". Script Editor Alan Barnes has revealed 'We thought it'd be nice to follow up on "Mary's Story", from "The Company of Friends". We know that Mary travelled with the Doctor for some time, so it seemed mean not to tell some of those missing stories!'.



This mini-season concludes with "Army of Death" by Jason Arnopp. It has been directed by Barnaby Edwards and was recorded on the 7th and 8th April 2011.



If you know Mary Shelley's work, you'll know that Frankenstein wasn't the only science-fiction story she wrote - she also wrote an apocalyptic future Earth story called The Last Man. So that was the starting point for this, which has a devastated future world being overrun by walking skeletons.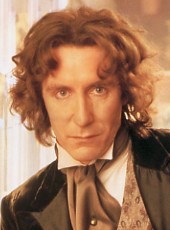 Eighth Doctor

Jason Arnopp was tasked with creating a grim story for The Doctor and Mary, full of death and doom. Jason Arnopp though came up with the idea of this story from Pieter Bruegel the Elder's sixteenth-century painting The Triumph of Death. 'It's a gloriously ghoulish panorama of walking skeletons massacring people. I'm making it all sound quite high-minded, when in fact it was more of a case of "Walking skeletons - cool!". After that, everything grew quite naturally. It was a case of working out who or what the skeletons were, why they were marching and slaughtering and then the society and world in which they were doing it'.



Mary Shelley's character has evolved across the course of this trilogy of stories, but she has a very defined journey within "Army of Death". 'I definitely wanted to create a strong arc for Mary, as well as for her and the Doctor's relationship', Jason Arnopp has revealed. 'It's good that Big Finish have given themselves the scope to expand on and develop Doctor/companion relationships in a manner which reflects the TV series, without betraying that indefinable 'classic' feel'. At the start of this story, Mary is very much enjoying her time in the TARDIS. In fact, in one sense, she's enjoying it too much - something which is causing her a little moral turmoil. Yet the way in which she sees The Doctor and their travels together changes dramatically during the course of this story.



'Mary's a great character to write for', Jason Arnopp has stated. 'You really don't feel too bound by history: it's not as if incredibly accurate records or even pictures of her exist today. That said, I did read up on her history and really enjoyed it. She and Percy Shelley seemed to spend most of their lives on the run from society's disapproving moral guardians'.



This isn't Jason Arnopp's first contribution to Big Finish Productions' main Doctor Who range, but it is his longest as he was one of the new writers showcased on the "The Demons of Red Lodge and Other Stories" that was released in December 2010.



"Army of Death" though is four times that length. 'That extra time really feels like a joyously big sandpit in which to run riot' Jason Arnopp has reIt was great to have the space to tell quite an epic tale, with a couple of plots on the go, plus a fair deal of back story. The city of Stronghaven and its sister city Garrak needed to feel like real places with pasts and citizens. Plus, more time means more space to mount scares and set-pieces. I especially like one scene involving a talking, severed skull!'.



'The main thing I was determined to keep in mind, though, is that a greater number of episodes shouldn't mean a lower intensity of plot or incident. The goal is to create four consecutive Demons of Red Lodges, if you like, as opposed to "The Demons of Red Lodge" stretched out over four episodes...'.



This story stars David Harewood (Naismith in the 2009/2010 Tenth Doctor story "The End of Time") plays John Vallan, Eva Pope (Waterloo Road) is Nia Brusk and Carolyn Pickles (Harry Potter and the Deathly Hallows) is Meera Darone, while actor and comedian Mitch Benn is Commander Raynar. Also starring are: Joanna Christie, Trevor Cooper and Barnaby Edwards.



Main Doctor Who range subscribers, whose subscription included this title, also received the 2011's bonus subscribers only release titled "The Five Companions".

---
Big Finish Magazine - Vortex: Issue 34 (December 2011)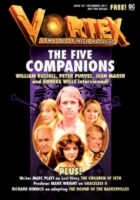 Vortex: Issue 34

Issue 34 of 'Vortex - The Big Finish Magazine' was also sent out to subscribers with this release.



In this issue...
1. Editorial - Nick Briggs

2. Sneak Previews and Whispers - The Fourth Wall

3. Interview - The Five Companions – In the Beginning

4. Interview - Marc Platt – The Joy of Seth

5. Interview - Richard Dinnick – Going to the Dogs

6. Vortex Mail

7. Forthcoming Releases - December 2011 – September 2012

8. Interview - Mark Wright – Grace Under Pressure



| | |
| --- | --- |
| Published By: | Big Finish Productions Ltd |
| Managing Editor: | Jason Haigh-Ellery |
| Editors: | Nicholas Briggs and David Richardson |
| Assistant Editor: | Paul Spragg |
| Design: | Mark Plastow |
| Published: | December 2011 |
| Page Count: | 24 |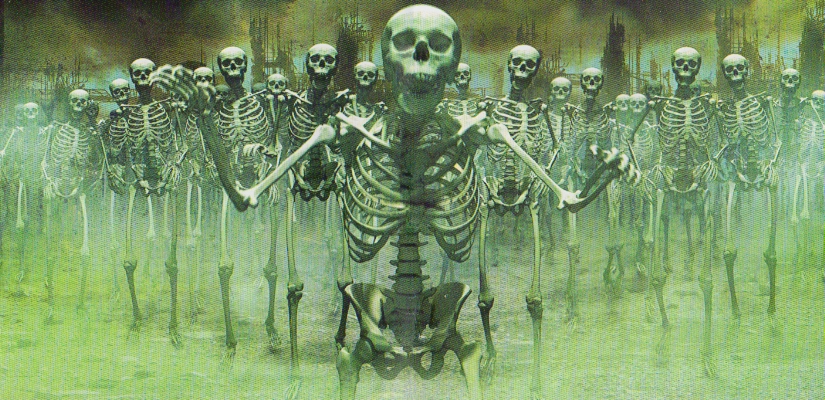 Notes:
Featuring the Eighth Doctor and Mary Shelley.
Serial Number: 8A/AC
Number of Episodes: 4
Cover Length: 120 minutes
Episode Lengths: 1 = 23'49", 2 = 23'57", 3 = 23'17", 4 = 24'57"
Total Length: 96'00"
Also features 28 minutes of trailers, music and special behind-the-scenes interviews with the cast and producers
This story takes place after "Doctor Who: The Movie"
Cover Illustration: Alex Mallinson
Recorded: 7th and 8th April 2011
Recording Location: Moat Studios
Released: December 2011
ISBN: 978-1-84435-603-4
---
On the Back Cover:

The TARDIS brings the Doctor and Mary Shelley to the continent of Zelonia, on the frontier world Draxine – where, many moons ago, the twin citystates of Garrak and Stronghaven bore testament to mankind's colonial spirit.



That was before the sinister death cult of Garrak's President Harmon took hold – and Garrak annihilated itself, utterly, in an apocalyptic explosion. Before the bones of Garrak's dead came back to life, and its skeletal citizens began marching, marching, marching on Stronghaven itself.



But what do they want, this army of death? And can anything stop them? In search of answers, the Doctor and Mary must journey into the dead heart of a dead city to face a terrifying adversary, whose ambitions transcend the stuff of life itself.

---
On the Inside Cover:

Writer's Notes


I'd love to say that Army of Death was always intended as an allegory for our modern times. In truth, though, I initially thought it would he really cool to have hordes of Harryhausen-esque skeletons marching around, killing people. Everything else sprung up from that, whether consciously or otherwise.



Big-Finish's quite brilliant script editor Alan Barnes told me he wanted to conclude this Mary Shelley trilogy with 'something to blow her mind in a bad way. Plague, hopelessness... something a bit dark and grim'. Now there's a brief to seize by the ears. Right up my street. Amid the mayhem, though, I wanted a very human arc for Mary Shelley. After reading up on her, it became clear that her perfect man wasn't so much poet-philosopher Percy Shelley, but a man who we all know far better...



Army of Death was originally called City of the Bone Lord, but after some discussion I'm honoured to further Doctor Who's glorious tradition in making things be 'of Death'. Seeds, Ambassadors, Robots, City, Paradise, Kiss, Doll... and now a whole Army. Tremendous fun! Hope you enjoy.

Jason Arnopp
July 2011


Director's Notes



Mary Shelley achieved worldwide fame as the author of Frankenstein (1818), but she wrote another great science fiction novel too: The Last Man (1826). It is an apocalyptic tale of a future Earth destroyed by plague, a world where political ideals have failed and faith in the Enlightenment principles of educated humanism and scientific progress is proved to be hollow. In Frankenstein, knowledge creates life; in The Last Man, it leads to death.



This is the Mary Shelley we meet in Army of Death. Accompanied by the Byronic figure of the Doctor, she explores a future riven with political strife, civil unrest and moral ambiguity. In this dystopian landscape, death itself is no escape.



This was definitely the hardest story of the trilogy to direct. Fortunately, I was blessed with a ridiculously talented cast who were able to inject both humour and humanity into this darkest of tales.

Barnaby Edwards
August 2011

---
Full Cast List:
| | |
| --- | --- |
| The Doctor | Paul McGann |
| Mary Shelley | Julie Cox |
| John Vallan | David Harewood |
| Meera Darone | Carolyn Pickles |
| Nia Brusk | Eva Pope |
| Commander Raynar | Mitch Benn |
| Sherla | Joanna Christie |
| Hover-Sentries | Trevor Cooper |
| Karnex/Harmon/Skull/Journo | Mitch Benn |
| Baden/Tox/Computer | Joanna Christie |
| Maddox/Stennan/Journo | Trevor Cooper |
| Guard | Barnaby Edwards |
| | |
The Production Team:
| | |
| --- | --- |
| Writer | Jason Arnopp |
| Director | Barnaby Edwards |
| Sound/Music | Fool Circle Productions |
| Theme Music | Jamie Robertson |
| Script Editor | Alan Barnes |
| Producer | David Richardson |
| Executive Producers | Nicholas Briggs and Jason Haigh-Ellery |