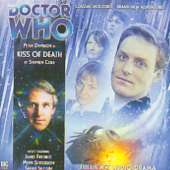 Kiss of Death
(Stephen Cole)

May 2011 sees Peter Davison, in the second of three releases, as the Fifth Doctor, once again is reunited, in the Big Finish Productions Doctor Who audio range, with his three companions: Nyssa, played by Sarah Sutton; Tegan Jovanka, played by Janet Fielding, and Turlough, played by Mark Strickson.



Titled "Kiss of Death" this story is set on an alien world that has a particular significance for young Vislor Turlough...



This story is written by Stephen Cole, who wrote for this TARDIS team recently with "The Whispering Forest", has been directed by Ken Bentley and was recorded on the 14th and 15th December 2010.



Also starring in this story are: Lucy Adams, Michael Maloney, Lizzie Roper and John Banks.



This story came about because Steve Cole and Alan Barnes, the script editor of the stories, really like Turlough. Alan Barnes has revealed 'We thought we'd give him a sort of romance, and expand on his origins, perhaps...'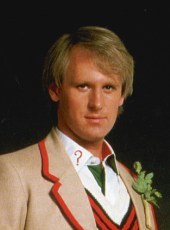 Fifth Doctor

It is possible that this is the reason why Mark Strickson is a lot more enthusiastic about this story. 'The three stories we've recorded this year are all very different, but "Kiss of Death" is perhaps one of the most interesting for me because it turns out that Turlough had a girlfriend on his home planet Trion and the story revisits that relationship'.



Since Big Finish Production's line of Doctor Who audio stories began in July 1999, the stories have fleshed out and evolved all of the characters featured. Companions have therefore been given more active roles as well as new friends, families and relationships - and in the case of Nyssa - several decades of new backstory.



The effects of these changes, first introduced last year, continue to manifest themselves in this month's story. 'What's lovely is that it's giving me a history', Sarah Sutton has stated. 'Because Nyssa has been away and grown up, she's had a whole life which we haven't seen, and is a lot more three-dimensional. In these stories we keep getting little snippets, little mentions about her life experiences'.



But in this story it is Turlough's turn for a completely new side to this character to be revealed as it now seems that before we first saw him, in the 1983 television story "Mawdryn Undead", he had a 'normal' relationship, and a beloved childhood sweetheart. Although he mellowed in later stories, it is hard to forget that in his first story Turlough was introduced as a mysterious, ruthless character, on a mission to kill The Doctor.



"Kiss of Death" finally puts the record straight by revealing that when he was young, he was obviously very honest, and deeply in love. Now that we have known this character for some time it is clear that something happened to Turlough along the way which makes it very hard for him to revisit his long forgotten past.