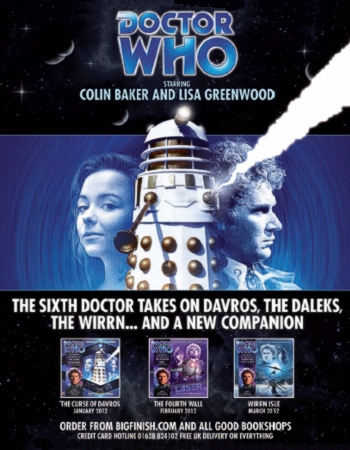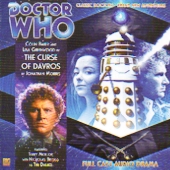 The Curse of Davros
(Jonathan Morris)

After a break of six years, Terry Molloy returns to the role of Davros in the release for January 2012.



"The Curse of Davros", by Jonathan Morris, finds the Sixth Doctor and his new companion Flip Jackson setting course for the Battle of Waterloo, and facing the combined might of the Daleks and their evil creator, Davros.



'I was delighted to hear that Davros was to return to the Big Finish fold in a new adventure with the Sixth Doctor', Terry Molloy has revealed, 'and I was thrilled to be asked once more to don the mantle of The Doctor's nemesis. "The Curse of Davros" is an exciting return for the creator of the Daleks, and will deliver some unique surprises and thrills for the fans of Davros...'.



Playing the part of the Sixth Doctor's new audio companion in this mini-series of three stories is Lisa Greenwood.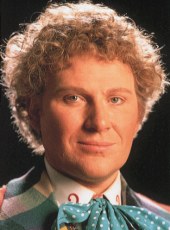 Sixth Doctor

Flip (aka Philippa) Jackson is a young Essex girl who is whisked off into time and space by The Doctor. The character first appeared in the 2011 audio story "The Crimes of Thomas Brewster" alongside the Sixth Doctor, and actress Lisa Greenwood impressed the producers at Big Finish Productions so much they invited her back to take up residency in the TARDIS alongside Colin Baker.



'When I was here the last time it was my first-ever audio job', Lisa has revealed, 'and I really enjoyed it. I was over the moon when I got the call offering me the role of The Doctor's companion. My agent asked, "Do you want to do it?" and I said, "Of course I want to do it" - I had such a good time last time'.



'Lisa is a great young actress', Producer David Richardson has stated, 'and on that first day we just saw something special in her. Since then she's been elevated to fame - snapped up by the BBC to star in the new flagship drama series The Hour, alongside Dominic West'.



Executive producer Nicholas Briggs has also stated 'Line Producer David Richardson and I were of the same mind. She was great, and she'd make a perfect companion. Flip is young, brave, fun but she has a lot to learn - and The Doctor takes on something of a Professor Higgins role in her life'.



'She's really brave - a lot braver than me!' Lisa Greenwood has stated. 'She's really out there and she's not afraid to take on a challenge. She's such a lovely character to play'.



Described in the script simply as "late teens, fluffy handbag, Essex girl", and playing only a supporting role in the story, the character of Philippe Jackson passed many listeners by unnoticed when she appeared in "The Crimes of Thomas Brewster. 'I liked the character', actress Lisa Greenwood has stated. 'She came across as very modern, and I really enjoyed playing her at the time, but I didn't think she'd come back'.



With the decision to bring her back and so her resultant three-story stint as The Doctor's new companion Lisa Greenwood has revealed: 'I was over the moon! I really enjoyed it the first time, so I jumped at the chance. When they said "Do you want to do it?", I said "Yes, book me in!" straight away!'



"The Curse of Davros" sees the Daleks invade present-day London, while Davros, their eponymous creator - played by Terry Molloy (reprising his television role on audio for the first time since 2005) - is plotting away centuries earlier at the Battle of Waterloo.



But how does Lisa's character deal with the Daleks? It seems that she adapts really well to it. It comes obvious that Flip knows The Doctor from the first episode. She therefore takes it all in her stride but. She does mess a few things up but she is brave and so redeems her mistakes with her bravery'.



Flip is a modern young woman. She can be quite brash and is more than able to stick up for herself. But she has a tendency to run into a situation without even thinking. She's got a heart, She's a tough little character.



Also starring in this story are: Ashley Kumar, Jonathan Owen, Rhys Jennings, Granville Saxton, Robert Portal, Christian Patterson and Nicholas Briggs providing the voice of the Daleks.



This story has been directed by Nicholas Briggs and was recorded on the 6th and 7th June 2011.

---
Big Finish Magazine - Vortex: Issue 35 (January 2012)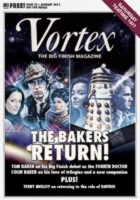 Vortex: Issue 35

Issue 35 of 'Vortex - The Big Finish Magazine' was also sent out to subscribers with this release.



In this issue...
1. Editorial - Nick Briggs

2. Sneak Previews and Whispers

3. Interview - Colin Baker – Colin Flips Out!

4. Vortex Mail

5. Interview - Terry Molloy – Molloy Mania!

6. Vortex Magazine - Breaking The Fourth's Wall

7. Interview - David Stuart Davies – Under The Skein

8. Forthcoming Releases - January – October 2012



| | |
| --- | --- |
| Published By: | Big Finish Productions Ltd |
| Managing Editor: | Jason Haigh-Ellery |
| Editors: | Nicholas Briggs and David Richardson |
| Assistant Editor: | Paul Spragg |
| Design: | Mark Plastow |
| Published: | January 2012 |
| Page Count: | 24 |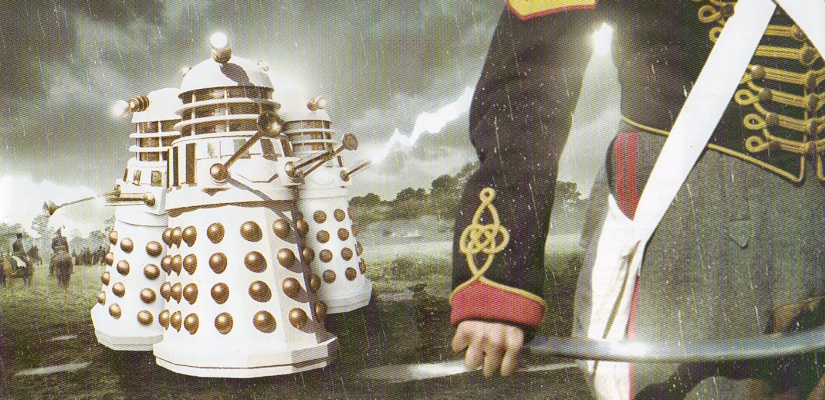 Notes:
Featuring the Sixth Doctor and Flip Jackson.
Serial Number: 7C/NAA
Number of Episodes: 4
Cover Length: 120 minutes
Episode Lengths: 1 = 26'20", 2 = 28'25", 3 = 31'22", 4 = 39'11"
Total Length: 125'18"
Also features 27 minutes of trailers, music and special behind-the-scenes interviews with the cast and producers
This story takes place between "The Trial of a Time Lord (The Ultimate Foe)" and "Time and the Rani".
Cover Illustration: Simon Holub
Recorded: 6th and 7th June 2011
Recording Location: Moat Studios
Released: January 2012
ISBN: 978-1-84435-604-1
---
On the Back Cover:

It's been a year since Philippa 'Flip' Jackson found herself transported by Tube train to battle robot mosquitoes on a bizarre alien planet in the company of a Time Lord known only as 'the Doctor'.



Lightning never strikes twice, they say. Only now there's a flying saucer whooshing over the top of the night bus taking her home. Inside: the Doctor, with another extraterrestrial menace on his tail – the Daleks, and their twisted creator Davros!



But while Flip and the fugitive Doctor struggle to beat back the Daleks' incursion into 21st century London, Davros's real plan is taking shape nearly 200 years in the past, on the other side of the English Channel. At the battle of Waterloo...

---
On the Inside Cover:

Writer's Notes


We always knew Lisa Greenwood would be coming back. Her performance as 'Flip' in The Crimes of Thomas Brewster was so good there was never any doubt about it. So I was not altogether surprised when Alan Barnes sent me an email asking if I'd like to write a story where Flip becomes the Doctor's companion.



I was, however, surprised and literally bouncing up and down with excitement when I got to the part of the email mentioning that the story should also include the Daleks. And Davros. And that it should - ah, but you'll have to listen to the story to find out what the third thing was.



As previous Davros stories had gone down the 'psychological' route, being deliberately intimate and small-scale, I thought I would do the opposite and write the most spectacular, blockbuster-ish story imaginable. Featuring Napoleon Bonaparte, the Duke of Wellington, the Battle of Waterloo and as many violent deaths as possible, its working title was Waterloo of the Daleks.



In researching the battle, I strived to be as historically accurate as possible (referring to The Battle by Alessandro Barbero). However, as the story concerns time travel, spaceships and Daleks, there is a limit to quite how historically accurate it can be...

Jonathan Morris
October 2011


Director's Notes



Directing The Curse of Davros was particularly enjoyable for me. Not only was I working with Colin again, which is always lovely (sort of feels like coming home), but there was a new companion to introduce (the fantastic Flip)! And there was Terry Molloy, who is just a phenomenal performer - so easygoing and so perfect as Davros.



But on top of all that, there was the Battle of Waterloo. What's so special about that? Well, aside from the obvious historical significance, in that it prevented Napoleon Bonaparte from taking over Europe and possibly the world, this battle was my first childhood encounter with history. I remember, in junior school, how my teacher related the story of the battle, blow by blow, re-enacting key moments in front of us. I can still see him crouching, holding his imaginary musket, bayonet fixed, ready to repel Marshal Ney's ill-advised charge at the allied square formations. This childhood experience was the reason why poor writer Jonny Morris got a lot of flak from me for his first draft storyline. Let us say he'd been a tiny bit cavalier with his treatment of history... and after he'd read my particularly bumptious email about how 1 know all about the Battle of Waterloo, mate!' he bought himself a rather thick book on the subject - and now he's even more of an expert than me!

Nicholas Briggs
October 2011

---
Full Cast List:
| | |
| --- | --- |
| The Doctor | Colin Baker |
| Philippa 'Flip' Jackson | Lisa Greenwood |
| Davros | Terry Molloy |
| Jared | Ashley Kumar |
| Napoleon Bonaparte | Jonathan Owen |
| Captain Pascal | Rhys Jennings |
| The Duke of Wellington | Granville Saxton |
| Marshal Ney | Robert Portal |
| Captain Dickson | Christian Patterson |
| Nicholas Briggs | The Daleks |
| Superintendant Finch | Robert Portal |
| Corporal Bouvier | Christian Patterson |
| | |
The Production Team:
| | |
| --- | --- |
| Writer | Jonathan Morris |
| Director | Nicholas Briggs |
| Sound/Music | Wilfredo Acosta |
| Theme Music | David Darlington |
| Script Editor | Alan Barnes |
| Producer | David Richardson |
| Executive Producers | Nicholas Briggs and Jason Haigh-Ellery |