Assassin in the Limelight
(Robert Ross)

May 2008's release is called "Assassin in the Limelight" and is written by Robert Ross and is directed by Barnaby Edwards. It is a Sixth Doctor story starring Colin Baker with Maggie Stables as his companion Evelyn Smythe. It was recorded on the 7th and 8th February 2008.



This story guest stars Leslie Phillips. '"Assassin in the Limelight" was written specifically for Leslie Phillips', explains director Barnaby Edwards, 'so we were all hugely relieved when he agreed to reprise his role as Dr Knox. The assassination of President Lincoln is a glorious backdrop for a Doctor Who story, and Knox is a great adversary to pit against the Sixth Doctor. They've a lot in common: a love of literature, a fondness for pedantry, a mordant wit...'



The Sixth Doctor fought Knox once before, in 2004's Doctor Who audio adventure "Medicinal Purposes", which also featured David Tennant before he was cast as the Tenth Doctor.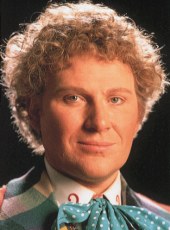 Sixth Doctor

Barnaby Edwards is also the principal Dalek operator on television, and "Assassin in the Limelight" reunited him with Eric Loren - who played Mr Diagoras and the Dalek Sec hybrid in last year's television story "Daleks in Manhattan/Evolution of the Daleks".



Also starring are: Lysette Anthony, Madeleine Potter, Alan Marriott, Paul Dubois and Mikey O'Connor.



And whatever you don't turn the CD off once the end music of the final episode starts...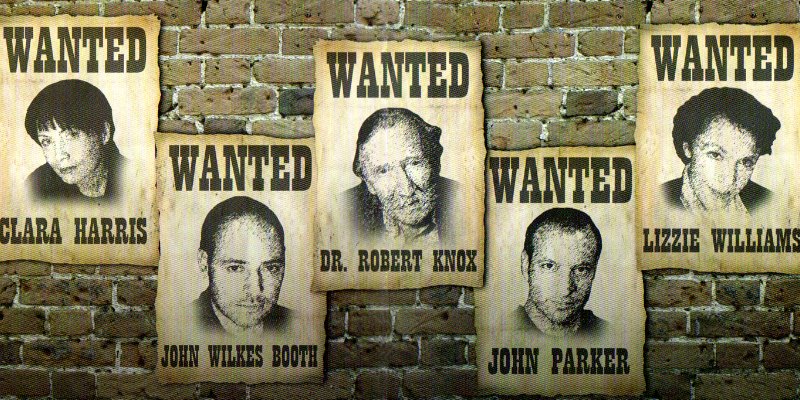 Notes:
Featuring the Sixth Doctor and Evelyn Smythe.
Serial Number: 7C/MD
Number of Episodes: 4
Cover Length: 120 minutes
Episode Lengths: 1 = 25'43", 2 = 28'08", 3 = 27'41", 4 = 29'51"
Total Story Length: 111'23"
Also features 33 minutes of trailers and special behind-the-scenes interviews with the cast and producers.
This story takes place between "The Trial of a Time Lord" and "Time and the Rani" and after "100".
Cover Illustration: Alex Mallinson
Recorded: 7th and 8th February 2008
Recording Location: Moat Studios
Released: May 2008
ISBN: 978-1-84435-317-0
---
On the Back Cover:

Ford's Theatre, Washington. Friday, 14th April, 1865. The assassination of Abraham Lincoln.



The place, the date and the event which made history. Or did it? Someone has been tampering with time, muddying the waters of history for his own purposes. Time itself is out of joint and the chief culprit is the enigmatic Doctor Knox.



Somehow The Doctor and Evelyn must put history back on track before the future dissolves into chaos. But Knox, it turns out, may be the least of their worries...

---
On the Inside Cover:

Writer's Notes: Robert Ross


I never set out to write a Doctor Who trilogy but, by default, that's what I've done. The links are fairly broad and the listener need not have heard my previous efforts although, obviously, I urge you to buy them at once!



It was the sainted Gary Russell who commissioned "something" after we finished recording Pier Pressure and this is what I came up with. I always wanted to bring back my Time Meddler, Doctor Knox. He's mellowed a little since Medicinal Purposes and become, almost, a loveable baddie. When Leslie Phillips asked me how the character had changed I said that he was now: "naughty but nice." "Just like me!" he replied!



The actual setting slipped from Lennon's New York City, to Kennedy's Dallas and, finally ended up in Lincoln's Washington DC. Time travel is a wonderful thing. And for Knox to once again come up against the redoubtable Sixth Doctor was a joy. Is this the last stand? I certainly hope not. As I have said, time travel is a wonderful thing!


Director's Notes: Barnaby Edwards



Robert Ross is an extremely nice man: affable, urbane, witty, exactly the sort of person you'd want to have to dinner. But beware! For beneath this charming exterior beats the heart of a deeply twisted man. Robert loves the macabre, that Ambrose Bierce world of gallows humour.



The dark sensibility is beautifully personified by the character of Doctor Robert Knox, an amoral Time Meddler with a penchant for mordant one-liners. And who better to portray him than Leslie Phillips? Leslie has an irresistibly delicious way of injecting a wealth of meaning and innuendo into the simplest of phrases.



Colin and Maggie were on dazzling form, too, toying with the dialogue and making it float off the page. They say the secret of directing is to get a good cast and let them do their stuff. Well that's certainly true here. So thanks one and all for doing my job for me. Oh and Lysette? Sorry about that Krull witticism…
---
Who's Who?

The Sixth Doctor

First television appearance: "The Twin Dilemma"
First chronological Big Finish audio appearance: "Davros"



He has been exploring the universe for hundreds of years. He fights injustice. He defeats evil. He helps people. The Doctor was travelling alone when he met Evelyn Smythe, a companion who has had a calming effect on him, and a deep bond of friendship and respect has quickly developed between the two. More used to loud, energetic youngsters, The Doctor has appreciated the change of gear the chocolate-cake-loving divorcee has brought into his life.


Evelyn Smythe

First Big Finish audio appearance: "The Marian Conspiracy"



When she first encountered The Doctor, Evelyn Smythe was a history lecturer at Sheffield's Hallam university. He took her on an adventure involving her ancestors in the sixteenth century - which led to Evelyn joining The Doctor in his travels. Unbeknownst to him, Evelyn was resisting efforts by the university administration to retire her due to a possibly fatal heart condition, and so she took the opportunity to explore both history and the wider universe with relish. Amongst the many people and places Evelyn has encountered are Charles Darwin, Burke and Hare and the planet Vilag.
---
Full Cast List:
| | |
| --- | --- |
| The Doctor | Colin Baker |
| Evelyn Smythe | Maggie Stables |
| Dr Robert Knox | Leslie Phillips |
| Claire Harris | Lysette Anthony |
| John Parker | Eric Loren |
| Lizzie Williams | Madeleine Potter |
| Henry Clay Ford | Alan Marriott |
| John Wilkes Booth | Paul Dubois |
| Thomas Eckert | Mikey O'Connor |
| Console Voice | Lysette Anthony |
| Governess | Madeleine Potter |
| Heckler/Harry Hawk/ Messenger Boy/Cabby/Stationmaster | Mikey O'Connor |
| Passenger | Barnaby Edwards |
The Production Team:
| | |
| --- | --- |
| Writer | Robert Ross |
| Director | Barnaby Edwards |
| Sound/Music | Martin Johnson |
| Theme Music | David Darlington |
| Script Editor | Alan Barnes |
| Producer | David Richardson |
| Executive Producers | Nicholas Briggs and Jason Haigh-Ellery |