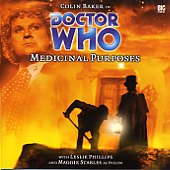 Medicinal Purposes
(Robert Ross)

The story for August 2004 is a Sixth Doctor and Evelyn Smythe adventure titled "Medicinal Purposes". It has been written by Robert Ross - another newcomer to the Big Finish Productions Doctor Who audio range. Directed by Gary Russell it was recorded 18th and 19th March 2004.



Colin Baker and Maggie Stables are joined by veteran actor Leslie Phillips who has starred in numerous films and on television from the 1930's onwards including the classic films: Empire of the Sun, The Longest Day and various Carry on Films. More recent appearances have included Lara Croft: Tomb Raider and providing the voice of the Sorting Hat in the Harry Potter Films. He also acted alongside Jon Pertwee and Ronnie Barker in the radio play The Navy Lark.



Also starring are: Janie Booth, Tom Farrelly, Glenna Morrison, Kevin O'Leary and David Tennant (before he was cast as the Tenth Doctor).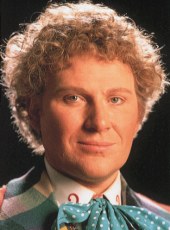 Sixth Doctor

The TARDIS makes a smooth, and very unnatural, landing in a dark, wintry city which The Doctor identifies as 1820's Edinburgh - heyday of the Scottish capital's notorious Irish body snatchers William Burke and Billy Hare.

Finding themselves amongst the local prostitutes, and especially the feisty local prostitute Mary Patterson, The Doctor and Evelyn stumble upon one of Britain's most lurid, illuminating and grisly chapter in history. But their visit quickly turns sour as they soon get caught up with Doctor Robert Knox, who is not who he first seems.



Despite their reputation for "hard drinking and cold-blooded murder" The Doctor is keen to meet the duo that indirectly aided medical research why plying their macabre activities and deadly trade to supply fresh cadavers to Doctor Robert Knox, on the pretence that it's all in the name of advancing medical science.

While their client Doctor Knox is quite forthcoming about his scientific needs, Burke and Hare though are apparently not working in tandem. With William Burke harsh, aggressive presence Billy Hare it seems enjoys his terrible homicidal work more than someone who's just trying to atone for the death of his children…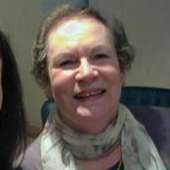 Maggie Stables

What other puzzling anomalies will become apparent in both our Doctor's historical knowledge, and in Doctor Knox's frame of reference? Why does The Doctor have so much trouble in finding Doctor Knox's house when Evelyn and Mary had no problem at all? Why will the Time Lord become less relaxed about this historical detour and why does he have a cheery attitude towards the despicable actions of the Burke and Hare? What is interfering with the experience of the citizens he and Evelyn have befriended? And will the Scotch mist clear in time to make the true threat apparent? What ever it is may put the very fabric of the universe under threat.

There is however, one other person who becomes caught up with Burke, Hare and our two time travellers - Daft Jamie a simple young man who is unaware he will be forever remembered as one of Burke and Hare's victims and one that The Doctor is forced to leave behind so that he can fulfil his tragic place in history...