The Empire State Building

After their previous visit to New, New York of the future The Doctor decides to take Martha Jones to the more familiar New York of her home planet Earth before returning her home. Arriving under the shadow of the Statue of Liberty they soon deduce, by looking at a discarded newspaper, that it is 1930. This date is backed up when they look at the Manhattan skyline and observe an incomplete Empire State Building.



The Doctor takes Martha on a guide tour and they soon reach Central Park – but instead of pleasant open grassland they find a whole makeshift shanty town known as Hooverville – the place the poor and the starving go when there is nowhere else for them to live. Those that end up here vow to help each other.



But even here no one is safe as the huddled masses are disappearing, one by one. The Doctor decides to investigate by volunteering to join a work party that has been tasked to clear a landslide in the sewers under the Empire State Building but what he and Martha find under the streets of Manhattan shock them.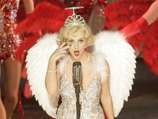 Tallulah the Showgirl

Pig like creatures are being controlled by the Daleks to obtain a workforce for the Daleks who have taken over the Empire State Building. But what do the Daleks want with the Empire State Building and why are they so anxious that the communications antenna at the top is completed? Why have they been converting humans to pig slaves so as to capture even more humans and what is their great experiment?



The Doctor learns that the antenna has been coated in Dalekanium and that a solar flare is due soon which will create an electrical storm that the Daleks intend to harness so as to reawaken thousands of comatose humans that the have in storage.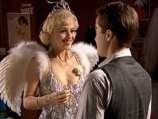 Tallulah and Laszlo

The Cult of Skaro is back and the last four remaining Daleks are attempting to create a brand new Dalek race in New York. But even within the Cult of Skaro there is disagreement that what they are planning to do is right for the future of the Daleks.



The whole planet is in terrible danger unless The Doctor and Martha, with the help of showgirl Tallulah and her companion Laszlo (who has been partially converted into a pig) can thwart the Daleks plan.



But despite all their efforts they may not be able to stop the Cult of Skaro from awakening the comatose humans and so prevent the birth of a new race of Daleks from being created – a race of Human Daleks…