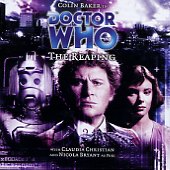 The Reaping
(Joseph Lidster)

"The Reaping" is the first of Joseph Lidster's two plays for September, in which the Sixth Doctor discovers that someone is making novel use of the recently dead. This story has been directed by Gary Russell and was recorded 20th and 21st March 2006.



Colin Baker and Nicola Bryant are joined by former Babylon 5 actor, Claudia Christian as Janine Foster, Peri's mother. Also in the cast is Terra Hawks voice artist, Denise Bryer. Also starring are: Nicholas Briggs, Allison Karaynes, Jeremy Lindsay-Taylor, Stuart Milligan, Jane Perry, Vincent Pirillo and John Schwab



The TARDIS takes The Sixth Doctor and his companion to the Goggle Box - the Human race's greatest achievement - deep inside the Moon. There Peri learns that the Goggle Box allows you to experience every recorded media from Earth's history which Peri decides to take advantage of so as to catch up with local news from the period she left to start her travels with The Doctor. But what she hears alarms her when a news report about the discovery of a murdered person is found in a graveyard - a person she new very well - Anthony - the father of her best friend Kathy Chambers.



And so The Doctor takes her to Baltimore in 1984 - where she is reunited with her mother and Kathy who is mourning for her father. But Peri's return, four months after she disappeared while on holiday in Lanzarote, does not quite go as she planned especially as her mother has finally accepted that her daughter is dead...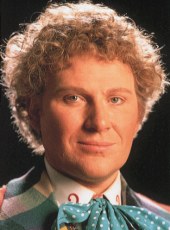 Sixth Doctor

While Peri attends the funeral and wake she gets to re-acquaint herself with her 'lost' family and friends. Meanwhile The Doctor goes off to investigate on his own and meets Mrs Van Gysegham - who seems to know a lot about what is going on and fuels The Doctor's suspicions that there is more to what is going on then meets the eye.



With a murder to solve, a wrongly accused murderer to free from police custody, the discovery of the police being controlled and a mysterious message left on a video tape. A message "to keep playing" which, when followed, results in a message from beyond the grave which Peri realises needs to be investigated further.



As both Peri and The Doctor start to expose more and more unusual and suspicious activity especially with regards to the strange sounds and things happening in the graveyard they realise that there presence is very much required in Baltimore if both of them and the remaining members of Peri's family and friends are to survive.



Could there be an alien involved or maybe something even more sinister? - A foe from The Doctor's past. A foe that has proved many times difficult to defeat. A foe that is determined not to invade or destroy Earth but to takeover the whole human race - to make humanity like them. To convert the human race into Cybermen.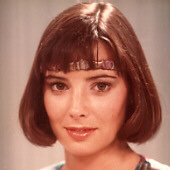 Peri

Cybermen who are converting the recently departed… Cybermen who are more advanced then anything The Doctor has previously encountered… Cybermen who are from the future…



While The Doctor discovers the Cybermen' plans Peri's mother, Janine, and friends, Kathy and Nate, realise that Peri and The Doctor are their only hope to defeat the silver monsters from the graveyard. But how does Anthony fit in with the Cybermen's presence on Earth and how many Cybermen are there? Things are not as they seem.



The Doctor and Peri have a huge task to defeat these powerful, but dying, Cybermen from the future and to thwart their plans to alter history and so become all powerful. Will The Doctor be able to trick the future Cyberleader and so manage to put things right and how does a trip to Mondas, the Cybermen's home planet, fit in with The Doctor's unique solution in defeating the Cybermen?



More importantly, now that Peri is back in her own time, will The Doctor be leaving in his TARDIS alone or will the Cybermen's resourcefulness prevail and so prevent Peri's homecoming?



Some things never have a happy ending - or beginning…


---
Big Finish Magazine - Issue 8 (Autumn 2006)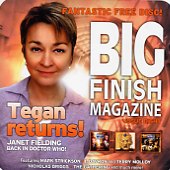 Big Finish Magazine
- Issue 8

Issue 8 of the 'Big Finish Magazine', a series of behind-the-scenes CDs given away free to subscribers, was also sent out with this release.



On this issue...


1. INTRODUCTION – John Ainsworth introduces the latest issue of the Big Finish Magazine.

2. I, DAVROS – We despatched Joseph Lidster to the recording of Big Finish's new mini-series, I Davros, where he caught up with star Terry Molley.

3. NICHOLAS BRIGGS – The new executive producer of Big Finish's Doctor Who audio talks about his new role and plans for the future.

4. MARK STRICKSON – We chat to Mark about his time as a companion and also his work away from Doctor Who.

5. THE REAPING & THE GATHERING – We talk to the writer of September 2006's two Doctor Who audios, Joseph Lidster, and hear from Janet Fielding, too.

Presented by John Ainsworth. Sound design, post-production and CD mastering by David Darlington. Sleeve by Stuart Manning. Compiled by David Darlington. Produced by John Ainsworth. Length 1 hour 13 minutes.


Notes:
Featuring the Sixth Doctor and Peri.
Serial Number: 6ZC
Number of Episodes: 2
Cover Length: 142 minutes
Episode Lengths: 1 = 64'06", 2 = 67'05"
Total Story Length: 131'11"
This story takes place between "Revelation of the Daleks" and "The Trial of a Time Lord" and follows on from "...ish".
Early Title: "Dead Men Walking".
Cover Illustration: Lee Binding
Recorded: 20th and 21st March 2006
Recording Location: The Moat Studios
Released: September 2006
ISBN: 1-84435-196-3
---
On the Back Cover:



On the morning of 9 May 1984, Peri woke up. She was expecting to spend the day relaxing in Lanzarote and, that evening, leave her mother and stepfather to go travelling with some guys she'd only just met.

But things don't always go as expected - as her friends and family discover when, four months later, she returns home having travelled further than anyone could have imagined.



Meanwhile her friend, Katherine Chambers, mourns her father and Peri finds herself meeting some other familiar faces.
---
On the Inside Cover:



Six years ago, I pitched my first idea to Big Finish. The Priory Experience saw the Sixth Doctor and Peri fighting aliens who wanted to take over the world with dance music. The story would eventually be released as The Rapture featuring the Seventh Doctor and Ace but I always hoped that one day I'd get the chance to write for Colin and Nicola. I love the Sixth Doctor and Peri. They've both got such strong personalities and they argue and fight but, deep down, they genuinely care for each other. Her Doctor changed beyond all recognition by sacrificing his life for her and she chose to stay with him. They've got a bond that, in my mind, is possibly the strongest and most interesting out of all The Doctors and companions.



When Gary Russell asked me to think about ideas for a Sixth Doctor versus the Cybermen story, I knew immediately that I wanted to take Peri home. It was an idea that had been floating around inside my head for years. We'd already met her stepfather but what about her mum? What about her friends? What about the life she has chosen to leave behind?



This isn't just a story about the Sixth Doctor and Peri though. It's also about how the decisions we make have repercussions on others. Which is why, when Gary called me to say that Janet Fielding wanted to come back as Tegan, I knew that in the next play, I could explore those repercussions even further...


Joseph Lidster,
May 2006

Joseph Lidster has writen a large number of short stories and audio dramas for Big Finish, across nearly all their other ranges (Sapphire & Steel, The Tomorrow People, Bernice Summerfield) but it's to Doctor Who that he always returns. And he's currently writing content for the BBC's Doctor Who websites, supporting each and every new episode of Doctor Who on television - a task which we like to think had something to do with his work for Big Finish...
---
Who's Who?

The Sixth Doctor

First television appearance: "The Twin Dilemma"
First chronological Big Finish audio appearance: "Davros"



He has been exploring the universe for hundreds of years. He fights injustice. He defeats evil. He helps people. The Doctor sacrificed his previous life on the planet Androzani Minor to save his companion Peri from a toxic virus. After his regeneration, he and Peri remained good, if somewhat argumentative, friends and they are still travelling the cosmos together. The Doctor's forthright, often abrasive, nature frequently alarms Peri, especially as he can be blunt to the point of rudeness in the face of great danger. However, he retains his loyalty, integrity and ultimate belief that evil must be fought, and vanquished...


Peri Brown

First television appearance: "Planet of Fire"
First chronological Big Finish audio appearance: "Red Dawn"



Perpugilliam Brown has travelled with two incarnations of The Doctor. Their relationship used to be somewhat... fractious - but these days, it is generally lighthearted and friendly. A keen botanist, resourceful and compassionate, Peri also has a edgy side - combining a wry sense of humour that can infuriate her travelling companion. She also possesses the useful ability to charm even the most dangerous of opponents with her honesty and apparent naivete that actually hides a quick-wit, a resource learned from The Doctor which both she and The Doctor exploit whenever necessary.
---
The Cast Gallery:
The Sixth Doctor and Peri Brown – Played by Colin Baker and Nicola Bryant

'Eight six eight seven'

Janine Foster - Played by Claudia Christian

'What the hell have you done to my daughter? What's going on?
They're just children and because of you they're here!'


Kathy - Played by Jane Perry

'Janine, ever since Mom died, you've been there for us. You know, when we were kids, I always wondered if you and Dad would... but then you met Howard and.., well, I guess it wasn't meant to happen.'


Anthony - Played by Stuart Milligan

'Kids, if you're watching this I just want to say - keep playing...'


Nate - Played by Jeremy Lindsay-Taylor

'Just you and me. The boys together...'


Cybermen - Played by Nicholas Briggs

'I knew you would not be able to resist investigating.
It is part of your nature.'


Daniel - Played by Vincent Pirillo

'I was here and I saw it. It was a silver ghost...'


Mrs Van Gysegham - Played by Denise Bryer

'He lived in a tent, you know. A tent! Who lives in a tent these days? I gather it was a blue one - probably a democrat. Never understood them.'


Doyle - Played by John Schwab

'Drink the coffee.'

Hamilton - Played by Allison Karayanes

'Keep away from public areas and you will have nothing to fear.
You're listening to Channel VNTR. The news you can trust.'
---
Full Cast List:
| | |
| --- | --- |
| The Doctor | Colin Baker |
| Peri | Nicola Bryant |
| Cybermen | Nicholas Briggs |
| Mrs Van Gysegham | Denise Bryer |
| Janine Foster | Claudia Christian |
| Natalie Hamilton | Allison Karaynes |
| Nate Chambers | Jeremy Lindsay-Taylor |
| Anthony Chambers | Stuart Milligan |
| Kathy Chambers | Jane Perry |
| Daniel Woods | Vincent Pirillo |
| Lt Doyle | John Schwab |
The Production Team:
Writer
Joseph Lidster
Director
Gary Russell
Sound/Music
David Darlington
Theme Music
David Darlington
Story Editor
Alan Barnes
Producers
Gary Russell and
Jason Haigh-Ellery