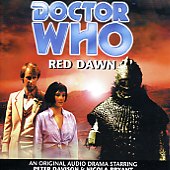 Red Dawn
(Justin Richards)

The release in May 2000 was a Fifth Doctor story titled "Red Dawn" and was written by Justin Richards and directed by Gary Russell. It was recorded on the 20th and 21st November 1999 and features Nicola Bryant as Peri. It also heralds the return of the Ice Warriors who last made an appearance in the Third Doctor television story "The Monsters of Peladon" in 1974. Among the cast list is Peter Davison's daughter Georgia Moffatt playing the part of 17 year old Tanya Webster who is the youngest crew member of NASA's trip to Mars. Also starring are: Maureen Oakeley, Robert Jezek, Stephen Fewell, Hyton Collins, Matthew Brenher and Alistair Lock. Producer Jason Haigh-Ellery and Director/Producer Gary Russell can also be heard playing the parts of Ice Warriors.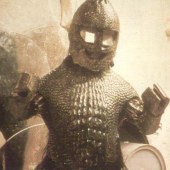 An Ice Warrior

During NASA's first successful manned mission to the dead planet Mars the crew, while investigating an 'anomaly' on the planet's surface, soon uncover evidence that an amazing civilisation once lived below the surface. But is Mars as dead as it seems? The Doctor and Peri soon find themselves involved, with the crew of Ares One, inside a strange alien building whose purpose is at first a mystery. Soon they find themselves inside a room which has all the appearances of a tomb guarded by large beings frozen within blocks of ice. It is not long before the temperature starts to rise. As the ice begins to melt, revealing what is inside, The Doctor soon finds himself confronted with some old adversaries.

As the real purpose of NASA's manned mission to Mars is revealed The Doctor is unable to prevent events from getting out of hand as the initially peaceful Ice Warriors are soon forced into conflict with the humans. Peri finds herself held hostage, along with one of the Ice Warriors, by one of Ares One's crew who has evil plans for the Ice Warriors' advanced weapons technology. The Doctor not only has to try and stop the Ice Warriors from destroying the Mars Orbiter but prevent the deaths of the innocent crew members, including a 17 year old girl, and his companion Peri.



But the Ice Warrior's honour has been broken and they are determined to regain it at any cost even if it means their own destruction and of all those around them...


Notes:
Featuring the Fifth Doctor and Peri.
This story has the first Big Finish Productions appearance of the Ice Warriors.
Serial Number: 6Q/A
Number of Episodes: 4
Cover Length: 110 minutes
Episode Lengths: 1 = 20'20", 2 = 23'04", 3 = 18'15", 4 = 24'36"
This story takes place between "Planet of Fire" and "The Caves of Androzani".
Cover Illustration: Clayton Hickman
Recorded: 20th and 21st November 1999
Recording Location: NU Groove Studios
Released: May 2000
---
On the Back Cover:



Ares One: NASA's first manned mission to the dead planet Mars. But is Mars as dead as it seems?



While the NASA team investigate an 'anomaly' on the planet's surface, The Doctor and Peri find themselves inside a strange alien building. What is its purpose? And what is frozen inside the blocks of ice that guard the doorways? If The Doctor has a sense of deja-vu, it's because he's about to meet some old adversaries, as well as some new ones...
---
On the Inside Cover:



"Yes, of course you can do an Ice Warrior story," Gary Russell (Producer/Director) said. I suggested a NASA mission to Mars, and we both wanted the Mars mission done 'properly.' Then Gary mentioned some other things he wanted. Could I keep The Doctor and Peri separate to ensure Peri got a strong storyline? And could I include a part for a teenage girl? And maybe a sonic tank? And it's called "Red Dawn".



Perhaps more than any other fictional medium performed drama is a collaborative art. You will hear the contributions of the actors, the composer, and the editor. You'll find that they've done an outstanding job of bringing the story to dramatic life. But although we writers are quick to accept praise for a good story, it is worth remembering that the collaborative process often starts before the first words are ever committed to paper and continues right through production.
Justin Richards,
January 2000
---
Full Cast List:
Part One
The Doctor
Peter Davison
Peri
Nicola Bryant
Pilot Susan Roberts
Maureen Oakeley
Commander Lee Forbes
Robert Jezek
Paul Webster
Stephen Fewell
Tanya Webster
Georgia Moffatt
Part Two
The Doctor
Peter Davison
Peri
Nicola Bryant
Paul Webster
Stephen Fewell
Commander Lee Forbes
Robert Jezek
Sub-Commander Sstast
Hylton Collins
Lord Zzaal
Matthew Brenher
Tanya Webster
Georgia Moffatt
Pilot Susan Roberts
Maureen Oakeley
Zizmar
Alistair Lock
Sskann
Jason Haigh-Ellery
Razzburr
Gary Russell
Part Three
The Doctor
Peter Davison
Peri
Nicola Bryant
Razzburr
Gary Russell
Commander Lee Forbes
Robert Jezek
Lord Zzaal
Matthew Brenher
Paul Webster
Stephen Fewell
Tanya Webster
Georgia Moffatt
Sub-Commander Sstast
Hylton Collins
Part Four
The Doctor
Peter Davison
Peri
Nicola Bryant
Tanya Webster
Georgia Moffatt
Paul Webster
Stephen Fewell
Sub-Commander Sstast
Hylton Collins
Lord Zzaal
Matthew Brenher
Commander Lee Forbes
Robert Jezek
Razzburr
Gary Russell
The Production Team:
Writer
Justin Richards
Director
Gary Russell
Sound/Music
Russell Stone
Theme Music
Mark Ayres
Producers
Gary Russell and
Jason Haigh-Ellery
Executive Producer for the BBC
Jaqueline Rayner