| | | |
| --- | --- | --- |
| | "We're dead. Everyone approaching this planet always is..." | |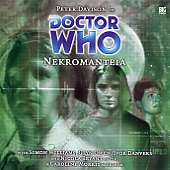 Nekromanteia
(Austen Atkinson)

In February 2003 we had the release of a Fifth Doctor adventure set in the deepest reaches of space. In order to contrast the numerous Earth bound Fifth Doctor stories that Big Finish Productions have already done the brief for this story was for a "Blake's 7 style outer space romp with spaceships and rayguns, mercenaries and big evil corporations". It was due to be released in October 2002 but had to be postponed until now.



Titled "Nekromanteia" this story is the debut script for former Doctor Who Magazine correspondent Austen Atkinson, who has recently been story editor on Channel 5's Family Affairs and Sky One's Dream Team. The Director is John Ainsworth and it was recorded 18th and 19th December 2002.



The Fifth Doctor, played by Peter Davison, and Peri, played by Nicola Bryant, are showing their newest TARDIS companion the Egyptian pharaoh Erimem, played by Caroline Morris - that they met in "The Eye of the Scorpion" (the story released in September 2001), some of the dangers that they face on a regular basis.



The regular cast of Peter Davison, Nicola Bryant along with Caroline Morris are joined by guest-stars Simon Williams, Glyn Owen and Ivor Danvers.



Simon Williams has previously appeared as Group Captain Gilmore with Sylvester McCoy's Doctor in the 1988 adventure, "Remembrance of the Daleks". He is though perhaps better known for his portrayal of James Bellamy in Upstairs, Downstairs. He also starred with Maureen Lipman in the sitcom Agony and recently made a memorable guest appearance in an episode of Victoria Wood's Dinner Ladies.



Glyn Owen and Ivor Danvers both starred in the long-running Howard's Way in the Eighties. Before that though, Glyn appeared with Tom Baker's Doctor in "The Power of Kroll" as the gunrunner Rohm-Dutt.



Also starring are: Kate Brown, Gilly Cohen, Nigel Fairs, Andrew Fettes, Gary Russell and Kerry Skinner.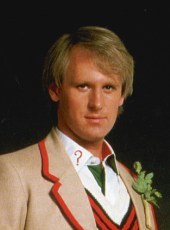 Fifth Doctor

While The Doctor takes his companions to the Garazone bazaar, so as to replenishes TARDIS supplies, they come face to face again with Pakhars who are more than willing to help the noble Doctor.



When Erimem has a curious encounter and an irresistible voice calls out to three travellers events leads them to be drawn inexplicably to the depths of space to a little known district that harbours a terrible secret - the planet Talderun, the primary world in the system of Nekromanteia, where it is reported that the dead walk again, ancient forces are gathering, a new era is about to begin and where a deadly trap looms…



Others though are more interested in Talderun because of its mighty relic and so the travellers soon find themselves landing amidst the carnage on Talderun and involved in the hunt for the secret holy relic that powers the Temple of Shara.



Embodying the divine Sham's immense power the relic is ruthlessly pro-tected by an ancient coven of witches. The leader of the Cult of Shara, Jal Dor Kal, in sending her witches off to fight against a battle fleet, brings together the corporate politics behind the attack on Talderun and The Doctor's previous trip to the Garazone Bazaar. But this holy relic is ruthlessly desired by corporate raiders from nearby planets.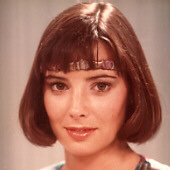 Peri

When autocratic Wendle Marr, who is only interested in acquiring the relic in order to complete the Alpha Project which he has invested everything into, orders Commander Harlon to go into battle against the witches so as to retrieve the relic, he his extremely annoyed when he learns first hand that his ships are being mercilessly cut down.




Why is there such ruthless horseplay on Talderun? What drives the deathly necromancy of its witches, led by the mad witch Jal Dor Kal? Why is there also an archivist from the Museum of Earth, on Talderun and why is he also interested in retrieving the relic which he believes is the remains of Shara himself.



As The Doctor, Peri and Erimem face the terrors of Talderun, and the wrath of a corporate empire, they find themselves struggling to understand the hideous secret of the domain of the dead.



While Erimem demonstrates her enthusiasm for knowledge, and taking delight in things that are simply different to what she has previously experienced, her fellow travelling companion Peri finds herself on the receiving end of the preparations of the Cult to sacrifice her as an offering to Shara.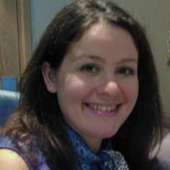 Caroline Morris

Who can be trusted when unsympathetic mercenaries are all busy double-crossing each other and that no one is who they appear to be? While Peri is horrified by recent events how can Erimem be able to take all the violence in her stride?



From the surreal juxtaposition of the dead world of Talderun to the serene tranquillity of a cricket match nothing is as simple as it first seems.



Can The Doctor really be preparing to forfeit himself so that the universe may survive and can he really trust Erimem to do the right thing and look after Peri once he has gone?


---
Big Finish Magazine - Issue 2 (Spring 2003)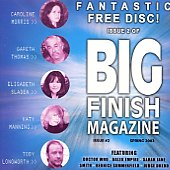 Big Finish Magazine
- Issue 2

Released with this story is a free bonus CD containing the second issue of the "Big Finish Magazine".

Like issue 1, that was given away free with the Fifth Doctor's audio story "Loups-Garoux", and with trusty microphones firmly in hand, once again we go behind the scenes for some of Big Finish's recent releases...



Audio articles in this issue include:



Sarah Jane Smith - Behind the scenes with the first solo audio adventure for, arguably, The Doctor's most popular companion; but since the first adventure was recorded last, this provided an excellent opportunity for an overall appraisal of the series. Interviews with Elisabeth Sladen and Jeremy James (who performs his Doctor Who Greatest Hits).
Benny and Iris - Nicholas Briggs stumbles into the loo at Moat Studios, but escapes in time to interview Lisa Bowerman and Katy Manning. Watch out for tips on microphone adjustment!
Judge Dredd - Interviews with all the major players in Big Finish's 2000AD audio action, including a mind-blowing trailer.
Doctor Who - Ian Farrington is in the chair for in-depth interviews with Caroline Morris (Erimem) and Nicola Bryant (Peri... and Queen Anne!). Also featuring a trailer for "Nekromanteia".
Jubilee - Heard about the one about a Doctor Who CD overrunning? Directors Nick Briggs and Rob Shearman (also the scribe) discuss and listen to scenes that had to be cut.
Dalek Empire - With Dalek Empire II: Dalek War now beginning, Nicholas Briggs rummages through the interviews John Ainsworth conducted during the studio sessions for the first series. Sarah Mowat, Mark Donnell and Gareth Thomas feature.

Compilled by Ian Farrington. Presentation editing and sound design by Nicholas Briggs. CD Mastering by David Darlington. Sleeve by Lee Binding. Produced by Nicholas Briggs and Ian Farrington. Length 1 hour 12 minutes.


Notes:
Featuring the Fifth Doctor, Peri and Erimem.
Serial Number: 6Q/D
Number of Episodes: 4
Cover Length: 100 minutes
Episode Lengths: 1 = 26'59", 2 = 34'02", 3 = 26'11", 4 = 22'34"
Total Story Length: 109'46"
This story is takes place between "Planet of Fire" and "The Caves of Androzani".
Early Title: "Chastelmain's Child".
Cover Illustration: Lee Binding
Recorded: 18th and 19th December 2002
Recording Location: The Moat Studios
Released: February 2003
ISBN: 1-84435-023-1
---
On the Back Cover:



In the depths of space a little known district harbours a terrible secret. Long known as a place of death, it claims thousands more lives as a great corporate space-fleet goes to war. As the fleet screams out in fear and pain, an irresistible voice calls out to three travellers and a macabre mind sets a deadly trap...



The Doctor, Peri and Erimem face the terrors of Talderun and the wrath of a corporate empire as they struggle to understand the hideous secret of the domain of the dead ― a district known in legend as Nekromanteia.
---
On the Inside Cover:



WHEN GARY RUSSELL ASKED ME to write a Doctor Who story I accepted at once. Why? Because I'm a writer and script editor in TV and the chance to play with a format as innovative as Doctor Who is rare indeed.



I've loved the programme since I was a tot, so I just couldn't say no. Whilst conceptualising the "grand space opera" that Gary asked for, I was writing my new archaeology book: Lost Civilizations. At the same time I was script producer on a comedy drama series called Is Harry on the Boat? for Sky One and so I was filming/living on location in the Mediterranean for six months. A lively "alien" culture, mountain temples and mysterious legends surrounded me and I was bombarded with troubling BBC World Service reports on AI-Qaeda and Iraq. Also, whilst in Spain. I hated being separated from my beloved horses. All of these influences came together to create Nekromanteia. The market full of Pakhars (a race created nearly 10 years ago by Gary in his Doctor Who novel "Legacy") can be visited in a place called Almunecar, in Spain; it was a direct lift from my experi-ences there (no human-sized rodents though) and the fantastic Alhambra palace in Granada inspired the temple complex on Talderun. If you ever have the opportunity, why not visit the Alhambra while listening to Nekromanteia on your headphones? It'll blow your mind.



It was an irresistible challenge to write Doctor Who in a contemporary way I hope you like it. For my part, the experience convinced me that the series would work on TV today. So, I vote that we let the mad old intergalactic hippy have another spin around the cosmos. Do any of my colleagues in TV drama agree?


Austen Atkinson,
New Year's Eve 2002

Austen Atkinson is an author, writer and producer. He wrote and produced both Professionals and Ariane 5: Countdown to Disaster for the Discovery Channel and Mentors for the Family Channel/MTM. Most recently he has written anal script edited series such as Dream Team and Is Harry on the Boat? for Sky One and Goal! for the BBC. His latest book, Lost Civilizations, was developed as a TV series for Channel 4. The horse seen with Austen above is called Witney and he doesn't work in the TV industry.
---
Production Notes:



Having done a number of Earth-based (or Earth-type) stories for the Fifth Doctor, Big Finish decided to go in the opposite direction and ask for a Blake's 7 style outer space romp with spaceships and rayguns, mercenaries and big evil corporations.



Armed with those suggestions, writer Austen Atkinson submitted Chastelmain's Child, which shared with the final Nekromanteia a number of plot points such as cults, the hunt for a treasure and everyone double-crossing everyone else. The biggest change was in the TARDIS team - Chastelmain's Child was submitted as a Fifth Doctor and Nyssa story, but having made the decision to keep the character of Erimem aboard the TABDIS, Austen was asked to adapt his ideas to include Erimem and Peri. As a remit, the story became Nekromanteia and although originally intended as Erimem's first post-Egypt adventure, that job eventually fell to "The Church and the Crown", necessitating yet more rewrites.
---
Full Cast List:
| | |
| --- | --- |
| The Doctor | Peter Davison |
| Peri | Nicola Bryant |
| Erimem | Caroline Morris |
| Tallis | Kate Brown |
| Jal Dor Kal | Gilly Cohen |
| Wendle Marr | Ivor Danvers |
| Yal Rom | Nigel Fairs |
| Salaysian | Andrew Fettes |
| Cmmdr Harlon | Glyn Owen |
| Thesanius | Gary Russell |
| Lt Cochrane | Kerry Skinner |
| Paul Addison | Simon Williams |
The Production Team:
Writer
Austen Atkinson
Director
John Ainsworth
Sound/Music
David Darlington
Theme Music
David Darlington
Producers
Gary Russell and
Jason Haigh-Ellery
Executive Producer for the BBC
Jaqueline Rayner