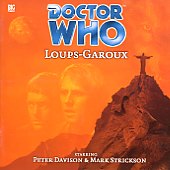 Loups-Garoux
(Marc Platt)

The story that was released in May 2001 stars Peter Davison as the Fifth Doctor and Mark Strickson as Turlough. It was provisionally titled "Werelings" but is now called "Loups-Garoux" (pronounced 'loo-garoo', meaning 'werewolves' in French). It is written by "Ghost Light" author, Marc Platt and marks his Big Finish writing debut. It is directed by Nicholas Pegg and was recorded on the 9th and 10th December 2000. This story was due to be released in June 2001 but it swapped places with "Bloodtide".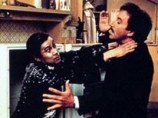 Burt Kwouk (left) as Cato with Peter Sellers

Guest stars include the well known actress Eleanor Bron, who made a comic cameo appearance, along side John Cleese, as an art lover in the Fourth Doctor adventure "City of Death" and then later, in the Colin Baker story, "Revelation of the Daleks" as the ruthless Kara. Another famous guest star is Burt Kwouk who was Inspector Clouseau's martial-arts manservant Cato in the "Pink Panther" movies. His other film and television credits also include: Empire of the Sun, Goldfinger, The Saint and The Avengers. This story also sees him reunited with Peter Davison's Doctor as he previously appeared as Lin Futu in "Four to Doomsday".



Also starring are: Nicholas Pegg, Nicky Henson, Sarah Gale, Jane Burke, Alistair Lock, David Hankinson, Marc Platt, Barnaby Edwards and Derek Wright.



The year is 2080 and something is rotten in the state of Rio de Janeiro. The Amazon rainforest has been laid waste to global warming, wolves prowl the streets and the mysterious Rosa is engaged on a secret quest in what was the Amazon rainforest to fulfil the destiny of her extinct tribe.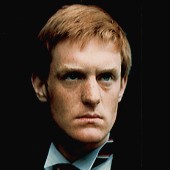 Turlough

When wealthy heiress Ileana de Santos receives a grisly calling card from her former suitor it prompts her to leave her home along with her son, who is suffering from a strange and sinister ailment, and the mysterious Dr Hayashi.



The Doctor and Turlough arrive in Rio de Janeiro for the carnival festivities - but the packed city smells distinctly of death. After escaping from a pack of ravenous dogs, Turlough begins to regret donating his ketchup-covered burger to a curious canine loiterer.



Turlough is then visited by a strange wanderer but The Doctor is more interested in a strange low-flying air car travelling towards the railway station which seemed to instil great fear in the crowds. On investigating further The Doctor and Turlough find themselves confronted by an over zealous security drone which they only just escape from with the help of a large grey wolf. The wolf though seems to be more interested in the train carrying Ileana, Dr Hayashi and her ill son which prompts The Doctor to use the TARDIS to give chase.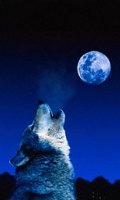 A Wolf

Aboard the train The Doctor learns of Ileana's previous confrontations with a vicious lycanthrope, called Pieter Stubbe, who has been waiting to win back his prey. Smelling a rate The Doctor becomes more concerned while Turlough reflects on his dark side with the help of the strange wanderer. As The Doctor finds himself unwittingly embroiled in a love story quite like no other he is powerless to stop a seemingly possessed Turlough from being ejected from the fast moving train and into the Amazon Desert.



Turlough finds himself in the company of Rosa and having to fend off a whole pack of wolves. Meanwhile an increasingly desperate Doctor realises that Ileana is not whom she seems and even the mysterious Dr Hayashi is somebody who he should be wary of.



Finding himself back with The Doctor, Turlough along with Rosa realises that they are all in far greater danger than any of them could ever have imagined when they come face to face with The Wolf Man. With time running out they soon find themselves back in a deserted Rio, which is being prowled by the wolves, and with the fearsome shadow of Pieter Stubbe moving closer and closer to his prey.



With The Doctor being offered a very unexpected and unwelcome proposal, that could mean the end of his travelling, things seem to be getting out of control…


---
Big Finish Magazine - Issue 1 (Summer 2001)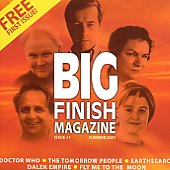 Big Finish Magazine
- Issue 1

Released with this story is a bonus CD containing a free issue of the first "Big Finish Magazine".



With a trusty microphone in hand Nick Briggs peers behind the scenes of Big Finish's current and future releases...



Audio articles in this issue include:



The Tomorrow People - Interview with preview clips of these brand new audio adventures.
Fly Me To The Moon - Producer Jason Haigh-Ellery talks about Sylvester McCoy and India Fisher's live comedy antics along with preview clips recorded before a studio audience.
Doctor Who: "Bloodtide" - Interview with Colin Baker, Maggie Stables, Gary Russell and Alistair Lock who talk about this future audio story about Charles Darwin and the Silurians
Colin Baker Interview - Exclusive candid interview with the Sixth Doctor.
Earthsearch - The third series of James Follett's epic sci-fi adventure. Includes preview clips.
Dalek Empire - Interview with Jason Haigh-Ellery, Nick Briggs and John Ainsworth, with preview clips, on these new Doctorless audio adventures.
The Trailers - A selection of trailers from some of the previously released Doctor Who audio stories.

Recorded, edited, written and produced by Nick Briggs. Cover Illustration: Clayton Hickman. Length 1 hour 14 minutes.


Notes:
Featuring the Fifth Doctor and Turlough.
Serial Number: 6P/B
Number of Episodes: 4
Cover Length: 110 minutes
Episode Lengths: 1 = 32'08", 2 = 32'38", 3 = 35'48", 4 = 36'14"
This story takes place between "Resurrection of the Daleks" and "Planet of Fire".
Cover Illustration: Clayton Hickman
Recorded: 9th and 10th December 2000
Recording Location: The Moat Studios
Released: May 2001
ISBN: 1-903654-29-7
---
On the Back Cover:



Germany, 1589: the townspeople of Cologne pronounce a sentance of death on a mass-murderer who has stalked the countryside in the guise of a ferocious wolf.



Russia, 1812: retreating from Napoleon's invading forces, a merchant's daughter is rescued from bandits by a handsome partisan with a ravenous appetite.



Brazil, 2080: The Doctor and Turlough arrive for the Rio de Janerio carnival.



Is wealthy heiress Ileana de Santos all that she seems? What sinister ailment afflicts her invalid son, tended by the mysterious Dr Hayashi? And who exactly is Rosa, engaged on a secret quest to fulfil the destiny of her extinct tribe?



Time is running out for Rosa, Ileana and The Doctor, as the fearsome shadow of an ancient werewolf moves ever closer...
---
On the Inside Cover:



I've always had a sneaking suspicion, or vain hope, that there are mare powers in Heaven and Earth than we humans can possibly comprehend. Always just Out of the corner of the eye. Maybe we're too self-absorbed to notice. Or just not allowed to see. They might be just behind you right now...



There are more werewolves out there than you think. They have websites. Take a look. Strangely jolly. And that's odd, because it's their inherent sadness that I've always liked --doomed to a lonely existence, prowling the dark alleys of time - the moon, the gipsy girls, the torch-carrying mob... Actually full moons don't appear in any legend I found. So maybe it's just a Hollywood embellishment. But suppose those wolves farmed into a pack? I wondered if The Doctor, champion of the underdog, would be rather more charitable to them than the average human. But then what about the effect The Doctor himself has on the people whose lives he disrupts? The Fifth Doctor might seem an attractive and intelligent companion for a lonely she-wolf. But how would he cope? And then I discovered The Damnable Life and Death of Stubbe Peeter; an allegedly true account of a werewolf trial in medieval Germany. Big Bad Werewolf or not, Stubbe was a real fiend, just begging to be a monstrous third corner in maybe the weirdest eternal triangle ever. But whatever happened to Little Red Riding Hood...?
Marc Platt,
March 2001
---
Full Cast List:
Part One
The Doctor
Peter Davison
Turlough
Mark Strickson
Magistrate
Nicholas Pegg
Pieter Stubbe
Nicky Henson
Rosa Caiman
Sarah Gale
Inez
Jane Burke
Ileana de Santos
Eleanor Bron
Greetings Card
Alistair Lock
Anton Lichfuss
David Hankinson
Tourist
Marc Platt
Victor
Barnaby Edwards
Doctor Hayashi
Burt Kwouk
Jorge
Derek Wright
Part Two
The Doctor
Peter Davison
Turlough
Mark Strickson
Rosa Caiman
Sarah Gale
Doctor Hayashi
Burt Kwouk
Ileana de Santos
Eleanor Bron
Inez
Jane Burke
Anton Lichfuss
David Hankinson
Jorge
Derek Wright
Pieter Stubbe
Nicky Henson
Victor
Barnaby Edwards
Part Three
The Doctor
Peter Davison
Turlough
Mark Strickson
Ileana de Santos
Eleanor Bron
Doctor Hayashi
Burt Kwouk
Rosa Caiman
Sarah Gale
Anton Lichfuss
David Hankinson
Inez
Jane Burke
Victor
Barnaby Edwards
Pieter Stubbe
Nicky Henson
Part Four
The Doctor
Peter Davison
Turlough
Mark Strickson
Doctor Hayashi
Burt Kwouk
Pieter Stubbe
Nicky Henson
Ileana de Santos
Eleanor Bron
Victor
Barnaby Edwards
Jorge
Derek Wright
Rosa Caiman
Sarah Gale
Inez
Jane Burke
The Production Team:
Writer
Marc Platt
Director
Nicholas Pegg
Sound/Music
Alistair Lock
Theme Music
Mark Ayres
Producers
Gary Russell and
Jason Haigh-Ellery
Executive Producer for the BBC
Jaqueline Rayner