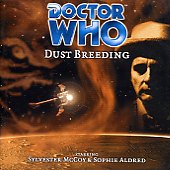 Dust Breeding
(Mike Tucker)

"Dust Breeding", a Seventh Doctor and Ace story by Mike Tucker, was planned for July but it swapped places with "Bloodtide" and so was released in June instead. Originally this story was due to be filled by one called "Dark Rising". However, Mike Tucker has created a completely different story that Big Finish accepted instead. It is directed by Gary Russell and was recorded on the 21st and 22nd April 2001.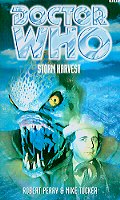 Storm Harvest
(Robert Perry & Mike Tucker)

This story sees the return of Louise Falkner as Bev Tarrant, whom the Seventh Doctor and Ace encountered on the jungle world of Kar-Charrat in Mike Tucker's previous audio play "The Genocide Machine", and the deadly Krill - alien marauders created for the 1999 BBC Past Doctor story "Storm Harvest" by Mike Tucker and Robert Perry. This is the second Big Finish Productions story by Mike Tucker and is also the second that The Doctor and his companion face the ravenous Krill.



Also returning to Doctor Who in this story is actress Caroline John, who played companion and scientist Liz Shaw alongside the Third Doctor. Caroline John plays the eccentric and rather unethical art dealer Madame Salvadori who is aboard the luxury starliner 'Gallery' which is en route to the dust planet Duchamp 331 where one of her proteges, Damien Pierson, is creating a new work which she will sell to the highest bidder.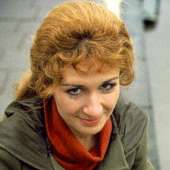 Caroline John
as Liz Shaw

Joining Caroline John aboard her starliner is her real-life husband, actor Geoffrey Beevers (who portrayed the decayed Master in "The Keeper of Traken") playing the part as a fellow art dealer and egg collector Seta. Salvadori and Seta look set to bring the whole art world into disrepute.

Also starring in this audio production are: Jane Goodard, Jez Fielder, Ian Ricketts, Mark Donovan, Johnson Willis, Alistair Lock and Director Gary Russell.



Mike Tucker first penned a story based on Anthony Ainley returning to his famous role as The Master who is involved with a Welsh fishing village being attacked by sea-monsters. It was then suggested to him to also include the Krill. This story was given the name "Dark Rising". Then things changed and Mike Tucker was asked to create a space opera type story instead of an Earth based one. He was left with the task of coming up with an alternative story fairly quickly. Luckily Robert Perry and Mike Tucker already had an ideal story line, titled " Dust Breeding", which they had put together for the Virgin "Missing Adventures" range of books with the Seventh Doctor and Ace.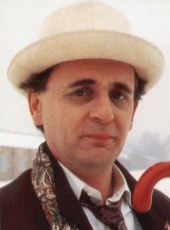 Seventh Doctor

The planet Duchamp 331 is a glorified garage in a backwater in space. Surprisingly, a colony of artists have made their home amid the refuelling stations of this storm-ridden dust planet and among their exhibits hangs Edvard Munch's famous 1893 painting, "The Scream".



In a connoisseur mode the Seventh Doctor, with Ace in tow, intends to rescue the painting from a certain "mysterious circumstances" which he claims threatens it. However, unknown to The Doctor and Ace an old enemy will soon be reunited with them.



Meanwhile, on board the luxurious liner Gallery, Madame Salvadori is leading her cruise party towards the same volatile planet and the same painting. But what is Madame Salvadori's true interest in Damien Pierson and his colony of artists? The artwork she intends to unveil, however, is of a far more violent nature.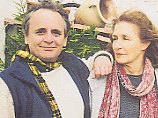 Sylvester McCoy with Caroline John

What appalling secrets lie behind this bizarre artistic colony and what does the mysterious masked man among Salvadori's passengers have to hide and can the ultimate weapon really reside on Duchamp 331 - or is it hatching in Gallery's hold? The monstrous Krill are onboard the Gallery safely stored in their eggs. However, when they start to hatch out they soon go on the rampage. Can The Doctor and Ace succeed in defeating an enemy that has only one thing on its mind - The annihilation of all those that cross their path?



On board the Gallery the first death has occurred and when the pleasure cruiser arrives in orbit Damien reveals his masterplan but The Doctor is more concerned about the fate of everyone on the planet when he realises that they will be doomed when an ancient and terrible weapon is about to be set free.



The Doctor is running out of options and time. Then he realises that the cruiser Gallery is the safest place of refuge, but he hasn't counted on the awesome savagery of the Krill or the ruthlessness of his oldest enemy…


Notes:
Featuring the Seventh Doctor, Ace and also The Master.
Serial Number: 7T
Number of Episodes: 4
Cover Length: 110 minutes
Episode Lengths: 1 = 27'17", 2 = 21'42", 3 = 24'42", 4 = 29'57"
This story takes place after "Survival".
Cover Illustration: Clayton Hickman
Recorded: 21st and 22nd April 2001
Recording Location: The Moat Studios
Released: June 2001
ISBN: 1-903654-33-5
---
On the Back Cover:



On nineteenth Century Earth artist Edvard Munch hears an infinite scream pass through nature. Centuries later his painting of that Scream hangs in a gallery on the barren dust world Duchamp 331.



Why is there a colony of artists on a planet that is little more than a glorified garage? What is the event that the passengers of the huge, opulent pleasure cruiser 'Gallery' are hoping to see? And what is hidden in the crates that litter the cargo hold?



The Doctor's diary indicates that the painting is about to be destroyed in 'mysterious circumstances', and when he and Ace arrive on Duchamp 331, those circumstances are well underway.
---
On the Inside Cover:



Never throw any ideas away. Ben Aaronovitch told me that. He maintained that all story ideas will come in useful someday. It was certainly true of "Dust Breeding".



My original brief was to write an Earth-based, sea-side horror story all undersea monsters and smugglers. Then it was decided that the Seventh Doctor and Ace have visited Earth once too often in the Big Finish universe, so was asked to write a space opera instead. Luckily I had a story in storage. "Dust Breeding" was plotted with my long time collaborator Robert Perry, and I'd like to thank him for his generosity in letting me twist the story to fit my own agenda. Robert also helped create the Krill for our BBC Doctor Who novel Storm Harvest, so this story really is as much his as it is mine. Cheers Rob. I owe you one.


Mike Tucker,
March 2001
---
Full Cast List:
Part One
The Doctor
Sylvester McCoy
Ace
Sophie Aldred
Maggie
Jane Goodard
Skredsvig
Jez Fielder
Jay Banks
Gary Russell
Bev Tarrant
Louise Falkner
Guthrie
Ian Ricketts
Madame Salvadori
Caroline John
Klemp
Mark Donovan
Seta
Geoffrey Beevers
Damien Pierson
Johnson Willis
Albert Bootle
Alistair Lock
Part Two
The Doctor
Sylvester McCoy
Ace
Sophie Aldred
Damien Pierson
Johnson Willis
Bev Tarrant
Louise Falkner
Jay Banks
Gary Russell
Guthrie
Ian Ricketts
Madame Salvadori
Caroline John
Klemp
Mark Donovan
Seta
Geoffrey Beevers
Part Three
The Doctor
Sylvester McCoy
Ace
Sophie Aldred
Klemp
Mark Donovan
Madame Salvadori
Caroline John
Seta
Geoffrey Beevers
Guthrie
Ian Ricketts
Bev Tarrant
Louise Falkner
Damien Pierson
Johnson Willis
Part Four
The Doctor
Sylvester McCoy
Ace
Sophie Aldred
Bev Tarrant
Louise Falkner
Klemp
Mark Donovan
Seta
Geoffrey Beevers
Damien Pierson
Johnson Willis
Madame Salvadori
Caroline John
Guthrie
Ian Ricketts
The Production Team:
Writer
Mike Tucker
Director
Gary Russell
Sound/Music
Russell Stone
Theme Music
Mark Ayres
Producers
Gary Russell and
Jason Haigh-Ellery
Executive Producer for the BBC
Jaqueline Rayner