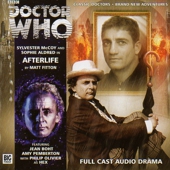 Afterlife
(Matt Fitton)

The last release of 2013 stars Sylvester McCoy, Sophie Aldred and Philip Olivier, with a rather special supporting cast!

Hex is dead. And a distraught Ace holds The Doctor responsible.



Called "Afterlife" this story has been written by Matt Fitton, directed by Ken Bentley and was recorded on the 15th and 16th July 2013.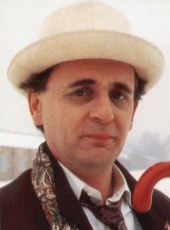 Seventh Doctor

Following on from the shocking events of "Gods and Monsters" we find The Doctor and Ace looking back at Hex's life.



"Afterlife" stars Sylvester McCoy, as the Seventh Doctor, Sophie Aldred, as his travelling companion Ace, and Philip Oliver as Hex (appearing in flashback). It guest stars Amy Pemberton as Sally Morgan, and Jean Boht - best known from her role as legendary matriarch Nellie Boswell in Bread - as Hilda Schofield, Hex's nan.



Also starring are: Mandi Symonds (as Lily Finnegan), Jonathan Forbes (as Barry Finnegan) and Andrew Dickens (as DI Derek Mortimer).



Writer Matt Fitton has revealed that 'Even though I knew what was coming, the end of "Gods and Monsters" left me drained. There's no doubt the aftermath of those events puts The Doctor and Ace in a very dark place. And that's what I wanted to explore in "Afterlife". Has Ace's faith finally been shattered? And what does the player of games do when he's run out of moves? Hex may be gone, but I wanted him to loom large over this story as Ace makes The Doctor face the consequences of his actions. In doing so, they pay tribute to Thomas Hector Schofield, seeking out his family and friends to tell them something of his adventures. Meanwhile one Private Sally Morgan is trying to find her own peace, which brings her to 2020's Liverpool too... Perhaps by remembering Hex, they can all move on. But is it the end of the road, or a new beginning?'.



It's more than a year since an incredible trilogy of audio dramas changed everything for the Seventh Doctor and his four companions. "Protect and Survive", "Black and White", and "Gods and Monsters" wove together almost a decade's worth of audio storytelling with dangling threads from key 1980s television adventures, revealed the full extent of The Doctor's manipulative behaviour, and culminated in the loss of a long-term companion: Hex.



'I think what we're doing in "Afterlife" is looking back at Hex', writer Matt Fitton has explained, 'who he was, and what he meant to The Doctor, to Ace, and to Sally - and how they remember him and move forward without him'.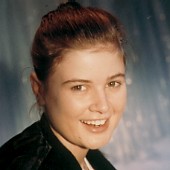 Ace

Since the move to a trilogy-driven format, one-off releases in Big Finish Production's main Doctor Who range have consisted of four single-episode adventures; "Afterlife" breaks that trend. 'It's all one story', Matt Fitton has revealed. 'I thought about doing it as four separate stories, but it's all one thing. First you're seeing the aftermath, then you're hearing the story of Hex from Ace and The Doctor's viewpoint, then Sally, then everybody comes together at the end to resolve things'.



Matt Fitton has revealed that definitely he wanted to have Ace call The Doctor out on his behaviour. 'I think it was quite clear at the end of "Gods and Monsters" that she was not going to take any more of this from him - and that's been building all the way since "The Curse of Fenric", really - so I wanted to follow that up'.



His other remaining companion, Sally Morgan, has had a shorter relationship with The Doctor, but is no less damaged by recent events. 'Sally's been cut adrift. She wants to find closure. She and Hex had a spark between them - there was a chemistry there, and they never got to follow up on it. She's looking for a place in the world outside of being with The Doctor'.



But the biggest consequences will be for The Doctor himself. 'The Doctor has been taught a hell of a lesson, and he's very cowed. Ace is the Seventh Doctor's oldest friend, and he really sees the raw hurt that he's caused her. He's trying to make amends in the only ways that he can. This story is about him rediscovering who he is, and what he can do, so by the end we see what he's capable of again'.



Main Doctor Who range subscribers, whose subscription includes this title, also receive the complete Doctor Who audio drama "Trial of The Valeyard" absolutely free. This adventure stars Colin Baker as the Sixth Doctor along with Michael Jayston as The Valeyard and Linda Bellingham as The Inquisitor. "Trial of The Valeyard" will be available to buy separately in December 2014.