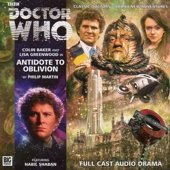 Antidote to Oblivion
(Philip Martin)

One of the most popular monsters from 1980's Doctor Who returns on audio.

The first release of 2014 is called "Antidote to Oblivion" and features the Sixth Doctor and Flip Jackson.



It also stars Nabil Shaban returning as Sil - the financially-astute slug-like creature from Thoros Beta who first appeared in the 1985 Sixth Doctor story "Vengeance on Varos".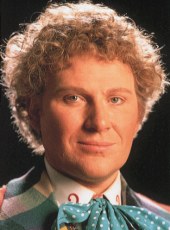 Sixth Doctor

Written by Sil's creator, Philip Martin, this is the first story in a trilogy of Doctor Who adventures from Big Finish Productions, which stars Colin Baker as the Sixth Doctor accompanied by Lisa Greenwood as Flip Jackson - his young companion from the East End.



Directed by Nicholas Briggs this story was recorded on the 11th and 12th June 2013.



Set in a privatised future United Kingdom, "Antidote to Oblivion" has Sil up to his gills in a scheme to turn austerity into prosperity… whatever the cost!



"Antidote to Oblivion" is a direct sequel to Sil's television adventures "Vengeance on Varos" and "Mindwarp" (The Trial of a Time Lord (parts 5 - 8), and the 'lost' story "Mission to Magnus" (released on audio by Big Finish Productions).



'Rogue trader, Sil is a villain as relevant to 2014 as he was to 1985', Script Editor Alan. Barnes has revealed, 'and he's played, as always, by the brilliant Nabil Shaban'.



Also starring in this story are: Dawn Murphy, David Dobson, Mary-Ann Cafferkey, Scott Joseph and Mandy Weston.

'The last we heard from Flip, she was promising the Sixth Doctor that she'd do her best to curb her reckless streak – but can a leopard really change its spots?' Script Editor Alan Barnes has stated. 'That's the question running under all of the stories in this latest trilogy'.



'We were interested in working with the character of Sil again', Nicholas Briggs has revealed, 'because we felt he was a very strong feature of the Sixth Doctor's reign on TV, so we approached Philip. He just really knows the territory, and there are all kinds of echoes of his other work there. Thematically, there are links to "Vengeance on Varos", but there are also plot links to "Mission to Magnus" and his segments of "The Trial of a Time Lord"'.



'Nabil arrived with Sil firmly in place. He delights in the role and, I think, is rightly proud of it and his place in Doctor Who folklore. Nabil is a very political person, so this script suited him down to the ground, with all its sly political jokes. Nabil had to be restrained from adding to them too much, although many of his unique Nabil ideas are in there. I think the character is appealing and popular because he's one of our archetypal villains. He's mean, he's money-obsessed, he's deceitful and conniving. He's a slimy little so-and-so who's horribly in love with himself. So puffed up, but then so weedy and scared. Deliciously horrible'.



This story kicks off a new trilogy of stories featuring Lisa Greenwood as the Sixth Doctor's newest companion, Flip Jackson, who we last heard in 2012. 'There's definitely a feeling that they've settled into a relationship of sorts', Nicholas Briggs has revealed, 'but Flip has itchy feet. The Doctor is very affectionate towards her, but is sort of struggling to find what she really wants. He sometimes despairs of her reckless behaviour - and it gets more and more reckless throughout this trilogy'.



'Even though there's a lot of semi-satirical content in this story there's also a streak of callousness towards the 'gen-pop' or general population that, although it has its basis in other work from Philip, it gets taken to a new level here. It's nice to bring a different narrative voice into Big Finish. It feels like a very authentic slice of Sixth Doctor era writing, but with a modern twist too'.

---
Big Finish Magazine - Vortex: Issue 59 (January 2014)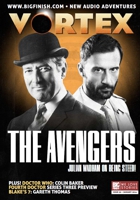 Vortex: Issue 59

Issue 59 of 'Vortex - The Big Finish Magazine' was also sent out to subscribers with this release.



In this issue...
1. Sneak Previews and Whispers – Charlotte Pollard Box Set

2. Editorial - Paul Spragg

3. Article - Trusty Steed - The Avengers: Julian Wadham

4. Article - Sontarans to Zygons - Fourth Doctor Adventures

5. Article - Blake's Back! - Blake's 7: Gareth Thomas

6. Article - Antidotally Speaking - Doctor Who: Colin Baker

7. Article - Listen Again: Heroes of Sontar

8. Vortex Mail

9. Forthcoming Releases - January - October 2014



| | |
| --- | --- |
| Published By: | Big Finish Productions Ltd |
| Managing Editor: | Jason Haigh-Ellery |
| Editor: | Paul Spragg |
| Executive Producer: | Nicholas Briggs |
| Line Producer: | David Richardson |
| Design: | Mark Plastow |
| Published: | January 2014 |
| Page Count: | 24 |
Notes:
Featuring the Sixth Doctor and Flip Jackson.
Number of Episodes: 4
Cover Length: 120 minutes
Episode Lengths: 1 = 35'06", 2 = 34'06", 3 = 33'54", 4 = 37'08"
Total Length: 140'14"
Also features 14 minutes of trailers, music and special behind-the-scenes interviews with the cast and producers.

Cover Illustration: Damien May
Recorded: 11th and 12th June 2013
Recording Location: Moat Studios
Released: January 2014
ISBN: 978-1-78178-298-9
---
On the Back Cover:

Future Britain is bankrupt, its corporate owners facing financial ruin. Fortunately, the Universal Monetary Fund, and its slimy representative Sil, are willing to give its President a multi-billion credit bail-out... but terms and conditions apply, and Sil's proposed austerity measures go far beyond mere benefit cuts.



Responding to a distress call, the Doctor and his companion Flip land in a London whose pacified population has been driven largely underground. But the horrors down there in the dark are as nothing to the horrors that await them at ConCorp HQ, where a young biochemist in Sil's employ is working on a permanent solution to the nation's terminal unprofitability.



Because in the final account, Sil plans to make a killing...

---
On the Inside Cover:


Director's Notes



The return of Sil was script editor Alan Barnes's idea, and I was all for it. It was a lovely feeling to bring back a villain who had a quintessentially Sixth Doctor feel. We'd worked with Nabil before on Mission to Magnus, but I'd actually encountered him many moons ago during the days of my doing Doctor Who drama 'for fun'. It was an amateur Doctor Who audio drama in which I was playing the Doctor, and Nabil came in to play a human, historical villain in a story about the gunpowder plot to blow up the British Houses of Parliament. I remember that Nabil got so enthusiastic during some of the battle scenes that he dismantled part of his wheelchair and started bashing the microphone stands with it. Well, Nabil is still bursting with enthusiasm and energy. He may not be attacking the studio physically any more, but he's certainly full of brilliant ideas - some of them far too outrageous to make it into the final production. Oh, if only decency would allow for me to tell you his suggested nomenclature for the 'Doctuuurrrrr'... But I'll keep quiet about that. The brilliant thing, though, is that Nabil is a writer himself, so any tweaks he has for the script are always great ideas, adding rich layers to the text of an already great script by Sil creator Philip Martin.



And it was, of course, a pleasure to welcome Lisa Greenwood back to the part of Flip. Lisa, who shall forever call me 'Dalek-Face', after she called me that on Twitter. Bless her.
NICHOLAS BRIGGS
Script Editor's Notes



Rampant Thatcherite slug Sil, introduced in Vengeance on Varos, epitomised the 1980s - an exploitative arms dealer and city trader, cousin to Gordon Cekko in Wall Street, only prettier (and introduced a couple of years earlier, too). Some might say, however, that the pendulum has swung back in the slugs' favour over the last few years, and that times are hard again; in which case, if any 1980s Doctor Who monster needs to return, it's Sil...



That was my thinking, at least, when I asked Sil's creator, the brilliant Philip Martin, if he'd care to contrive a comeback for his entirely appalling (and I mean that in a good way) creation - and I was thrilled when he agreed. So watch out, Britain - or rather Concorpia - 'cause here comes Sil: now greedier, more grasping and with 98% less of a conscience than ever before. This time, however, he's gone into partnership with the mysterious Cordelia, to help him execute his most dreadful scheme yet. Or, in 1980s parlance: she's got the brain, he's got the looks; they'll make lots of money!
ALAN BARNES

---
Full Cast List:
| | |
| --- | --- |
| The Doctor | Colin Baker |
| Philippa 'Flip' Jackson | Lisa Greenwood |
| Sil | Nabil Shaban |
| Cordelia | Dawn Murphy |
| Pan/Lord Mav | David Dobson |
| Cerise | Mary-Ann Cafferkey |
| Boscoe/Voda/Knight Marshal | Scott Joseph |
| Kristal/Mistress Na/Velena | Mandy Weston |
| | |
The Production Team:
| | |
| --- | --- |
| Writer | Philip Martin |
| Director | Nicholas Briggs |
| Sound/Music | Fool Circle Productions |
| Theme Music | David Darlington |
| Script Editor | Alan Barnes |
| Producer | David Richardson |
| Executive Producers | Nicholas Briggs and Jason Haigh-Ellery |