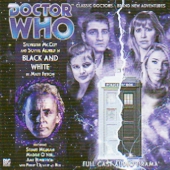 Black and White
(Matt Fitton)

The release for August 2012 is "Black and White" and sees Sylvester McCoy, as the Seventh Doctor, with companions Ace, played by Sophie Aldred, and Hex, played by Philip Olivier. It is the second of three releases for the Seventh Doctor in 2012.



Written by Matt Fitton this story guest stars Stuart Milligan (Nixon in "The Impossible Astronaut/Day of the Moon"). Also starring are: Maggie O'Neill, Amy Pemberton, Michael Rouse, Richard Bremmer, John Banks and James Hayward.



This story has been directed by Ken Bentley and was recorded on the 12th and 13th January 2012.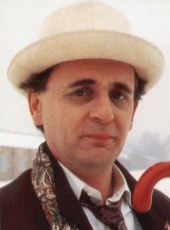 Seventh Doctor

As revealed in "The Angel of Scutari", the TARDIS had its outer shell blown off, and when it reappeared it was white. It's stayed that way in all the Seventh Doctor's subsequent audio adventures with Ace and Hex. But in his solo audio adventures, it's been black.



Listeners noticed and script editor Alan Barnes, the mastermind behind the million-and-one arcs reaching their climax in the current Seventh Doctor trilogy has revealed that he 'just stood back and rubbed my hands with glee! It's one of the maddest things we've done. But I also think it's going to be one of the best and most dramatic things we've done'.



Predictably, it involves some trademark Seventh Doctor obfuscation as revealed by Sophie Aldred, who plays Ace. 'I think that's what was brilliant in the TV series - the fact that yes, he was this benevolent guy going around doing good things all the time, but actually he manipulated his companions as well'.



Philip Olivier, whose character Hex has suffered the brunt of The Doctor's activities of late though has commented. 'Part of you is thinking 'Oh God, I'm being beaten up all the time, what is it?!', but the thing is it's such a great role to play, and I have such a great time doing it. In Black and White, he really does have a go at The Doctor, which has been a long time coming. It really comes to a boiling point. It's one of my favourite scripts I've had to do'.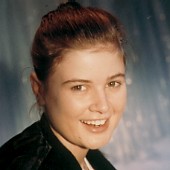 Ace

Matt Fitton, this stories writer, has revealed 'There are a lot of explanations and answers but poses a lot more questions as well. Initially, what Alan was very keen on doing was having the first episode set in the TARDIS, dealing with the revelations at the end of last month's "Protect and Survive". That sort of imposed a different structure onto it really'.



But Matt, whose pitch it has been revealed was 'Doctor Who meets Beowulf', wanted the script to be about stories and structure anyway - 'so I ended up with a first episode that's sort of standalone, and then three episodes that are the beginning, middle, and end to the Beowulf story - but not necessarily in that order! I wanted to do something other than just a straightforward telling of the myth'. 'I've taken the elements of the poem itself - Beowulf, Grendel, and a couple of other characters that appear in passing like Wiglaf and Weohstan - and used them to sort of extrapolate what the real events might have been had there been some alien intervention; what could have produced the story that everyone knows? The poem was only written down several centuries after the story became established - it was sort of a folk tale in the Scandinavian countries that got passed over to England, and even the Anglo Saxon version has added elements that weren't there originally - so I liked the idea that it's layer upon layer, changing depending on who's telling it'. "Black and White" is sort of like 300 crossed with Charlotte's Web. It's an epic battle story that's undercut by humour. Or The Vikings crossed with Bilko as spun by a sixth-century Alistair Campbell! And there's a bit of conspiracy thriller thrown in. Just what is The Doctor up to...?'