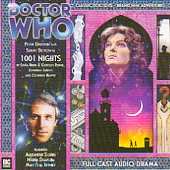 1001 Nights
(Emma Beeby, Gordon Rennie, Jonathan Barnes and Catherine Harvey)

Currently Big Finish Production's main Doctor Who range has been divided into four trilogies every year, but with 13 releases in every 12-month cycle, there's always one story that stands alone and this has been reserved for the release for December.



For December 2012 this stand-alone story is "1001 Nights" - a Fifth Doctor and Nyssa story starring Peter Davison and Sarah Sutton.



"1001 Nights" has been written by: Emma Beeby and Gordon Rennie, Jonathan Barnes and Catherine Harvey. It has been directed by Barnaby Edwards and was recorded on the 7th and 8th August 2012.



Joining Peter Davison and Sarah Sutton are: Alexander Siddig, Nadim Sawalha, Malcolm Tierney, Teddy Kempner, Kim Ismay, Debbie Leigh-Simmons, Christopher Luscombe and Oliver Coopersmith.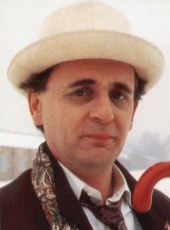 Sylvester McCoy

It has been commented that this story's lack of ties to other adventures is one of its strengths. As revealed by Barnaby Edwards 'The good thing about "1001 Nights" is that you don't need to know any continuity. You don't need to own any other Doctor Who audio stories for it to work - its great strength is that it's not part of a trilogy. It works incredibly well in its own right, and effectively because it's four stories all rolled into one, it's a quartet of new Fifth Doctor and Nyssa stories in one package. Very good value for money!'.



But "1001 Nights" is not like previous '4x1' releases - the likes of "Forty-Five" and "The Company of Friends", which replaced the usual format of a single story told over four episodes with four one-parters. This time, the individual tales are set within, and build towards, a single framing narrative.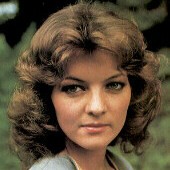 Nyssa

As revealed by Barnaby Edwards 'The structure is very complicated to explain. There is a 'bracketing' story, as it were, and we keep coming back to that. It's a sultan listening to Nyssa telling stories, so we have stories within stories... Gradually, as these go on, all the stones are to do with storytelling and the process of creating a fiction, and to do with prisoners and people who put people in prison, so by the time you hit the fourth episode all the stories you've heard make sense and you realise why Nyssa's been telling them...'.



This idea though may sounds familiar as the setup with Nyssa and the sultan is basically the same as in One Thousand and One Arabian Nights, the book. As Nyssa needs to keep the sultan amused by her stories otherwise he will kill the Fifth Doctor - Nyssa is saving his neck, rather than her own as Scheherazade was in the original.



'Because they are separate adventures', Barnaby Edwards has revealed, 'I went for a complete unique feel for each story. The segues into the stories and out of the stories are quite fluid, and the main thing I've tried to establish is the real world of the framing device - we recorded that all in one day, with one cast, and then did the separate stories all on a different day with a completely different cast - but they all have a very different feeling'.




Main Doctor Who range subscribers, whose subscription includes this title, also received the complete Doctor Who audio drama "Night of the Stormcrow" absolutely free. This adventure stars Tom Baker as the Fourth Doctor, and Louise Jameson as Leela. "Night of the Stormcrow" will be available to buy separately in December 2013.


---
Big Finish Magazine - Vortex: Issue 46 (December 2012)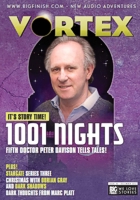 Vortex: Issue 46

Issue 46 of 'Vortex - The Big Finish Magazine' was also sent out to subscribers with this release.



In this issue...
1. Sneak Previews and Whispers – Doctor Who: The Companion Chronicles – The Scorchies

2. Editorial - Nick Briggs

3. Article - Five Talking – Peter Davison

4. Article - Gray Christmas – Dorian Gray

5. Article - A Very Marley Christmas – Dark Shadows

6. Article - A Little Bit Thor – Stargate SG:1

7. Article - Something to Crow About – Marc Platt

8. Vortex Mail

9. Article - Listen Again: Seven Keys to Doomsday

10. Forthcoming Releases - December 2012 – September 2013



| | |
| --- | --- |
| Published By: | Big Finish Productions Ltd |
| Managing Editor: | Jason Haigh-Ellery |
| Editors: | Nicholas Briggs and David Richardson |
| Assistant Editor: | Paul Spragg |
| Design: | Mark Plastow |
| Published: | December 2012 |
| Page Count: | 24 |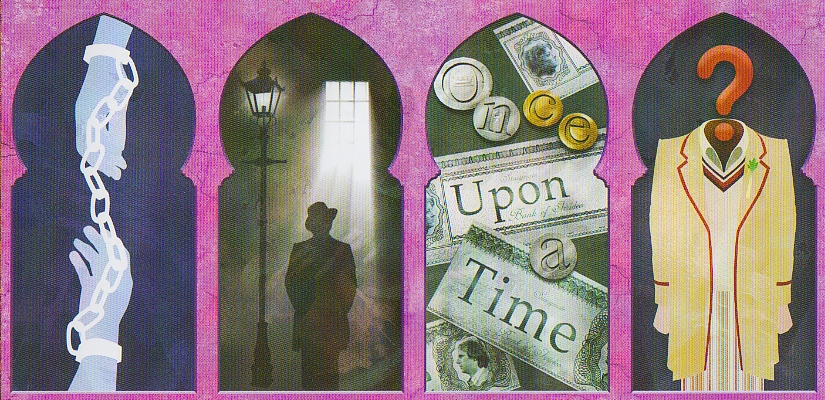 Notes:
Featuring the Fifth Doctor and Nyssa
Serial Number: 6C/R
Number of Episodes: 4
Cover Length: 120 minutes
Episode Lengths: 1 = 29'57", 2 = 32'50", 3 = 29'54", 4 = 26'32"
Total Length: 119'13"
Also features 29 minutes of trailers, music and special behind-the-scenes interviews with the cast and producers
Cover Illustration: Alex Mallinson
Recorded: 7th and 8th August 2012
Recording Location: Moat Studios
Released: December 2012
ISBN: 978-1-78178-050-3
---
On the Back Cover:

A long time ago, two travellers came from far away...



In the perfumed palace of an omnipotent Sultan, a girl must tell stories to keep the man she cares about from a cruel and horrible death. She spins tales of distant lands she has visited with a mysterious traveller, of fabulous creatures and fantastic adventures – and of a blue box that can travel in time and space.



Meanwhile, in the dungeons below the throne room, there lurks a secret which will bring down the kingdom – perhaps even the universe.



Can the Doctor and Nyssa escape from this never-ending story before the final chapter spells their end?

---
On the Inside Cover:

Writer's Notes


It's pretty clear from which side of my family my love of Doctor Who was inherited. My dad, another cricket-enthused Englishman (and a doctor himself), is almost entirely to blame. My mother's side didn't escape from the Doctor's influence either. My grandfather was the Brigadier - well, not that one - but he was a brigadier, who came to Scotland from Baghdad. As he'd likely not encountered Doctor Who there, he probably didn't suspect this dubbing by his British friends may have owed its origin to a certain popular TV show at the time.



My mother similarly had little context for this love of Doctor Who and its weekly servings of monsters. So this story, at least for my part in creating it, was trying to bridge those two sides: putting the Doctor in a different context, and a different kind of story. It also meant being able to bring in a number of storytellers. I'm grateful as ever for Gordon's partnership, but particularly for getting the chance to work with the talented Jonathan and Catherine as they wove their brilliant tales in with ours.



I hope that my mother enjoys it, and that you do as well.

Emma Beeby
October 2012


Writer's Notes



Whether he's ringing the doorbell at Castle Frankenstein in The Brain of Morbius, re-enacting King Kong in Robot or cheerfully grave-robbing in The Tomb of the Cybermen, the Doctor has always thrived when he's been thrust unexpectedly into strange reflections of familiar stories. It was with this tradition in mind, then, that for my contribution to 1001 Nights, I decided to plunge the Fifth Doctor and Nyssa into a warped version of one of my favourite films, the 1973 classic... well, I'll let you figure that out for yourself. After all, isn't that half the fun of it?

Jonathan Barnes
October 2012




I was thrilled when Nick Briggs and Alan Barnes asked me to write for 1001 Nights. Looking again at the original Arabian Nights - tales layered within tales in a world of shifting narratives - raised questions for me about what the quantifiable value of a story actually is; its ownership, and the power it gives the teller. And so, in my tale within a tale, the Doctor and Nyssa find themselves on a cliff edge on a stormy night near a warm, welcoming tavern in a land where stories and storytelling are literally a matter of life and death...

Catherine Harvey
October 2012

---
Full Cast List:
| | |
| --- | --- |
| The Doctor | Peter Davison |
| Nyssa | Sarah Sutton |
| The Sultan | Alexander Siddig |
| Old Man | Nadim Sawalha |
| Warder/Gantha | Malcolm Tierney |
| Nazar/Gantha/Prisoner | Teddy Kempner |
| Lottie/Alien Nurse/Woman Stallholder | Kim Ismay |
| Elizabeth Spinnaker/Bessie/Crying Woman | Debbie Leigh-Simmons |
| Alien Psychiatrist/Balladeer | Christopher Luscombe |
| Hill/Archie | Oliver Coopersmith |
| | |
The Production Team:
| | |
| --- | --- |
| Writers | Emma Beeby, Gordon Rennie, Jonathan Barnes and Catherine Harvey |
| Director | Barnaby Edwards |
| Sound/Music | Jamie Robertson |
| Theme Music | David Darlington |
| Script Editor | Alan Barnes |
| Producer | David Richardson |
| Executive Producers | Nicholas Briggs and Jason Haigh-Ellery |