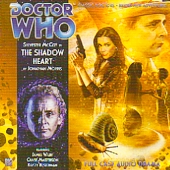 The Shadow Heart
(Jonathan Morris)

The release for November 2012 was "The Shadow Heart".



This story has been written by Jonathan Morris and concludes the 'Three Doctor' trilogy with the Seventh Doctor witnessing the fall of an intergalactic empire.



It has been directed by Ken Bentley and was recorded on the 16th and 17th May 2012.



Sylvester McCoy is joined by James Wilby, Kirsty Besterman, Chase Masterson, Eve Karpf, Alex Mallinson, John Banks and Jaimi Barbakoff .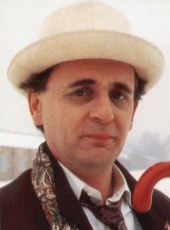 Seventh Doctor

Big Finish's three-Doctor epic, a thrilling run of stories in which different incarnations of the Time Lord have faced the same recurring thing, is coming to an end - and, behind the scenes, two science-fiction legends are colliding.


As with the Fifth Doctor in The Burning Prince and the Sixth Doctor in The Acheron Pulse, the Seventh Doctor is travelling alone in this story, and while there's no 'temporary companion' as such there's still a strong female lead for Sylvester McCoy to bounce off, in the form of actress Chase Masterson - best known as Rom's wife Leeta in Star Trek: Deep Space Nine.


Chase Masterson's character is Vienna Salvatori - who Chase Masterson has revealed is a 'bounty hunter, a mercenary, and she'll work wherever the price is right. Because she's so good at it, she doesn't really need to try that hard - she's brilliant! So in order to keep herself entertained, she talks smart, looks smart, acts smart, brings a kind of sex appeal to it... simply because being a bounty hunter wouldn't be as much fun otherwise!'.



Chase Masterson has also described her character's relationship with The Doctor as being really fun. 'She's companion-like in an adversarial way. The wonderful thing about Sylvester and The Doctor in this is that he really - and I'm sure he does this other times as well - he really befriends his adversaries, in a wonderful way. Vienna is about to capture him and turn him in, and it may cost him his life, but The Doctor has a way of enlisting her in a manner that takes everybody off-guard'.



'I'd say it's action, but it's also got a fair dash of British farce', Chase Masterson has also revealed when summing up this story. 'It's funny, it's very fun, it's a romp'.