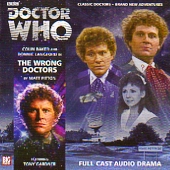 The Wrong Doctors
(Matt Fitton)

Bonnie Langford returns as The Doctor's companion Melanie Bush, partnering Colin Baker as the Sixth Doctor, in three new full-cast audio dramas from Big Finish Productions that started in January 2013.



The release for January 2013 is "The Wrong Doctors" that has been written by Matt Fitton and directed by Nicholas Briggs. It was recorded on the 1st and 2nd May 2012.



This story guest stars Tony Gardner (Lead Balloon, Fresh Meat) playing the part of Stapleton Petherbridge. Also starring are: James Joyce, Patricia Leventon, Beth Chalmers and John Banks.



Melanie Bush accompanied the Sixth Doctor and the Seventh Doctor in their television adventures from 1986 to 1987. Her first appearance was in "The Trial of a Time Lord" - but in that adventure, she was already a seasoned TARDIS traveller...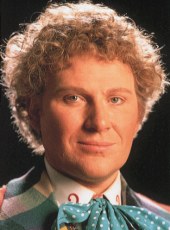 Sixth Doctor

The one thing Big Finish Productions has not done with Melanie Bush, and the one thing Bonnie has not done with Melanie Bush, is her first meeting with The Doctor'. As revealed by Script Editor Alan Barnes. 'You will remember that, for her, the meeting takes place after "The Trial of a Time Lord"; for him, during "The Trial of a Time Lord"... except they go off together at the end of "The Trial of a Time Lord"'.



In the 1986 story "The Trial of a Time Lord", the Sixth Doctor met Melanie, a companion plucked from his own future. At the end of the story, they departed together, even though it seemed that The Doctor wasn't supposed to have met her yet, and she was in the middle of travelling with an older version of himself. It has always been assumed that this was resolved off-¬screen: The Doctor dropping Future-Mel off, and later encountering a younger version for the adventures seen in the television stories that followed. But now, thanks to Big Finish Productions, that missing link is being explored - but not in a straightforward way.


Firstly, as revealed by Script Editor Alan Barnes: 'Navigating one's way through that tagliatelle of timelines, not to mention a whole spaghetti junction's worth of novels and so on, was always going to be a near-impossible task - which the brilliant Matt Fitton has pulled off with aplomb in "The Wrong Doctors"!'



And secondly because there are multiple versions of both characters involved.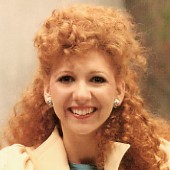 Melanie

As revealed by writer Matt Fitton, 'basically Alan's brief was that he wanted to have Mel meeting The Doctor for the first time. Given that Bonnie Langford was coming back to the fold after a long time away (her last Big Finish Productions appearance was back in 2007 in the Sixth Doctor stories "The Wishing Beast" and "The Vanity Box"), he was keen to do an introductory story for her. It was The Doctor, after Trial, taking home the Mel he's already met but shouldn't yet be travelling with, but also a Doctor some time later in his timeline planning to pick her up for the first time, and swapping so the wrong Doctors end up with the wrong Mels'.



More importantly The older Doctor in this story is post-Evelyn Smythe - the audio companion whose time in the TARDIS occurs between The Doctor ditching the older Mel and meeting the younger Mel, and whose gentle character tempered The Doctor. As also revealed by writer Matt Fitton 'The basic thing that I hung onto with Mel is that she's got this steely moral core. She knows what's right and what's wrong, and that's what The Doctor likes about her. Bonnie has got that power in her performances - Mel will stand up for things and be quite feisty about it'.



'Evelyn's shadow does loom large', Matt Fitton adds. 'The whole point is that The Doctor feels her loss, and thinks it's time to take the next step on his journey - and he thinks that's Mel. But that's what makes things go wrong initially: you can't force the hand of fate'.


---
Big Finish Magazine - Vortex: Issue 47 (January 2013)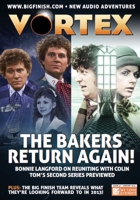 Vortex: Issue 47

Issue 47 of 'Vortex - The Big Finish Magazine' was also sent out to subscribers with this release.



In this issue...
1. Sneak Previews and Whispers – Jago and Lightfoot Series Five

2. Editorial - Nick Briggs

3. Article - Oh Bring Back My Bonnie To Me – Bonnie Langford

4. Vortex Mail

5. Coming Soon…

6. Article - Going Fourth Again – Fourth Doctor Adventures

7. Article - Listen Again - Bang-Bang-A-Boom!

8. Forthcoming Releases - January 2013– September October 2013



| | |
| --- | --- |
| Published By: | Big Finish Productions Ltd |
| Managing Editor: | Jason Haigh-Ellery |
| Editors: | Nicholas Briggs and David Richardson |
| Assistant Editor: | Paul Spragg |
| Design: | Mark Plastow |
| Published: | January 2013 |
| Page Count: | 24 |
Notes:
Featuring the Sixth Doctor and Melanie Bush
Number of Episodes: 4
Cover Length: 120 minutes
Episode Lengths: 1 = 28'55", 2 = 26'50", 3 = 28'43", 4 = 35'30"
Total Length: 119'58"
Also features 32 minutes of trailers, music and special behind-the-scenes interviews with the cast and producers.
Cover Illustration: Mark Plastow
Recorded: 1st and 2nd May 2012
Recording Location: Moat Studios
Released: January 2013
ISBN: 978-1-78178-051-0
---
On the Back Cover:

With Evelyn gone, the Doctor sets course for his destiny... in the form of his first meeting with Miss Melanie Bush, a computer programmer from the village of Pease Pottage, currently busy rehearsing with the local Amateur Dramatic Society – and blissfully unaware that her future is on its way, in his TARDIS.



Make that two TARDISes. Because at that very moment, a slightly younger Doctor is flying into Pease Pottage, too – returning his future companion Melanie Bush to her rightful place and time, after they were flung together during the course of his Time Lord trial.



Time travel is a complicated business – the iguanadon terrorising Pease Pottage being a case in point. But how much more complicated could things possibly become, if the wrong Doctor were to bump into the wrong Mel?

---
On the Inside Cover:


Director's Notes


For some time now, I've made it my business to direct the Colin Baker stories. Colin's an old mate who I've worked with now for many years. Ever since we started our audio adventures, Colin has given us his fullest support, and in many ways he's been involved in some of our most radical, experimental storylines. He's certainly had a lot of interesting companions too!



After her fairly long absence from the audio adventures, I was very excited to be working with Bonnie Langford again. Bonnie also has a special place in my heart. When I became Big Finish's executive producer, I phoned round all our regular actors to sort of reintroduce myself and talk to them about their hopes for future productions, and Bonnie was one of the first people I spoke to. I shall always remember her huge enthusiasm for working with us. As you may know, Bonnie's been very busy in America for some time, but throughout that we've kept in touch, working out the precise timing of her return to the audio adventures. She is just such a professional, through and through, and so easy-going and fun. I sincerely hope it isn't so long before she returns again.



As well as having a lovely cast this story was made particularly enjoyable to work on because of the script. When we find good writers who can really deliver great Doctor Who audio, we grab them in an embrace of doom (!), greedily sucking all the ideas out of them. Matt Fitton has a rare gift and there's something about his work that makes me confident in him from the first line of any script he writes.



My only regret is that I wasn't available to direct the other two stories in this rip-roaring trilogy for good old 'Sixie', as Colin affectionately calls himself. Luckily, the esteemed Barnaby Edwards was able to step into the breach... but that's another two exciting stories!

NICHOLAS BRIGGS


Writer's Notes



Two Colins. Two Bonnies. What more could you wish for? Really, this thing just wrote itself.



Kicking off a significant year for Doctor Who with a multi-Doctor story is something I never imagined I'd do. After he said such lovely things about my previous outing for his incarnation, I wanted to do Colin proud. So what better way to celebrate Big Finish's contribution to fifty years of time travel than to pay tribute to the Big Finish Sixth Doctor himself?



And, of course, it's a welcome back for Mel. Brave, clever, Melanie Jane Bush. The girl from a quintessentially English village who ends up exploring time and space. I was keen to give Bonnie something interesting to do after so long away from the fold. So really, this is a Mel adventure, accompanied by 'the wrong Doctors' from her own point of view. (And as script editor Alan Barnes can attest, I've a colour-coded diagram explaining that point of view...)



Nick Briggs put together a brilliant cast (including the first name I suggested for the villain) and the recording was a pleasure, as always. Thanks to Toby Robinson for his technical wizardry and warm hospitality.



Here's to the next fifty years!

MATT FITTON

---
Full Cast List:
| | |
| --- | --- |
| The Doctor | Colin Baker |
| Mel | Bonnie Langford |
| Stapleton Petherbridge | Tony Gardner |
| Jedediah Thurwell | James Joyce |
| Mrs Wilberforce | Patricia Leventon |
| Vaneesh | Beth Chalmers |
| Ksllak | John Banks |
| | |
The Production Team:
| | |
| --- | --- |
| Writer | Matt Fitton |
| Director | Nicholas Briggs |
| Sound/Music | Simon Robinson |
| Theme Music | David Darlington |
| Script Editor | Alan Barnes |
| Producer | David Richardson |
| Executive Producers | Nicholas Briggs and Jason Haigh-Ellery |