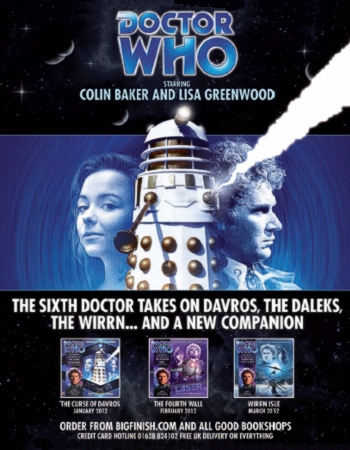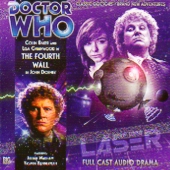 The Fourth Wall
(John Dorney)

The Sixth Doctor's mini-season continued in February 2012 with "The Fourth Wall", by John Dorney, in which The Doctor and Flip Jackson arrive on the planet Transmission.



'"The Fourth Wall" is a cautionary tale about not getting too involved with our entertainment!', John Dorney has revealed, 'and offers something of a baptism of fire for Flip as her tendency to not look before she leaps leads to her paying a heavy penalty. Saying anything more would spoil it... let's just add that you shouldn't get complacent when listening. The light tone is very much about leading you into a false sense of security. Make no mistake something awful is about to happen. It's a story that's been in my head for ages and it's great to finally get a chance to tell it. I came up with the concept for the monsters about 20 years ago and have never quite let them go. I'm delighted to be writing it for Colin, who I adored on TV and has always been my favourite audio Doctor, and the lovely Lisa, who's character is so fresh and vibrant and just plain fun to write for'.



'"The Fourth Wall" is about writers, and writers' responsibilities to their characters. There were various things that went into that melting pot, but one was an awful film I saw where people were gleefully massacred, and I found it a little uncomfortable. It made me wonder why Die Hard worked, whereas that didn't. It felt like the writer didn't have enough respect for the characters. So "The Fourth Wall" is about writers' responsibilities to the fiction they create. It's also about the oddity of action as entertainment, and it has its cake and eats it in that it's a Doctor Who story which kind of sends up what Doctor Who does'.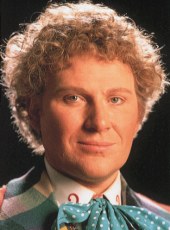 Sixth Doctor

'It is a black comedy, first and foremost. It's probably the most explicitly comedic Doctor Who I've done. But at the same time, it's bleak - there is some very nasty stuff that happens in it. I think the series is at its best when it's got a comedic edge. I've always thought The Doctor is largely a comic character. That said, I found it hard to write jokes for Colin, which I found surprising; there's a degree to which the humour of his Doctor is more a response to him rather than anything he says. The reason The Fourth Wall became comic is because actors are inherently comical, and the monsters in it, you couldn't do straight, because they're quite extreme and broad'.



It has been revealed that one of the John Dorney's highlights of writing this story was dealing with the Sixth Doctor's newest companion. 'I adored writing Flip. I wish I'd been able to write more for her, actually. She just comes in, doesn't take any prisoners, and she's just fun. An easy character to write'.



The guest cast joining Colin Baker, as the Sixth Doctor, and Lisa Greenwood, as Flip Jackson, for this story includes: Julian Wadham (The English Patient, Downton Abbey) as Augustus Scullop, while Yasmin Bannerman (Jabe the Tree in the 2005 Ninth Doctor story "The End of the World") plays Dr Helen Shepherd. Also starring are: Hywel Morgan, Martin Hutson, Tilly Gaunt, Kim Wall and Henry Devas.



This story has been directed by Nicholas Briggs and was recorded on the 14th and 25th June 2011.

---
Big Finish Magazine - Vortex: Issue 36 (February 2012)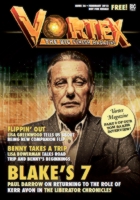 Vortex: Issue 36

Issue 36 of 'Vortex - The Big Finish Magazine' was also sent out to subscribers with this release.



In this issue...
1. Editorial - Nick Briggs

2. Sneak Previews and Whispers

3. Interview - Paul Darrow - Calling Avon

4. Interview - Lisa Greenwood - On The Flip Side

5. Vortex Magazine - Breaking The Fourth's Wall Part Two

6. Forthcoming Releases - February – November 2012

7. Vortex Mail

8. Interview - Lisa Bowerman – Road Warrior





| | |
| --- | --- |
| Published By: | Big Finish Productions Ltd |
| Managing Editor: | Jason Haigh-Ellery |
| Editors: | Nicholas Briggs and David Richardson |
| Assistant Editor: | Paul Spragg |
| Design: | Mark Plastow |
| Published: | February 2012 |
| Page Count: | 24 |
Notes:
Featuring the Sixth Doctor and Flip Jackson.
Serial Number: 7C/NAB
Number of Episodes: 4
Cover Length: 120 minutes
Episode Lengths: 1 = 30'07", 2 = 29'57", 3 = 32'13", 4 = 34'02"
Total Length: 126'19"
Also features 22 minutes of trailers, music and special behind-the-scenes interviews with the cast and producers
This story takes place between "The Trial of a Time Lord (The Ultimate Foe)" and "Time and the Rani".
Cover Illustration: Simon Holub
Recorded: 14th and 25th June 2011
Recording Location: Moat Studios
Released: February 2012
ISBN: 978-1-84435-605-8
---
On the Back Cover:

Business is bad for intergalactic media mogul Augustus Scullop, whose Trans-Gal empire is on the rocks. But, having retreated to his own private planet, Transmission, Scullop is about to gamble his fortune on a new show, made with an entirely new technology. And the name of that show… is Laser.



Back in the real world, far from the realms of small screen sc-fi fantasies about monsters and aliens, the Doctor is interested only in watching Test Match cricket… but finds himself drawn into Scullop's world when his new travelling companion, Flip, is snatched from inside the TARDIS.



So, while the Doctor uncovers the terrible secret of Trans-Gal's new tech, Flip battles to survive in a barren wilderness ruled over by the indestructible Lord Krarn and his pig-like servants, the Warmongers. And the name of that wilderness… is 'Stevenage'.

---
On the Inside Cover:

Writer's Notes


I hate killing people. Fictional people, I should clarify. Not real ones. I actually find killing real people quite fun. But my own characters, now that's a different matter. I've created them, brought them into life, nurtured them, watched them grow. They are, in a very pretentious sense, my children. And I often have to murder them. I'm a writer of action adventure sci-fi. As a genre it's all about death. Death on a grand scale. I kill my babies all the time. It's part of the job. I don't like it.



Authors have a responsibility to their characters, you see. Just as I wouldn't wish to die purely on the whim of some celestial author, the thoughtless swish of his pen ending my existence for the sake of a cheap laugh or a dramatic moment, I don't want my characters to die for no reason.



If I'm to kill them it has to hurt. Hurt them, hurt me, hurt you. Hurt like any death in reality does. Because if we find killing and murder fun, what has become of us?



One of the deaths in this story hurt particularly hard. You'll know which one when it happens. I can only apologise. But death is too big a thing to treat lightly.

John Dorney
October 2011


Director's Notes



Whenever I've dared to canvass opinion at Doctor Who conventions about the kind of story Big Finish fans prefer, I always get a resounding message from those I ask: 'We don't like comedies'. And I agree. But what is the difference between a comedy and a drama? Not everything in a given situation will always play out to entirely dramatic, tragic or action-packed effect. Sometimes, in life, odd things happen. People are sometimes utterly useless at their jobs, to devastating effect, for example. And if their job is to conquer and destroy (rather like some infamous metallic monsters we know only too well) but they're actually rubbish at it, what would be the consequences of that? Might there be a comedic outcome in some respects?



That's one of the many elements in this great script by John Dorney. He's a brilliant writer who has really hit his stride. We love what he does. And in this story, he explores some slightly ludicrous but entirely reasonable consequences of aliens not, being very good at being baddies. He also explores issues involved in taking the 'immersive' experience of television perhaps a bit too far. True, there are some bizarrely funny things that happen along the way. But in many ways, The Fourth Wall is one of the darkest, most disturbing plays I've ever directed.

Nicholas Briggs
December 2011

---
Full Cast List:
| | |
| --- | --- |
| The Doctor | Colin Baker |
| Philippa 'Flip' Jackson | Lisa Greenwood |
| Augustus Scullop | Julian Wadham |
| Dr Helen Shepherd | Yasmin Bannerman |
| Nick Kenton/Jack Laser | Hywel Morgan |
| Matthew Howland/Lord Krarn | Martin Hutson |
| Olivia Sayle/Jancey | Tilly Gaunt |
| Chimbly | Kim Wall |
| Junior | Henry Devas |
| Head Warmonger/Newsreader | Kim Wall |
| Warmonger | Henry Devas |
| | |
The Production Team:
| | |
| --- | --- |
| Writer | John Dorney |
| Director | Nicholas Briggs |
| Sound/Music | Jamie Robertson |
| Theme Music | David Darlington |
| Script Editor | Alan Barnes |
| Producer | David Richardson |
| Executive Producers | Nicholas Briggs and Jason Haigh-Ellery |