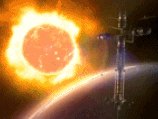 Platform One

Having gained a new travelling companion, The Doctor gives Rose Tyler the option of choosing to take a trip into the future or the past. Rose chooses the future and so in the year five billion the TARDIS arrives on Platform One, a space observation platform that travels between the stars for the viewing, by invited guests, 'artistic' events like, in this case the day that the Sun expands and the Earth gets destroyed.



While Rose admires the view The Doctor explains that the Earth has long been abandoned at that the human race is safely spread amongst various planets and colonies. Then the space stationís Steward spots them but The Doctor manages to convince the official that they are honoured guests.



Rose is then confronted with a multitude of alien races who have come to witness the Earthís demise. They include the Forest of Cheem, a race of tree-people led by Jabe; the Moxx of Balhoon, a diminutive blue solicitor; hooded aliens called the Adherents of the Repeated Meme; the Face of Boe, a glass-encased head; and Lady Cassandra, a hideously mutilated survivor of the human race who exists only as a layer of stretched skin.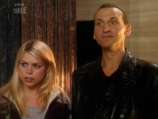 Rose Tyler and The Doctor

Unbeknown to The Doctor one of the guests is not who they seem and has smuggled aboard a strange brand of metallic spiders who start to infest the space station. And those who come into contact with them meet an untimely death. Even the Steward is killed as one of the spiders lowers the sun shields that exposes him to searing temperatures. The spiders then start tampering with the gravity shields that keep the station free from harm.



It is then that The Doctor becomes aware of the infestation and also who is behind the tampering of the space stationís safety devices. But he finds out to late. And as the stationís systems start to close down the recently revealed culprit teleports to safety leaving everyone to their deadly fate.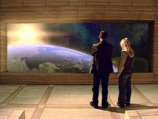 Looking at the Earth

After rescuing Rose from the observation room, that she has found herself trapped within as the sun shields start to fail in there too, it is a race against time to prevent the whole space station from being consumed by the Sun. But The Doctor is helped by Jabe, who it turns out knows a lot about The Doctorís race. But for Jabe the increasing heat becomes too much and it is left to The Doctor to restore the space stationís safety systems before it is to late.



With the space station safe all remains is the matter of dealing with the culprit behind all the problems, and assisting Rose to come to terms with recent events.