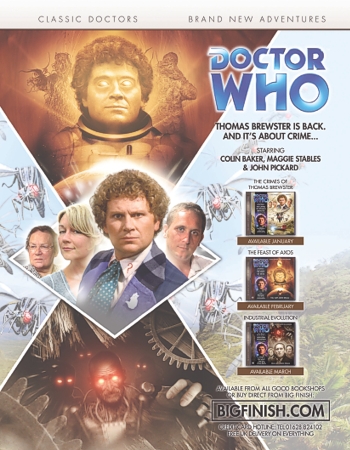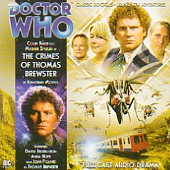 The Crimes of Thomas Brewster
(Jonathan Morris)

The first mini-season for 2011, for the Sixth Doctor, began in January 2011 with "The Crimes of Thomas Brewster" by Jonathan Morris, which is set in present-day London. It has been directed by Nicholas Briggs.



This story reunites the Sixth Doctor with his hugely popular audio companion Evelyn Smythe (played by Maggie Stables) for three brand new stories. Evelvn first appeared in "The Marian Conspiracy" back in 2000, and was last heard, with the Sixth Doctor, in the 2008 audio story "Assassin in the Limelight".



'It's been too long', Nicholas Briggs has admitted, 'but I'm delighted to welcome Evelyn back by popular demand. That's not hyperbole – we've been inundated with letters from fans who have missed her!'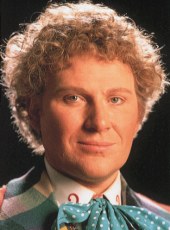 Sixth Doctor

Also joining The Doctor and Evelyn will be a companion from a previous incarnation. Victorian orphan Thomas Brewster (played by John Pickard) – hence the title of this story. Thomas Brewster originally accompanied the Fifth Doctor - and we have been promised that he and the Sixth Doctor won't always see eye to eye.



This story also sees the return of Anna Hope (Novice Hame in the television stories "New Earth" and "Gridlock") as police detective DI Menzies, while David Troughton (who appeared in the television stories "The Curse of Peladon" and "Midnight") guest stars as Raymond Gallagher. Also starring are: Duncan Wisbey, Ashley Kumar, Lisa Greenwood, Helen Goldwyn and Nicholas Briggs.



'The plot is, deliberately, a chaotic jumble of different ideas', writer Jonathan Morris has revealed. 'I had the opening scene, with The Doctor and Evelyn in a James Bond-esque speedboat chase, and the scene depicted on the cover, and an idea for the monsters, but that was about it'.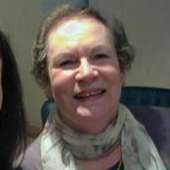 Maggie Stables

'What's interesting about Brewster's character is that although he has a very moral outlook, he has a criminal background', Jonathan Morris has pointed out, 'so while he might want to do the right thing, he might go about it the wrong way. In "The Crimes of Thomas Brewster", The Doctor discovers that there's an east end gangster who's been going around calling himself "The Doctor"…'



Jonathan Morris introduced the character of Brewster back in 2008, and has had a hand in the third part of this trilogy (Eddie Robson's "Industrial Evolution") as a result. 'In order to spare Eddie Robson and myself the self-searching anguish of rewriting our own scripts, we both wrote the second drafts of each other's scripts', Jonathan Morris has explained, 'with Eddie making sure I'd got his character of Patricia Menzies right, and me making sure Eddie had got Thomas Brewster right -before going back and writing the third drafts of our own stories. It's a good way of working'.



Patricia Menzies is another returning voice: a Salford detective inspector, she first met the Sixth Doctor later in his life, in "The Condemned" and "The Raincloud Man". 'Originally the script for "The Crimes of Thomas Brewster" had a different female police officer', Jonathan Morris has revealed, 'but I secretly wanted DI Menzies to return and wrote the character hoping that I'd be asked to change her to DI Menzies'.



Incorporating DI Menzies may have caused a problem as she is not supposed to have met The Doctor yet! But Jonathan Morris has revealed that 'I've found a way of making it fit which actually turns out be quite interesting and dramatic'. And it seems you don't need to be familiar with DI Menzies or Thomas Brewster to enjoy this release. 'In fact', Jonathan Morris has stated, 'it's probably even more exciting if you haven't!'.

---
Big Finish Magazine - Vortex: Issue 23 (January 2011)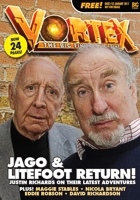 Vortex: Issue 23

Issue 23 of 'Vortex - The Big Finish Magazine' was also sent out to subscribers with this release.



In this issue...
1. Editorial - Nicholas Briggs

2. Sneak Previews and Whispers - Companion Chronicles: Tales From The Vault.

3. In The Studio - Harpo Speaks

4. Feature - Evelyn All

5. Feature - Justin Time

6. Feature - Ready, Eddie, Go!

7. Feature - Audio Experiment

8. Letters

9. Forthcoming Releases - January 2011 - October 2011



| | |
| --- | --- |
| Published By: | Big Finish Productions Ltd |
| Managing Editor: | Jason Haigh-Ellery |
| Editors: | Nicholas Briggs and David Richardson |
| Assistant Editor: | Paul Spragg |
| Design and Layout: | Alex Mallinson |
| Published: | January 2011 |
| Page Count: | 24 |
Notes:
Featuring the Sixth Doctor, Evelyn Smythe and Thomas Brewster.
Serial Number: 7C/NA
Number of Episodes: 4
Cover Length: 120 minutes
Episode Lengths: 1 = 24'57", 2 = 26'56", 3 = 27'39", 4 = 28'56"
Total Length: 108'28"
Also features 33 minutes of trailers, music and special behind-the-scenes interviews with the cast and producers
This story takes place after "Assassin in the Limelight"
Cover Illustration: Anthony Lamb
Recorded: TBA
Recording Location: Moat Studios
Released: January 2011
ISBN: 978-1-84435-543-3
---
On the Back Cover:

Sent down south to assist the Metropolitan Police in their efforts to investigate the gangland kingpin known only as 'the Doctor', Detective Inspector Patricia Menzies finds herself up to her neck in laser-armed robot mosquitoes, gun-running criminal overlords, vanishing Tube trains... and not one, but two Doctors.



Meanwhile the real Doctor, and his academic assistant Professor Evelyn Smythe, have become ensnared in the machinations of an old acquaintance - time-travelling Victorian guttersnipe Thomas Brewster. But what's Brewster's connection to the rapacious robot Terravores? And can anyone contain the gathering swarm?

---
On the Inside Cover:

Writer's Notes:


'The Sixth Doctor and Evelyn, together with Brewster, on contemporary Earth. With Brewster back to his old tricks...'



This story started with a single, powerful image. The idea of being on the last Tube train home, very much the worse for wear after a wild night out and, instead of pulling into a Tube station, suddenly the train is bathed in sunlight as it emerges into an alien jungle. Where is the Tube train? How did it get there? And why?



Answering those three questions gave me the story; a bonkers, spectacular, rollercoaster of a story. Something like Russell T Davies's season openers; lots of character, lots of humour, lots of scary monster action. Plus the maddest, most action-packed opening sequence I could imagine.



Plus the return of the marvellous DI Menzies! I'd written in a sarky policewoman, in the hope that Alan Barnes would suggest replacing her. But then he pointed out that the Doctor's adventures with Evelyn take place before the stories where he met DI Menzies, which made things a little complicated...

Jonathan Morris
October 2010


Director's Notes:



The Crimes of Thomas Brewster is a bit of a Big Finish companion-fest, isn't it? The delightful Evelyn is back, and not before time. And then there's Thomas himself and the wonderfully dry Patricia Menzies. It all just seemed to fit beautifully into place and, most importantly, made Colin Baker very happy. He loves all his companions, but I know he'd missed Maggie Stables and had campaigned quite heavily for the return of Anna Hope.



The chirpy John Pickard was an entirely new challenge for Colin, and the two of them sparked off each other rather well. It was also nice for me to work more closely with John, who I'd spent a lot of time with at conventions but never actually directed. He's hilarious to work with, because he more or less physically does everything his character is doing. As a result, he almost gives the impression of being a caged animal in his recording booth. 'John? Is that you rustling around on the carpet in there?' 'Oh yeah... sorry!' he'd laugh. You've gotta love that guy's energy.

Nicholas Briggs
November 2010
---
Full Cast List:
| | |
| --- | --- |
| The Doctor | Colin Baker |
| Evelyn Smythe | Maggie Stables |
| Thomas Brewster | John Pickard |
| DI Patricia Menzies | Anna Hope |
| Sergeant Bradshaw | Duncan Wisbey |
| Raymond Gallagher | David Troughton |
| Jared | Ashley Kumar |
| Flip | Lisa Greenwood |
| Terravores | Helen Goldwyn |
| Mick/Neville Perkins/Guard at St Katherines Dock/Newspaper Vendor | Duncan Wisbey |
| Guard at Baker Street Station | Nicholas Briggs |
| Announcer at Great Portland Street | Helen Goldwyn |
| | |
The Production Team:
| | |
| --- | --- |
| Writer | Jonathan Morris |
| Director | Nicholas Briggs |
| Sound/Music | Howard Carter |
| Theme Music | David Darlington |
| Script Editor | Alan Barnes |
| Producer | David Richardson |
| Executive Producers | Nicholas Briggs and Jason Haigh-Ellery |