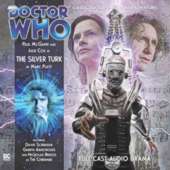 The Silver Turk
(Marc Platt)

After leaving Big Finish Productions main Doctor Who monthly range of audios in "The Company of Friends", to start his own dedicated series of stories, the Eighth Doctor is back, in October 2011, in a brand new three-part mini-series in which he is joined once again by Mary Shelley, the author of Frankenstein.



Paul McGann returns with Julie Cox, who first played the role in "The Company of Friends". Script Editor Alan Barnes has revealed 'We thought it'd be nice to follow up on "Mary's Story", from "The Company of Friends". We know that Mary travelled with the Doctor for some time, so it seemed mean not to tell some of those missing stories!'.



This mini-season begins with "The Silver Turk" by Marc Platt (writer of the 1989 Seventh Doctor story "Ghost Light"). This story has been directed by Barnaby Edwards and was recorded on the 5th and 11th April 2011.



The Eighth Doctor's friendship with Mary Shelley is a storyline that has been developing for an entire decade. As early as the 2001 audio play "Storm Warning", he mentioned having had an adventure with the writer on the night that Frankenstein was conceived, and brief references have been made since. Then in 2009 Big Finish Productions released "Mary's Story", which was part of The Company of Friends. This story finally showed us that encounter, and revealed that Mary Shelley had travelled in the TARDIS with The Doctor.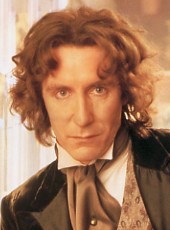 Eighth Doctor

"The Silver Turk" carries directly on from where "Mary's Story" left off, with The Doctor and Mary Shelley on their way to Vienna, where they meet an old enemy of The Doctor's, who's fallen into some very unlikely company!



Now, a new trilogy of adventures has been released which will explore these travels for the first time, with Julie Cox returning to the role of Mary as a full-time companion.



Julie Cox has revealed that 'She's very cool! She's unfazed by The Doctor's world. You have to respect the fact that she's from a different time, but at the same time she's quite a modern woman. I like her wilfulness to do things'.



Director, Barnaby Edwards has also stated '"The Silver Turk" is quite a gentle way of launching Mary into time travel and she does see the poetry of it. But she does freak out at points. She can't quite cope with the concept at first'.



Time travel though is the least of Mary's worries as the Cybermen are back! 'They are trapped on the Earth in dire circumstances', writer Marc Platt has revealed. 'They are damaged, and it's about how they survive, really - because, as usual, that is their raison d'etre - and also how the people in late nineteen-century Vienna exploit them and use them. I hope there's a slight "The Evil of the Daleks" feel to it, actually. That's very much what I had in mind...'.



As stated by Alan Barnes 'Fans of Marc's Doctor Who audio drama "Spare Parts" - which is just about everyone, I think! - will be thrilled when they hear what he's done with the Cybermen here...'.



Gareth Armstrong (from the 1976 Fourth Doctor story "The Masque of Mandragora") guest stars as Dr Johann Drossel, Christian Brassington (Burke and Hare, Elizabeth: The Golden Age) is Alfred Stahlbaum and David Schneider (I'm Alan Partridge, The Day Today) is Ernst Bratfisch. Also starring are: Gwilym Lee, Claire Wyatt, Nicholas Briggs and Barnaby Edwards.

---
Big Finish Magazine - Vortex: Issue 32 (October 2011)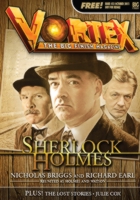 Vortex: Issue 32

Issue 32 of 'Vortex - The Big Finish Magazine' was also sent out to subscribers with this release.



In this issue...
1. Editorial - Nick Briggs

2. Sneak Previews and Whispers - Doctor Who: The Wrath of the Iceni & Jago and Litefoot – Series 4

3. Feature - Holmes on the Range

4. Feature - Watson the Other Side

5. Letters

6. Feature - Lost Properties

7. Forthcoming Releases - October 2011 – July 2012

8. Feature - Coming Out of Her Shelley



| | |
| --- | --- |
| Published By: | Big Finish Productions Ltd |
| Managing Editor: | Jason Haigh-Ellery |
| Editors: | Nicholas Briggs and David Richardson |
| Assistant Editor: | Paul Spragg |
| Design: | Alex Mallinson |
| Graphics and Layout: | Anthony Lamb |
| Published: | October 2011 |
| Page Count: | 24 |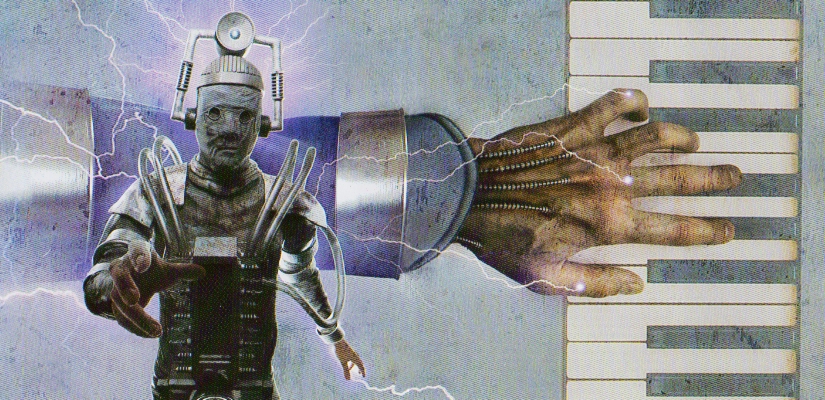 Notes:
Featuring the Eighth Doctor and Mary Shelley.
Serial Number: 8A/AA
Number of Episodes: 4
Cover Length: 120 minutes
Episode Lengths: 1 = 31'33", 2 = 28'59", 3 = 31'17", 4 = 35'42"
Total Length: 127'31"
Also features 14 minutes of trailers, music and special behind-the-scenes interviews with the cast and producers
This story takes place after "Doctor Who: The Movie"
Cover Illustration: Alex Mallinson
Recorded: 5th and 11th April 2011
Recording Location: Moat Studios
Released: October 2011
ISBN: 978-1-84435-601-0
---
On the Back Cover:

Roll up! Roll up! To the great Viennese Exposition, where showman Stahlbaum will show you his most wonderful creation, the Silver Turk – a mechanical marvel that will not only play for you the fortepiano, the spinet and the flute, it will play you at the gaming table too!



But when the Doctor brings his new travelling companion Mary Shelley to nineteenth-century Vienna, he soon identifies the incredible Turk as one of his deadliest enemies – a part-machine Cyberman.



And that's not even the worst of the horrors at large in the city…

---
On the Inside Cover:

Writer's Notes


Alan Barnes' shopping list: Mary Shelley; 19th century Vienna; automata - possibly the celebrated Turk. So I spent a while reading some of Mary Shelley's short stories. They tend to have very tidy endings, but they also bulge with amazing ideas for a nineteenth century young lady. Mary really was a bit of a maverick, giving all sorts of social conventions a good kicking. So she's a great foil for the Eighth Doctor.



Vienna is quite a short jump from Lake Geneva (see The Company of Friends), but I needed a good reason for the Doctor to be there. So Vienna: cakes, waltzes, Franz Josef, Freud. Having decided that the abominably hideous events at Mayerling in 1866 were probably a bit much, I discovered the Vienna Exposition of 1873 - all manner of technological and artistic innovations were on display. Huntley and Palmers even had a biscuit emporium. And there was also a stock market crash. Well, how could the Doctor resist? What's less well known is that two new shows were also in town - a bizarrely realistic puppet show and an exhibition by the celebrated automaton the Silver Turk. A storm is brewing and there are signs that the Cybermen have a hand, even several hands, in the dastardly business...

Marc Platt
July 2011


Director's Notes



I'm a sucker for great literary figures becoming embroiled in the world of Doctor Who. From the First Doctor's adventures with the celebrated traveller and diarist Marco Polo to the Eleventh Doctor's encounters with that formidable winner of the 1953 Nobel Prize for Literature, Winston Churchill, the plethora of well-known writers stepping on and off the TARDIS has enriched and enlivened the show. Wells, Dickens, Shakespeare, Christie, and now... Mary Shelley.



And what better story with which to launch her adventures than a tale revolving around the creation of life? Galvanic lightning, stolen body parts, Miltonian rhetoric - all the elements of Frankenstein are there. Fun as these references are, though, they are only a small part of litterateur Marc Platt's magnificently macabre reimagining of the Coppelia myth.



As director, I may have been pulling the strings, but Marc was definitely the story's puppet master!

Barnaby Edwards
July 2011

---
Full Cast List:
The Doctor
Paul McGann
Mary Shelley
Julie Cox
Dr Johan Drossel
Gareth Armstrong
Alfred Stahlbaum
Christian Brassington
Ernst Bratfisch
David Schneider
Count Rolf Wittenmeier
Gwilym Lee
Countess Mitzi Wittenmeier
Claire Wyatt
The Cybermen
Nicholas Briggs
Policeman/Barker/Punter
Gareth Armstrong
Hannolore/Empress/Punter
Claire Wyatt
Heinz/Barker
Nicholas Briggs
Krauss/Waiter
Barnaby Edwards
Barkers
Christian Brassington
Julie Cox
Gwilym Lee
The Production Team:
| | |
| --- | --- |
| Writer | Marc Platt |
| Director | Barnaby Edwards |
| Sound/Music | Jamie Robertson |
| Theme Music | David Darlington |
| Script Editor | Alan Barnes |
| Producer | David Richardson |
| Executive Producers | Nicholas Briggs and Jason Haigh-Ellery |