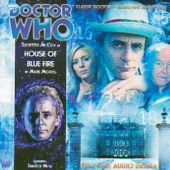 House of Blue Fire
(Mark Morris)

The final story in this year's mini-season of stories for the Seventh Doctor ends with "House of Blue Fire", written by Mark Morris - whose previous audio credits include "Plague of the Daleks".



This story has been described as being slightly spooky. There are very few characters and the storyline has been portrayed with a very claustrophobic feel.



'It's exactly the sort of thing you'd expect from an acclaimed horror novelist', Script Editor Alan Barnes has revealed. 'There's an isolated house, a bunch of terrified squaddies, a legendary monster... We've tried to make sure there's something nasty for everyone - be they claustrophobes, aquaphobes, even "blattodeaphobes"...!'



This story has been directed by Ken Bentley and was recorded on the 14th and 15th February 2011.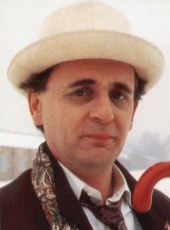 Seventh Doctor

Director Ken Bentley has revealed that 'It's about four young people who find themselves in Bluefire House, but they don't know why they're there. The Doctor's there, too, and is part of the mystery...'.



This means that the currently-companionless Doctor is spoiled for choice in terms of getting help from the people he meets in this story. 'The four people who find themselves in this house are all like companions to him in one way or another', Ken Bentley has revealed. 'They all muck in, they all club together to solve the puzzle of what's going on'.

It seems that the internal dynamics between the four guest characters are just as fascinating as their relationships with The Doctor as when we first meet them, we don't know who they are, and they don't know who anyone else is. Some of them are distrustful, some aren't. Each of the characters is individual in that respect - some are angry and violent, others are trying to be forgiving and open-minded. There are different sorts of energies and conflicts that are going on throughout those scenes.



A strong guest cast has been assembled and is led by Timothy West, whose earlier Big Finish Productions appearances include "Phobos" and "Cuddlesome".



Also guest starring are Howard Gossington, Ray Emmet Brown, Amy Pemberton and Miranda Keeling. Ken Bentley has confirmed 'They were just fantastic. You bring four actors in for two days and you don't know what you're going to get: 99% of the time, they do a good job, but 1 % of the time they go further; they come together and do something unexpected. And these four definitely did that. It was wonderful'.



Also starring in this story is Lizzy Watts.



It has though been hinted, Ken Bentley, that when the mysteries of Bluefire House have been solved, the story won't be over. 'One of the points of this is that we're setting something up that we might pick up on later on...'.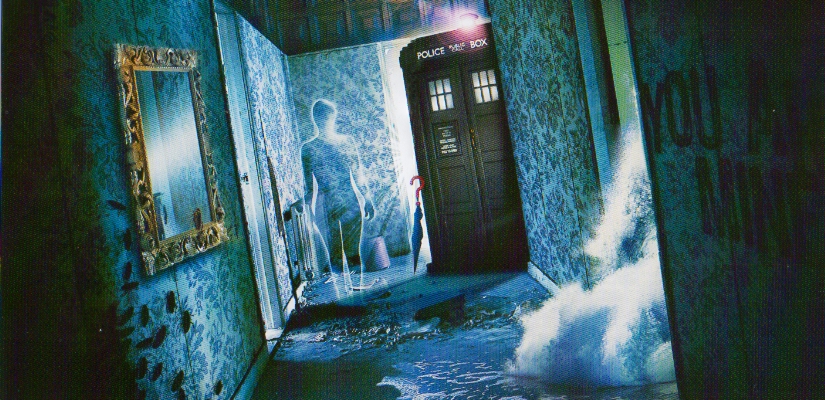 Notes:
Featuring the Seventh Doctor.
Serial Number: 7Z/AC
Number of Episodes: 4
Cover Length: 120 minutes
Episode Lengths: 1 = 23'56", 2 = 26'53", 3 = 24'55", 4 = 25'31"
Total Length: 101'15"
Also features 27 minutes of trailers, music and special behind-the-scenes interviews with the cast and producers
This story takes place after "Survival".
Cover Illustration: Marcus at Amazing15
Recorded: 14th and 15th February 2011
Recording Location: Moat Studios
Released: September 2011
ISBN: 978-1-84435-580-8
---
On the Back Cover:
aquaphobia n. An abnormal fear of water, or drowning.
blattodephobia n. The morbid fear of cockroaches.
catoptrophobia n. Fear of mirrors, or seeing one's own reflection.



There's a whole ABC of horrors at Bluefire House – as four young people, drawn together to this tumbledown hotel at the edge of nowhere, are about to discover. But whatever the ancient and foul thing that has emerged from the wilderness to drag them here, speaking of it will only strengthen it.



The Doctor alone knows what lurks at the heart of Bluefire House. But the monster of his childhood dreams is coming. The Mi'en Kalarash is coming…



Just this once, the Doctor's afraid.

---
On the Inside Cover:

Writer's Notes


It's tricky to know what to say about this one without giving too much away. Assuming that at least some of you will read these notes before listening to the audio, all I'll say is that House of Blue Fire is (hopefully) a story of surprises, a story that reveals its secrets one by one over the course of the first two-and-a-half-ish episodes.



Script editor Alan Barnes wanted something really creepy, and hopefully I've delivered that. My touchstones for this story were the brilliant 1962 movie The Haunting directed by Robert Wise and, to some extent, the 1978 Doctor Who four-parter The Stones of Blood, with its juxtaposition of arcane evil and sparkly hi-tech.



What else can I say? The two-day recording session was a real delight. The mainly young cast delivered superb and distinctive performances, and were an absolute joy to spend time with. Sylvester was as wonderful as ever, and gave us all a few insights into his forthcoming role in Peter Jackson's The Hobbit (my lips are sealed), and it was an honour to write for, and to meet, the legendary Timothy West, who was every bit as dignified and gentlemanly as one would expect.

Mark Morris
June 2011


Director's Notes



I work with a lot of people during the course of any given production, such as producers, writers, agents, actors, sound engineers and sound designers, to name but a few. But the bulk of my work is with the cast. The task for me is to find not only actors suitable for each role, but a company of actors who will inspire each other to do great work, and enjoy their time working together. I take great pride in getting this balance right more often than I get it wrong! But every now and then, even I'm surprised by how well a cast get on with each other, and by the sterling work they produce.



David Richardson and I will often turn to each other during a recording and say that a particular actor or actress is so good we should get them back. House of Blue Fire was the first time we turned to each other and said, They're all fabulous, we should get them all back together for another story!' Who knows? But I'm keeping my fingers crossed!

Ken Bentley
June 2011

---
Full Cast List:
| | |
| --- | --- |
| The Doctor | Sylvester McCoy |
| Dr Magnus Soames | Timothy West |
| Number 5 | Miranda Keeling |
| Number 12 | Howard Gossington |
| Number 16 | Ray Emmet Brown |
| Number 18 | Amy Pemberton |
| Eve Pritchard/Mi'en Kalarash | Lizzy Watts |
| | |
The Production Team:
| | |
| --- | --- |
| Writer | Mark Morris |
| Director | Ken Bentley |
| Sound/Music | Fool Circle Productions |
| Theme Music | David Darlington |
| Script Editor | Alan Barnes |
| Producer | David Richardson |
| Executive Producers | Nicholas Briggs and Jason Haigh-Ellery |