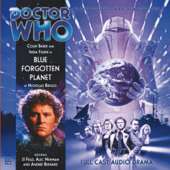 Blue Forgotten Planet
(Nicholas Briggs)

The second release for September 2009, called "Blue Forgotten Planet", will be the final of three consecutive Sixth Doctor and Charley Pollard stories. This story has been written and directed by Nicholas Briggs. It was recorded on the 19th and 22nd May 2009.



Nicholas Briggs has revealed 'The nuances of exactly what happens to Charley haven't been completely decided... so there's still a question mark over the ending'.



The cast includes: JJ Feild (who starred in the BBC's The Ruby in the Smoke and The Shadow in the North), Alec Newman (Dune), and Andree Bernard ("The Shakespeare Code").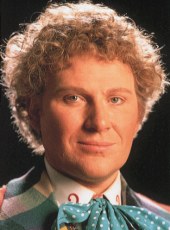 Sixth Doctor

All good things must come to an end. For Charley Pollard the end has been in sight for a very long time. It is hard to believe that after nine years of audio adventures, with both the Eighth and Sixth Doctors, that she is about to leave The Doctor for good. As confirmed by writer, director and Executive Producer Nicholas Briggs 'Things are coming to a climax for Charley. There's a resolution to her storyline, though it might not be the resolution you're expecting, and there are still some questions lingering at the end of it'. But the big question is will she be returning? Nicholas Briggs has hinted that 'We'll give her a few months of doing Masterchef and not being chased by Daleks, and then see if she wants to come back!'. So maybe this is not the final end.

Things though are not straightforward for The Doctor as it seems that there are in fact two Charleys in The Doctor's life at the moment – the one he's been adventuring with since "Patient Zero" is actually an alien called Mila, while the real Charley is invisible. As explained by Nicholas Briggs 'We had this idea that there was a stalker in the TARDIS that The Doctor wasn't aware of. She's been there almost since day one - and now she's taken Charleys form'. To confuse things even more because of the gap between "Paper Cuts" and this story, the Sixth Doctor has ended up travelling with the fake Charley for longer than he has with the real one!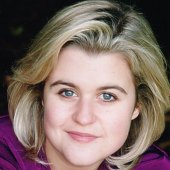 India Fisher

Of course, twice as much Charley means twice as much work for India Fisher: 'There's a fair amount of schizophrenia for me in this story. Because I'm playing Charley and Mila/Charley I do a fair amount of talking to myself, which amused Nick a fair amount'.



As to the ideas behind "Blue Forgotten Planet" Nicholas Briggs has revealed that 'The blue forgotten planet is, in fact, the Earth. I'm quite preoccupied with the idea of how far we are away from the end of civilisation. What would happen if something happened in our brains which meant we couldn't function in a civilised way? If we couldn't remember how to behave, to retain knowledge, to process information properly; what would happen to the Earth? Power stations would blow up because we don't know which buttons to press, diseases would spread because we'd forget how to contain them. We wouldn't be able to fly planes or drive buses... It would just go crash, bang, wallop! The other idea I wanted to write about is that when there's a disaster of some sort, reporters turn up and say "Look, isn't this terrible?", and then go back to a nice hotel. How does that work?! So what if there's a humanitarian crisis on the whole of the Earth, and aliens turn up to just film us?'.



And so making another return appearance to Big Finish Productions are the mysterious Viyrans! They may not be actually evil but they are still seen as the villains.


---
Companion Chronicles

This release also includes the seventh part of "The Three Companions" - the 12-part Companion Chronicles mini-series which are a bonus feature on the monthly Doctor Who plays since April 2009. Each of the 10-minute episodes has been written by Marc Platt and has been directed by Lisa Bowerman.


This special story brings together Sir Alistair Gordon Lethbridge-Stewart (aka The Brigadier) (played by Nicholas Courtney) and Polly (played by Anneke Wills), who discover that their past travels with The Doctor share a common link... Meanwhile, Thomas Brewster (played by John Pickard) is watching from a distance, and he is now the owner of a stolen TARDIS...



Also starring in this episode is Russell Floyd.



Episode Seven: "The Hunting Ground": The Brigadier and the Third Doctor are fighting for survival on a model world that looks like Earth. But why are there facsimiles of Polly Wright here? And who is the mysterious Garry Lendler? No one is more intrigued to find out than Thomas Brewster...


---
Big Finish Magazine - Vortex: Issue 7 (September 2009)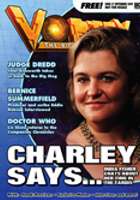 Vortex: Issue 7

Issue 7 of 'Vortex - The Big Finish Magazine' was also sent out to subscribers with this release.



In this issue...
1. Editorial - Nicholas Briggs

2. Sneak Previews and Whispers - Doctor Who: "Plague of the Daleks", Doctor Who: "Survival of the Fittest/Klein's Story" and Highlander – Season Two.

3. In The Studio - The Jigsaw Man.

4. Feature - Charley Says…

5. Feature - Six of the Best.

6. Forthcoming Releases - September 2009 - June 2010.

7. Feature – Bring Out Your Dredd!

8. Q&A – Eddie Robson.

9. Letters.

10. Team Twitter.

11. Behind-The-Scenes – The Architects of History.
| | |
| --- | --- |
| Published By: | Big Finish Productions Ltd |
| Managing Editor: | Jason Haigh-Ellery |
| Editors: | Nicholas Briggs and David Richardson |
| Assistant Editor: | Paul Spragg |
| Contributors: | Simon Guerrier, India Fisher, John Ainsworth and Eddie Robson |
| Design and Layout: | Alex Mallinson |
| Published: | September 2009 |
| Page Count: | 20 |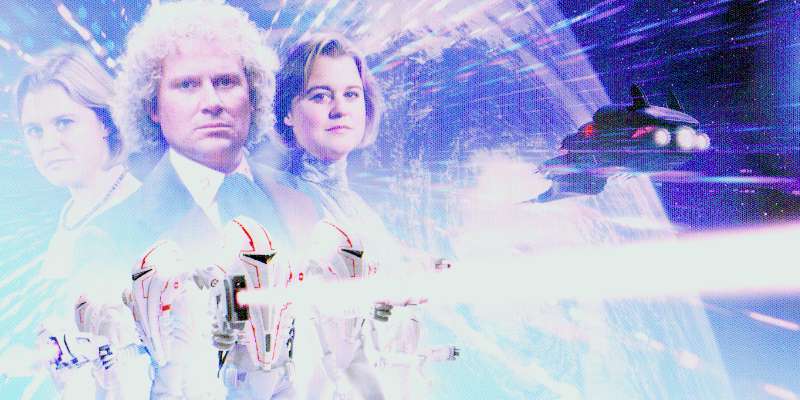 Notes:
Featuring the Sixth Doctor, Charley Pollard and Mila.
Serial Number: 7C/PH
Number of Episodes: 4
Cover Length: 120 minutes
Main Story Episode Lengths: 1 = 28'57", 2 = 28'30", 3 = 29'16", 4 = 32'48"
Main Story Total Length: 119'31"
Extra Story Episode Length: 7 = 10'43"
Also features 17 minutes of trailers and special behind-the-scenes interviews with the cast and producers.
This story takes place between the television adventures "The Trial of a Time Lord" and "Time and the Rani" and follows on from "Paper Cuts".
Cover Illustration: Alex Mallinson
Recorded: 19th and 22nd May 2009
Recording Location: Moat Studios
Released: September 2009
ISBN: 978-1-84435-414-6
---
On the Back Cover:

'So, this is the blue planet you've forgotten about. But take another look. You helped us once. I know you can help us again.'



On Earth, civilization has ended and time is running out for the Doctor and Charlotte Pollard.



Will the mysterious Viyrans really help?



'Without you, the human race will die out. And Planet Earth will surely be our tomb.'

---
On the Inside Cover:

Writer's Notes: Nicholas Briggs


Big Finish script editor Alan Barnes said to me, 'You can write her out this time. I can't do it again, I'm emotionally exhausted.' I accepted the challenge with a mixture of delight and a heavy heart. You see, just like Alan Barnes, I love Charlotte Pollard. She's been a huge part of my life since she bumped into the Eighth Doctor on the R101. Having worked on sound design and music for her earliest adventures, her voice had inevitably imprinted itself on my brain.



By the time former producer Gary Russell tentatively approached India to suggest that her time with the Eighth Doctor might be over, I already knew that she was thinking of leaving. But when Alan Barnes suggested she should 'accidentally' end up with another Doctor... I couldn't resist it. Then, when Colin Baker, India, David Richardson and most of our listeners demanded that Charley's adventures should last longer than the planned three stories, who was I to argue?



But all good things..., as they say. And I willingly confess, I cried buckets over the keyboard. Almost literally…


Director's Notes: Nicholas Briggs



I started off, way back during the writing of Mission of the Viyrans, with this crazy idea that the Viyrans would use the voices of lots of people to speak. Although I had created the Viyrans when I was about 14 years old, their limited communication skills had emerged during their first trial run in a Doctor Who Magazine storybook story entitled No One Died (a title inspired by a sketch from The Day Today). In that story, they only communicated in sign language. Yeah, great for audio!



So, in Mission of the Viyrans, they used Peri's voice. And in an early draft of Blue Forgotten Planet, they were using Peri's voice again. How confusing would that have been for the Sixth Doctor? But then, of course, Michael Maloney had provided the Viyrans with Fratalin's beautifully modulated voice in Patient Zero. And Michael was such fun to work with, and so vocal in his requests to 'come bock soon', that I felt I bad no choice but to make him the voice of the Viyrans. And I didn't regret it.
---
Who's Who?

The Sixth Doctor

First television appearance: "The Twin Dilemma"
First chronological Big Finish audio appearance: "Davros"



He has been exploring the universe for hundred of years. He fights injustice. He defeats evil. He helps people. The Doctor sacrificed his previous life on the planet Androxani Minor to save his companion Peri from a toxic virus. Now he is travelling through time and space on his own, driven on by his insatiable curiosity and adventurous spirit. In this incarnation he is forthright, often abrasive and can be blunt to the point of rudeness in the face of great danger. Having answered a distress call emanating from Earth in the year 500,002, the Sixth Doctor finds himself travelling with Charley Pollard. Now mistakenly believing that Charlotte was a former prisoner of the Daleks, he has travelled with her for many years. The trouble is, she isn't the real Charley…


Charley Pollard

First Big Finish audio appearance: "Storm Warning".



Charlotte Elspeth Pollard (1912 – 1930); born on the day the Titanic sank; died in the crash of the airship R101. (Or at least, that's how the Web of Time has it.) In reality, the self-styled 'Edwardian Adventuress' was whisked away on an incredible journey through time and space in the company of the Eighth Doctor. The journey ended in 2008, when she walked away into the Singapore night. (Or at least, that's how the Doctor remembers it.) In reality, she'd been washed up on a lonely island in the year 500,002, from where she sent an SOS out to the TARDIS. But it wasn't 'her' Doctor who answered her call, and now, while the Sixth Doctor's attention was on Daleks and Viyrans, Charley has fallen foul of the mysterious Mila, putting her very existence in jeopardy…
---
Full Cast List:
Blue Forgotten Planet
The Doctor
Colin Baker
Charley Pollard
India Fisher
Viyrans
Michael Maloney
David McCallister
JJ Feild
Ellen Green
Andree Bernard
Ed Driscoll
Alec Newman
Sergeant James Atherton
Sam Clemens
Soldier Clive
Alex Mallinson
Mila
Jess Robinson
Alien
Michael Maloney
Companion Chronicles - Episode Seven: "The Hunting Ground"
Polly Wright
Anneke Wills
Sir Alistair Lethbridge-Stewart
Nicholas Courtney
Thomas Brewster
John Pickard
Gerry Lenz
Russell Floyd
The Production Team:
Blue Forgotten Planet
Writer
Nicholas Briggs
Director
Nicholas Briggs
Sound/Music
Jamie Robertson
Companion Chronicles - Episode Seven: "The Hunting Ground"
Writer
Marc Platt
Director
Lisa Bowerman
Sound/Music
Richard Fox and Lauren Yason
Both Stories:
Theme Music
David Darlington
Script Editor
Alan Barnes
Producer
David Richardson
Executive Producers
Nicholas Briggs and Jason Haigh-Ellery