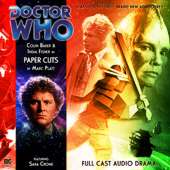 Paper Cuts
(Marc Platt)

The first release for September 2009, called "Paper Cuts", is the second of three consecutive Sixth Doctor and Charley Pollard stories. "Paper Cuts" has been written by Marc Platt and directed by Nicholas Briggs. It was recorded on the 23rd and 25th March 2009.



The Doctor and Charley are summoned by the Emperor of Draconia. Sara Crowe (Skins, Big Meg Little Meg) plays the Queen Mother, Paul Thornley (Life Begins, Mutual Friends) is Gomori, Anthony Giennon (Doctor Who: "The Company of Friends") is the Prince.



In the previous month's monster-packed story "Patient Zero" the Sixth Doctor and Charley Pollard came face-to-face with both the Viyrans and the Daleks. In this release another returning creature makes an appearance – and their first in a Big Finish Productions audio. As announced by writer Marc Platt, 'Nick Briggs asked me how I'd feel about writing a story featuring Draconians. His only real specifications were that it should be set in the coldness of space and that I was only allowed four guest voices, with two actors doubling up on a couple of extra tiny roles'.



Marc Platt has promised us 'A sort of murder mystery set within the confines of what appears to be a sealed temple, but which is actually rather more than that'. 'It's also a stalking-monster's-gonna-get-you story', Executive Producer Nicholas Briggs has added. 'There are a small number of contrasting characters trapped in a life-threatening situation, and nobody knows the who, how or why about the murderer...'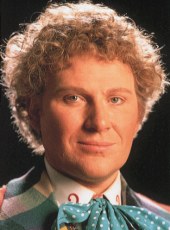 Sixth Doctor

'The story involves a family feud that stretches back for centuries and a lethal game of Sazou, a sort of Draconian chess', Marc Platt has revealed, 'We discover exactly what The Doctor did when he first visited Draconia at the time of the fifteenth Emperor, saved them from the Great Space Plague and left them in a right pickle afterwards'.



A major theme that emerges in this story though is that no character, other than The Doctor is quite what he or she seems – and this of course includes his companion Charley.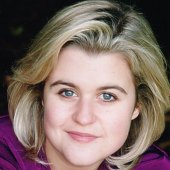 India Fisher

And as of the Draconians themselves Marc Platt has revealed; 'They make a terrific impact. Imposing, fearsome, reptilian and a bit declamatory in a Shakespearean sort of way. So I grabbed the chance to get under their knobbly skins and explore their culture. Malcolm Hulke's original story clearly shows Imperial Draconia as a society resembling feudal Japan - a mix of elegant formal ritual and savage ferocity. I've followed that lead with the rigid social structure (nobles, warriors and peasants)'.



The Draconians have, perhaps surprisingly, made only one television appearance, in 1973's "Frontier in Space", so "Paper Cuts" is a perfect opportunity to learn a bit more about them.


---
Companion Chronicles

This release also includes the sixth part of "The Three Companions" - the 12-part Companion Chronicles mini-series which are a bonus feature on the monthly Doctor Who plays since April 2009. Each of the 10-minute episodes has been written by Marc Platt and has been directed by Lisa Bowerman.


This special story brings together Sir Alistair Gordon Lethbridge-Stewart (aka The Brigadier) (played by Nicholas Courtney) and Polly (played by Anneke Wills), who discover that their past travels with The Doctor share a common link... Meanwhile, Thomas Brewster (played by John Pickard) is watching from a distance, and he is now the owner of a stolen TARDIS...



Also starring in this episode is Russell Floyd.



Episode Six: "Coffin-Loaders": In a place that looks like a jumbled-up Earth, the Third Doctor and The Brigadier have met a women who looks just like Polly Wright. But she isn't. Meanwhile, in the real world, the real Polly has a new acquaintance - a young man called Thomas Brewster.


---
Big Finish Magazine - Issue 14 (The Final Edition)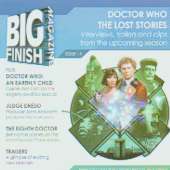 Big Finish Magazine
- Issue 14

Issue 14 of the 'Big Finish Magazine', a series of behind-the-scenes CDs given away free to subscribers, was also sent out with this release.



Doctor Who The Lost Stories - Interviews, trailers and clips from the upcoming season.



Plus:


DOCTOR WHO: AN EARTHLY CHILD
Carole Ann Ford on the eagerly-awaited special
JUDGE DREDD
Producer John Ainsworth previews the new series
THE EIGHTH DOCTOR
Behind the scenes on the latest Season Three stories
TRAILERS
A glimpse of exciting new releases

On this issue...
1. Introduction - Nick Briggs, executive producer of the Audio Adventures of Doctor Who and Voice of the Daleks, opens the fourteeneth Big Finish Magazine.

2. The Eighth Doctor and Lucie – Season Three - Continuing our behind the scenes look with Nick Briggs and a host of guest stars.

3. Sarah Sutton - The actress who portrays the Fifth Doctor's companion Nyssa of Traken talks about her time in the TV series, her Big Finish stories and the upcoming Stockbridge trilogy.

4. Judge Dredd - A preview of the new stories with producer John Ainsworth.

5. Doctor Who - The Lost Stories - In November 2009 Big Finish begins releasing a season of eight stories originally written for TV but never made – until now. Here's a taster...

6. Carole Ann Ford - The Doctor's first companion returns in An Earthly Child, and Carole Ann Ford tells us about it...


7. The Trailer Reel - All the latest Big Finish Productions.

Presented by Nicholas Briggs and David Richardson. Edited and mastered by Jamie Griffths. Design by Alex Mallinson. Length 1 hour 7 minutes.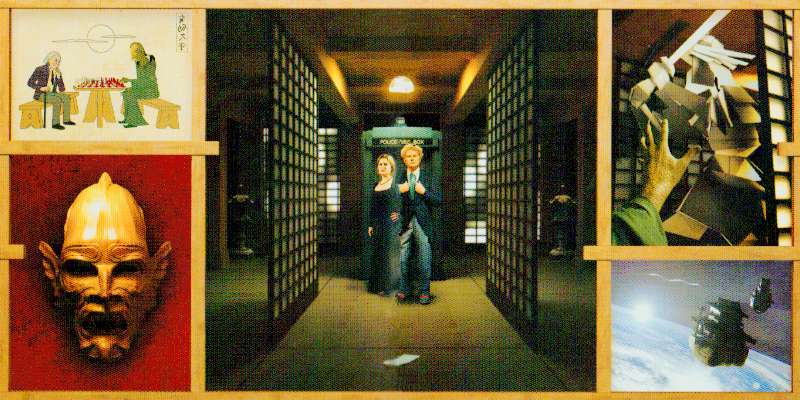 Notes:
Featuring the Sixth Doctor, Charley Pollard and Mila.
Serial Number: 7C/PG
Number of Episodes: 4
Cover Length: 120 minutes
Main Story Episode Lengths: 1 = 33'17", 2 = 28'41", 3 = 30'01", 4 = 36'44"
Main Story Total Length: 128'43"
Extra Story Episode Length: 6 = 12'11"
Also features 16 minutes of trailers and special behind-the-scenes interviews with the cast and producers.
This story takes place between the television adventures "The Trial of a Time Lord" and "Time and the Rani" and follows on from "Patient Zero".
Cover Illustration: Alex Mallinson
Recorded: 23rd and 25th March 2009
Recording Location: Moat Studios
Released: September 2009
ISBN: 978-1-84435-413-9
---
On the Back Cover:

The Empire is lost. The Deathless Emperors are dead. The future may never happen.



An urgent summons returns the noble Doctor to a planet he saved from disaster long ago. But Draconia, so elegant and so savage, is in worse turmoil than ever.



Who will be next Emperor? The highest Prince? The lowest peasant? The soldier with no name? Or the Doctor himself - his life at their command? Who controls the army of deadly origami warriors? And is the truth about Charley painted on paper walls in the Emperor's tomb?



History is taking revenge on The Doctor.

---
On the Inside Cover:

Writer's Notes: Marc Platt


When I think back 36 years to Frontier in Space, the Jon Pertwee story that features the Draconians, my first reaction is 'Welcome to Japan'. Draconia has a fiercely hierarchical society ruled by a system of honour, headed by an Imperial family, peopled by a noble caste of Warriors - and females are forbidden to speak in the Emperor's presence. Not that that kept Jo Grant quiet!



So taking that lead, I added ancestor worship, palaces (and tombs) made of paper, a peasant underclass nod a role for Draconian females that makes them more than equal to the males. Draconian elegance meets Draconian brutality. And then there are the deadly Sazou.



In his story shopping list, Nick Briggs prescribed only four 'other' voices and the coldness of space. And then he added that Charley might not be who she appeared to be. Thanks Nick. Welcome to Draconia!


Draconians - A Brief History



A proud race of people, the Draconians are lizard-like creatures who come from a society not unlike Earth's feudal Japan. They are bound by a code of honour and although they will fight if provoked, they are essentially a peaceful race.



The Third Doctor encountered them 20 years after the race's first contact with the Earth Empire, during which a misunderstanding had resulted in the destruction of a Draconian vessel. In the aftermath of a short but vicious war a peace treaty was signed, which the Master attempted to disrupt.



Using mind control to make humans and Draconians perceive their greatest fears instead of the Ogrons in front of them, he almost succeeded. Had it not been for the Doctor and Jo's intervention, the war would doubtless have begun again, more bloody and terrible than before, allowing the Daleks, who'd been manipulating events from the shadows, to seize power for themselves.
---
Who's Who?

The Sixth Doctor

First television appearance: "The Twin Dilemma"
First chronological Big Finish audio appearance: "Davros"



He has been exploring the universe for hundred of years. He fights injustice. He defeats evil. He helps people. The Doctor sacrificed his previous life on the planet Androxani Minor to save his companion Peri from a toxic virus. Now he is travelling through time and space on his own, driven on by his insatiable curiosity and adventurous spirit. In this incarnation he is forthright, often abrasive and can be blunt to the point of rudeness in the face of great danger. But having answered a distress call emanating from Earth in the year 500,002 and picked up the mysterious Charley Pollard, he now feels its time he learned just who she is...


Charley Pollard

First Big Finish audio appearance: "Storm Warning".



Charlotte Elspeth Pollard (1912 – 1930); born on the day the Titanic sank; died in the crash of the airship R101. (Or at least, that's how the Web of Time has it.) In reality, the self-styled 'Edwardian Adventuress' was whisked away on an incredible journey through time and space in the company of the Eighth Doctor. The journey ended in 2008, when she walked away into the Singapore night. (Or at least, that's how the Doctor remembers it.) In reality, she'd been washed up on a lonely island in the year 500,002, from where she sent an SOS out to the TARDIS. But it wasn't 'her' Doctor who answered her call, and now, while the Sixth Doctor's attention was on Daleks and Viyrans, Charley has fallen foul of the mysterious Mila, putting her very existence in jeopardy…
---
Full Cast List:
Paper Cuts
The Doctor
Colin Baker
Charley Pollard
India Fisher
Queen Mother
Sara Crowe
Prince
Anthony Glennon
Gomori
Paul Thornley
Soldier
John Banks
Nicholas Briggs
Prefect
The Red Emperor in His Youth
Anthony Glennon
Tombkeeper
Sara Crowe
Steward
Paul Thornley
Nicholas Briggs
The Deathless Red Emperor
Companion Chronicles - Episode Six: "Coffin-Loaders"
Polly Wright
Anneke Wills
Sir Alistair Lethbridge-Stewart
Nicholas Courtney
Thomas Brewster
John Pickard
Gerry Lenz
Russell Floyd
The Production Team:
Paper Cuts
Writer
Marc Platt
Director
Nicholas Briggs
Sound/Music
Steve Foxon
Companion Chronicles - Episode Six: "Coffin-Loaders"
Writer
Marc Platt
Director
Lisa Bowerman
Sound/Music
Richard Fox and Lauren Yason
Both Stories:
Theme Music
David Darlington
Script Editor
Alan Barnes
Producer
David Richardson
Executive Producers
Nicholas Briggs and Jason Haigh-Ellery