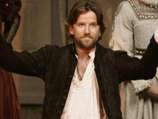 William Shakespeare on the Stage

Martha Jones's first trip in the TARDIS takes her to Elizabethan England and to the newly built Globe Theatre in London where she gets to meet the one and only William Shakespeare!



This is only meant to be a short stop over, before The Doctor returns Martha to her own time and place, but The Doctor is curios when William Shakespeare himself appears on stage and announces that the following evenings performance is going to be a newly written sequel – a sequel that The Doctor knows has been lost in the mists of time.



But someone is plotting to sabotage the Bard's latest work and when The Master of the Revels, who tries to thwart William Shakespeare plans for the next performance at the Globe, is horribly murdered The Doctor suspects witchcraft.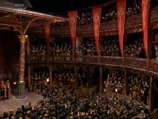 The Globe Theatre

But black magic isn't real... is it?



Then during the night, while William Shakespeare is writing the last chapter of his play, he has a visitor who puts him into a trance and provides the words to finish the play – before being disturbed by a maid.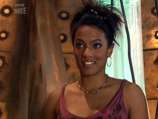 Martha Jones

Awoken by a scream The Doctor and Martha arrive to witness William's visitor fly off into the night's sky. The Doctor deduces that William Shakespeare's play and The Globe Theatre are the key to solving the mystery – which leads him to visiting the Globes architect in the Bethlam Royal Hospital – a comes face-to-face with a Carrionite and makes him realise that William Shakespeare's play must not be performed – else the remaining Carrionite will be released and free to takeover the whole planet.



But an encounter with another Carrionite leaves The Doctor wounded and with William Shakespeare unable to stop his own play the Carrionite are released. It is then upto William, aided by Martha, to improvise further parts of the play and so turn the power or words against the Carrionite.