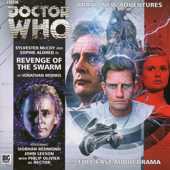 Revenge of the Swarm
(Jonathan Morris)

August 2014 saw the return of the The Swarm!



The Seventh Doctor (played by Sylvester McCoy) is once more teamed with Ace (played by Sophie Aldred) and Thomas Hector Schofield (played by Philip Olivier).



This mini-series kicks off with "Revenge of the Swarm" by Jonathan Morris, in which the Time Lord once again takes on an old foe of the Fourth Doctor seeking vengeance.



Directed by Ken Bentley "Revenge of the Swarm" was recorded on the 20th and 21st February 2014.



This story stars John Leeson (aka K9) returning to voice the Swarm, as he first did back in the 1977 Fourth Doctor story "The Invisible Enemy".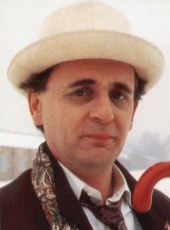 Seventh Doctor

'"The Invisible Enemy" is one of the first Doctor Who stories I ever watched', Jonathan Morris has revealed, 'and so when I had the chance to choose a new 'returning foe', the sinister Nucleus of the Swarm was top of my list. It has an unusual modus operandi and a memorable voice, and would work well on audio without the distraction of the (not entirely successful) visual. "Revenge of the Swarm" is both a prequel and a sequel to "The Invisible Enemy" (though you don't need to have seen it) and is a traditional, fun outer-space adventure'.



Also staring in this story are: Mandi Symonds, Maggie Service, John Heffernan, Phyllida Nash, Siobhan Redmond, John Dorney and Paul Panting.



Having clung on to life after sacrificing himself in 2012 audio story "Gods and Monsters", Hex is back aboard the TARDIS - but, as last year's "Afterlife" established, he's not Hex any more.



'It's The Doctor, Ace, and Hector', writer Jonathan Morris, and Script Editor of its two forthcoming follow-ups, has revealed. 'Hector being a new incarnation of Hex, who's had all the parts of his memory and personality that make him Hex removed, and who has had a different past. The stories are dealing with whether he'll be able to become Hex again. Hex was a nurse, and Hector is a sort of gangster, so he's got a slightly darker take on the world. He feels he's walking in another person's shoes, that don't fit. Ace thinks that they're on a mission to try and find the real Hex, and get him back to how he was, which isn't going to go down very well with Hector'.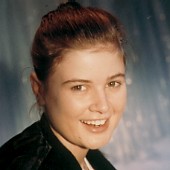 Ace

This story also brings back a monster from 1977 Fourth Doctor story "The Invisible Enemy". 'I really wanted to do a "returning monster" story, and I'd always had a story idea for the "Nucleus of the Swarm". It's very funny, I think, because it's a monster that's miniscule, absolutely tiny, but thinks it's the greatest being in the universe. It realises it has the power to time-travel, using the TARDIS'.



As revealed by Jonathan Morris 'Because this is a Doctor and Ace story, it's sort of set in the late 1980s, so I was thinking, "What films were around in the late 1980s that they'd do a take on?", so the virus becomes a computer virus, and The Doctor and Ace have to go inside a computer to fight it'.



Revisiting the concepts of the earlier story, with its unique interpretation of science, was freeing. '"The Invisible Enemy"'s idea that you could miniaturise someone, and that a virus could be intelligent, is extraordinary. They go inside The Doctor's brain, and they see the bit where it goes from his real brain into his imagination, as a sort of little pathway - that's not science, that's fantasy. There's always a part of my brain going "Is this scientifically possible?", and it's just fun to go a little bit further and be a little bit more fantastical. So I go for it a little bit...'



---
Big Finish Magazine - Vortex: Issue 66 (August 2014)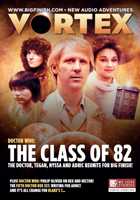 Vortex: Issue 66

Issue 66 of 'Vortex - The Big Finish Magazine' was also sent out to subscribers with this release.



In this issue...
1. Sneak Previews & Whispers – Doctor Who: Damaged Goods

2. Editorial - Kenny

3. Article - Matt's The way To Do It! - Matthew Waterhouse

4. Article - Five Star - The Fifth Doctor Box Set

5. Article - The Hex Factor - Philip Oliver

6. Vortex Mail

7. Article - Taken For Granted - Blake's 7

8. Article - Listen Again... The Zygon Who Fell To Earth

9. Forthcoming Releases - August 2014 - May 2015



| | |
| --- | --- |
| Published By: | Big Finish Productions Ltd |
| Managing Editor: | Jason Haigh-Ellery |
| Editor: | Kenny Smith |
| Executive Producer: | Nicholas Briggs |
| Design: | Mark Plastow |
| Published: | August 2014 |
| Page Count: | 24 |
Notes:
Featuring the Seventh Doctor, Ace and Hector
Number of Episodes: 4
Cover Length: 120 minutes
Episode Lengths: 1 = 28'37", 2 = 29'37", 3 = 29'05", 4 = 29'30"
Total Length: 116'49"
Also features 24 minutes of trailers, music and special behind-the-scenes interviews with the cast and producers.
Cover Illustration: Tom Webster
Recorded: 20th and 21st February 2014
Recording Location: Moat Studios
Released: August 2014
ISBN: 978-1-78178-330-6
---
On the Back Cover:

Revenge of the Swarm continues the story of Hector (Philip Olivier), now back aboard the TARDIS with the Doctor and Ace (Sophie Aldred)... but his past is lost to him.



The Doctor thought he had defeated the microscopic Nucleus of the Swarm in his fourth incarnation. He was wrong. It survived within the TARDIS, and now it has brought it back to Titan Base, back to the point of its own creation. It has a plan that spans centuries, a plan which will result in the Nucleus becoming more powerful - and larger - than ever before.



To defeat it, the Doctor, Ace and Hex must confront the Nucleus within its new domain - the computer-world of the Hypernet, the information network crucial to the survival of the human empire. But if the Doctor is to save the day, he has to risk everything and everyone he holds dear...
---
On the Inside Cover:


Writer's Notes



Watching The Invisible Enemy is one of my earliest memories. Or, to be more accurate, watching the repeat because I can vividly recall seeing Leela being attacked by furry beach balls (representing antibodies) and thinking "Oh, I've seen this one before".



So it's always been a story I've held in great affection. Despite the fact that, yes, one or two of its special effects were not that special. But I adored the cliffhanger where the Nucleus of the Swarm grows out of nowhere - one of my few 'behind-the-cushion' moments - and have always felt that as a monster it had untapped potential. I don't think it was ever intended to be entirely serious; at one point the Doctor calls it a 'pathetic crustacean' and there's the clear disparity between the Nucleus' vast ego and its microscopic size. It's a baddie with an inferiority complex; it wants to be an A-list monster, but it knows, deep down, it's on the C-list.



But it has a great, sinister voice, courtesy of John Leeson , and an utterly idiosyncratic modus operandi, so I leapt at the chance to give it a sophomore adventure. It was an absolute joy to write, exploring the Nucleus' backstory and expanding its ambitions, and walking the narrow dividing line between logic and imagination. Because the great thing about Bob Baker and Dave Martin's Doctor Who stories is how wildly inventive they are; fantastic voyages every one, and this story is a tribute to their work, a little thank-you from that four-year-old boy, hiding behind his cushion from The Invisible Enemy.

JONATHAN MORRIS


Director's Notes



As I write this, I'm still coming to terms with the fact that Paul Spragg is no longer with us.



One of the most unusual things about working for Big Finish is working with people for an extended period of time. The business of drama rarely keeps anyone employed for long. Mostly it's transitory. A play here, a film there, with periods of what's affectionately called Vesting' in between. So it's rewarding to be able to build the sort of relationships that can only be built over (appropriately enough) time.



Like working with Sylvester McCoy. He was my first Big Finish Doctor. Like all the Doctors, he works hard. We've had to juggle recordings around tour dates for plays, filming schedules and, more recently, world premieres. For Sylvester, The Hobbit has clearly been a very big adventure. He comes bounding into the studio with more and more stories of his adventures travelling the world, revitalising the studio with his unique brand of infectious enthusiasm. It's so exciting to see the joy it brings him.



I know Paul felt the same about working at Big Finish. He loved it. We all do. And life doesn't get much better than that.


KEN BENTLEY
---
Full Cast List:
| | |
| --- | --- |
| The Doctor | Sylvester McCoy |
| Ace | Sophie Aldred |
| Hector | Philip Olivier |
| Virus/Computer | John Leeson |
| Shafira | Mandi Symonds |
| Root/Receptionist | Maggie Service |
| Vonchef | John Heffernan |
| Professor Oksana Kilbracken | Phyllida Nash |
| Talin | Siobhan Redmond |
| Lugerman | John Dorney |
| Security Guard Brabbeko | Paul Panting |
| | |
The Production Team:
| | |
| --- | --- |
| Writer | Jonathan Morris |
| Director | Ken Bentley |
| Sound/Music | Andy Hardwick |
| Theme Music | David Darlington |
| Script Editor | Jonathan Morris |
| Producer | David Richardson |
| Executive Producers | Nicholas Briggs and Jason Haigh-Ellery |