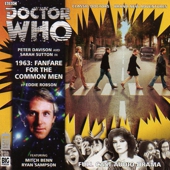 1963: Fanfare for the Common Men
(Eddie Robson)

To celebrate the fiftieth anniversary of the television show Big Finish Productions are releasing three stories as a countdown to the anniversary itself. These three stories are based in 1963 – the year Doctor Who was first broadcast.



Big Finish Productions announced that they had big plans for Doctor Who's fiftieth anniversary, and this set of three stories is where it all begins. The 1963 trilogy, which boasts a story each for the Fifth Doctor, Sixth Doctor and the Seventh Doctor, takes us back to the year of Doctor Who's creation.



The first release is called "1963: Fanfare for the Common Men" and stars Peter Davison, as the Fifth Doctor, and Sarah Sutton, as Nyssa.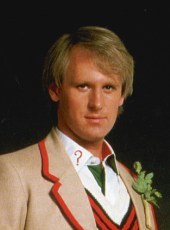 Fifth Doctor

Written by Eddie Robson and directed by Barnaby Edwards this story was recorded on the 18th and 19th March 2013.



This story guest stars Mitch Benn (musical comedy maestro from Radio 4's The Now Show) and Ryan Sampson (Luke Rattigan in "The Sontaran Stratagem/The Poison Sky", but more recently Thomas in the BBC Four comedy Up the Women). Also starring are: Andrew Knott, David Dobson, Alison Thea-Skot, Jonty Stephens and Barnaby Edwards.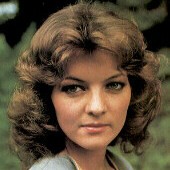 Nyssa

'I'd already said to Alan Barnes that I was interested in doing a story about the Beatles', writer Eddie Robson has revealed, 'possibly set in Hamburg in 1960, and Alan was umming and ahhing about it for a little bit because he wasn't sure about doing something involving real living people... He came up with "What if someone knocked the Beatles out of their place in history, and took their place?", so you're kind of spoofing it; you can be as similar as you want, because they're trying to copy them, without it being the same people'.



'It's quite a weird kind of story, unusually-structured, which doesn't feel like a typical Fifth Doctor story', Eddie Robson has revealed, 'The Doctor has to go to different points: it starts off in 1963, and then he and Nyssa get split up - she gets stranded in Hamburg in 1960, and he doesn't know where she is so he goes looking for her and ends up in 1967, and then they have to go to 1970... so there's a lot of hopping about!'



'I was trying to think of a name for the band, and I couldn't think of something that felt iconic enough to supplant "Beatles" as the name. I suddenly had the thought, Why couldn't they be "The Common Men", as mentioned in "An Unearthly Child"? So that's a link back to the show's past...'

Notes:
Featuring the Fifth Doctor and Nyssa.
Number of Episodes: 4
Cover Length: 120 minutes
Episode Lengths: 1 = 26'02", 2 = 24'45", 3 = 23'56", 4 = 27'00"
Total Length: 101'43"
Also features 27 minutes of trailers, music and special behind-the-scenes interviews with the cast and producers.
Cover Illustration: Anthony Lamb
Recorded: 18th and 19th March 2013
Recording Location: Moat Studios
Released: September 2013
ISBN: 978-1-78178-078-7
---
On the Back Cover:

If you remember the Sixties, they say, then you can't have been there.



The Doctor remembers the Sixties. That's why he's taking Nyssa on a trip back to November 1963. Back to where it all began. Back to the birth of the biggest band in the history of British music. Back to see those cheeky lads from Liverpool...



Mark, James and Korky. The Common Men. The boys who made the Sixties swing with songs like Oh, Won't You Please Love Me?, Just Count To Three and Who Is That Man.



The Doctor remembers the Sixties. And there's something very wrong with the Sixties, if the Beatles no longer exist…

---
On the Inside Cover:

Oh, Won't You Please Love Me?
Edwards/Carter
Verse 1:
Hey girl, you are the one
That's all I have to say
My love burns like the sun
I'll blow your world away!

Chorus:
Oh, won't you please love me?
Girl, I'm begging you please.
Oh, won't you please love me?
I'm down upon my knees.

Verse 2:
Beneath this skin
There is another me Just let me in
And you'll be sure to see
How much you mean to me.
Hey girl, I swear,
I'II be forever true.

And I'll be there
I'm meant to be with you. x 2

Repeat Chorus, followed by
guitar break

Verse 3:
And if you let me I'll show you
the stars
Give your heart to me and
we'll go far, far

Repeat Verse l & Chorus, then
Verse 2 & Chorus

Lyrics by Barnaby Edwards
Music by Howard Carter


Sung by Mitch Benn, David
Dobson and Andrew Knott
Writer's Notes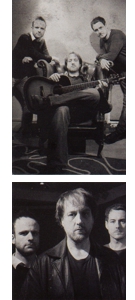 There is a very obvious difficulty in doing a Doctor Who audio play about The Beatles. Even if we could afford the hefty fees to licence pop tracks for use on the soundtrack, The Beatles very rarely give permission for their music to be included on compilations, and that includes any context where their music is released on a CD. Mark Ayres had to perform some extraordinary jiggery-pokery to strip the Fabs' 1966 hit Paperback Writer from a scene in The Evil of the Daleks for audio release.



So we couldn't have any of their actual music on there. Furthermore, Alan Barnes wasn't keen on bringing living people into a Doctor Who historical adventure, with good reason. So how could we write about The Beatles, but not about The Beatles - and make a virtue out of not being able to use a note of Beatles music?



So this is what we've done: we've landed the Doctor in an alternate 1960s where a band like The Beatles, but not The Beatles, dominates the pop landscape. And where it's essential that they follow The Beatles' career path, but write their own Beatlesesque songs. The name of the group might be familiar to the Doctor - but the world is shaping up to be catastrophically different.


EDDIE ROBSON
---
Full Cast List:
| | |
| --- | --- |
| The Doctor | Peter Davison |
| Nyssa | Sarah Sutton |
| Mark Carville | Mitch Benn |
| James O'Meara | Andrew Knott |
| Korky Goldsmith/Compare/Pedestrian | David Dobson |
| Lenny Kruger/Shop Assistant | Ryan Sampson |
| Rita/Sadie/Control Officer | Alison Thea-Skot |
| Paravatar Waiter/Barman/Policeman | Jonty Stephens |
| Commander/Newsreader | Barnaby Edwards |
| | |
The Production Team:
| | |
| --- | --- |
| Writer | Eddie Robson |
| Director | Barnaby Edwards |
| Sound/Music | Howard Carter |
| Theme Music | David Darlington |
| Script Editor | Alan Barnes |
| Producer | David Richardson |
| Executive Producers | Nicholas Briggs and Jason Haigh-Ellery |