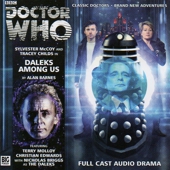 Daleks Among Us
(Alan Barnes)

The first release for September 2013 is called "Daleks Among Us" and sees Sylvester McCoy, as the Seventh Doctor, and Tracey Childs, as UNIT's scientific advisor Dr Elizabeth Klein, and Christian Edwards, as Will Arrowsmith, in the third and final release for 2013.



This story has been written by Alan Barnes and has been directed by Ken Bentley. It was recorded on the 5th and 6th February 2013 and features the vocal talents of Nicholas Briggs as the Daleks and Terry Molloy as Davros. Also starring are: Jonathan Forbes, Tim Delap, Jessica Brooks and Paul Chahidi.



This story sees the long-awaited encounter of former Nazi scientist Elizabeth Klein with the Daleks - a race who very much adhere to some on the principles Elizabeth Klein used to hold dear. This story also concludes Elizabeth Klein's and new companion Will Arrowsmith's sabbatical from UNIT.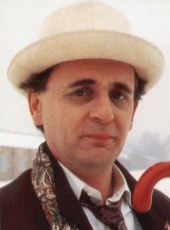 Seventh Doctor

Elizabeth Klein - Companion to the Seventh Doctor and formally the terrifying Nazi scientist in the same story as Davros and the Daleks - at first this seems an irresistible combination 'But there's a massive pitfall there', writer Alan Barnes has revealed. 'Once you've got Daleks and Nazis, you're just aware that there's a massive trapdoor underneath you - overplay it, and it's horrible; underplay it, and it's glib. Hopefully we've trodden a very, very careful line down the middle'.



Closer to the heart of this audio adventure is Elizabeth Klein's own, personal journey, which has developed over more than a decade's worth of storytelling in the real world, and entire alternate timelines within the fiction. 'You get to hear Klein facing something for which she is completely unprepared and you find out how much she knows about her alternative existence. It's a play very much about trust as well. Does The Doctor really believe in her? Can a leopard ever change its spots? I felt very strongly that we had to answer those questions. It's quite trite, but you can't help but think of Old Klein as "Bad Klein" and New Klein as "Good Klein", so I wanted to show that they're the same character but shaped by different experiences'.



This story is also the first meeting of the Seventh Doctor and Davros on audio, following a single television encounter in the 1988 story "Remembrance of the Daleks", which kept the characters at arm's length. 'I was very conscious that in Remembrance, they only actually talk to each other over a screen, for a few seconds', Alan Barnes has revealed, 'so I wanted to give them a chance to have a good long chat face-to-face. This story has so much to do - so much to do, it's enormous! - but I was very aware Remembrance does tack Davros on at the end a bit, and although he makes an impact he doesn't play a massive part. So in Daleks Among Us he has his own story running parallel with The Doctor's, and with Klein's and with Will's. An awful lot of plotlines to weave together!'.
---
Big Finish Magazine - Vortex: Issue 55 (September 2013)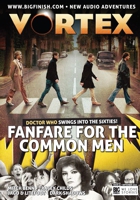 Vortex: Issue 55

Issue 55 of 'Vortex - The Big Finish Magazine' was also sent out to subscribers with this release.



In this issue...
1. Sneak Previews and Whispers – Survivors - Part One

2. Editorial - Paul Spragg

3. Article - Born to be Childs! - Tracey Childs

4. Article - Uncommon Benn - Mitch Benn

5. Article - The Whole Sleuth - Jago & Litefoot

6. Article - Taking Sides - Dark Shadows

7. Article - Coward's Way - Mat Coward

8. Article - Listen Again - Doctor Who and the Pirates

9. Vortex Mail

10. Forthcoming Releases - September 2013 – June 2014



| | |
| --- | --- |
| Published By: | Big Finish Productions Ltd |
| Managing Editor: | Jason Haigh-Ellery |
| Editor: | Paul Spragg |
| Executive Producer: | Nicholas Briggs |
| Line Producer: | David Richardson |
| Design: | Mark Plastow |
| Published: | September 2013 |
| Page Count: | 24 |
Notes:
Featuring the Seventh Doctor and Elizabeth Klein and Will Arrowsmith.
Number of Episodes: 4
Cover Length: 120 minutes
Episode Lengths: 1 = 34'52", 2 = 23'11", 3 = 30'52", 4 = 37'15"
Total Length: 126'10"
Also features 27 minutes of trailers, music and special behind-the-scenes interviews with the cast and producers.
Cover Illustration: Simon Holub
Recorded: 5th and 6th February 2013
Recording Location: Moat Studios
Released: September 2013
ISBN: 978-1-78178-077-0
---
On the Back Cover:
AZIMUTH DEPARTMENT OF RE-EDUCATION

REMINDER: TO ALL CITIZENS

There are no Daleks on Azimuth. There have never been Daleks on Azimuth.

Twenty years ago, the Daleks did not invade Azimuth. There was no war. There were no death camps. A man named 'the Doctor' did not help liberate Azimuth.

There are no such things as Daleks. They do not exist. There are no Daleks among us.

UPDATE: TO ALL CITIZENS

A strange blue box has not appeared in Monument Plaza. Off-worlders named 'the Doctor', 'Elizabeth Klein' and 'Will Arrowsmith' are not at large in the city. For your own safety, should you not see any of the above, report at once to the Department of Re-education, Azimuth Central.

NEVER REMEMBER
---
On the Inside Cover:


Director's Notes



Klein has had a bumpy old time of it, and it seems inevitable that her story was never going to end nicely. It's fitting, then, that in a world where we bounce back and forth in time, it's Klein's past that comes back to haunt her. And it's in this that Alan Barnes' story really excels. Yes, it's fun. Yes, it's delightfully complex. But in a trilogy packed full of just about every imaginable type of alien (and human), at the heart of the story is a real emotional punch.



It's only when you're as deeply embedded in the long game as Barnes is that you can pull off something like this. The story threads running through his brain must be mind-boggling, and I don't envy his task. But time and again he delivers - bringing us the satisfaction of an exciting conclusion to a long-running story.



But with every conclusion comes a new beginning. And some wonderful new characters. I hope I'm not the only one that would like to see Klein and Will in their own adventure. The chances are slim, I'm sure. But we can live in hope.

KEN BENTLEY
Writer's Notes



Twenty-five impossibly distant years ago, wide-eyed, fresh-faced, innocent young fanboy me was heavily involved in an amateur effort to release a short series of Doctor Who plays. Only, in order to distinguish ourselves from a certain series of fan audios being produced in the Southampton area, we decided that we were going to have a very special sort of Doctor. A female Doctor. And what a female Doctor needed, we decided, was a wide-eyed, fresh-faced, innocent young boy assistant, a sort of male Jo Grant. We called him Will. But I was a rubbish actor, so we got latter-day DWM Assistant Editor Peter Ware to play him when we recorded the first script in Jason Haigh-Ellery's parents' shed.



Long story short: I went off to Poly not long after, so I never got around to editing the tapes... and the guilt still hangs heavy. Then, one day, twenty-four years later, Southampton's finest former Doctor suggested I might want to put together a trilogy of plays featuring the Seventh Doctor and UNIT scientific adviser Klein. I got to thinking that what Klein needed was an assistant. A wide-eyed, fresh-faced, innocent young boy assistant, a sort of male Jo Grant...



So: hearing the excellent Christian Edwards bring Will, at last, to life has sort of laid a ghost to rest- and I'd like to dedicate this one, if you'll allow, to Jason and Peter and Jo and Rob and Chris and Mark and Paul and Jackie and other Rob and Keith and everyone else I've forgotten who was around and about that shed a quarter-century ago. You were all brilliant, and I hope it didn't seem like a wasted effort.


ALAN BARNES
---
Full Cast List:
| | |
| --- | --- |
| The Doctor | Sylvester McCoy |
| Elizabeth Klein | Tracey Childs |
| Will Arrowsmith | Christian Edwards |
| Davros | Terry Molloy |
| Kurt Schalk | Jonathan Forbes |
| Ralf/The Daleks/Workman | Nicholas Briggs |
| Falkus/Wraith #1 | Tim Delap |
| Falkus/Wraith #2 | Jessica Brooks |
| The Shepherd | Paul Chahidi |
| | |
The Production Team:
| | |
| --- | --- |
| Writer | Alan Barnes |
| Director | Ken Bentley |
| Sound/Music | Wilfredo Acosta |
| Theme Music | David Darlington |
| Script Editor | Alan Barnes |
| Producer | David Richardson |
| Executive Producers | Nicholas Briggs and Jason Haigh-Ellery |