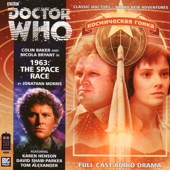 1963: The Space Race
(Eddie Robson)

To celebrate the fiftieth anniversary of the television show Big Finish Productions are releasing three stories as a countdown to the anniversary itself. These three stories are based in 1963 – the year Doctor Who was first broadcast.



Big Finish Productions announced that they had big plans for Doctor Who's fiftieth anniversary, and this set of three stories is where it all begins. The 1963 trilogy, which boasts a story each for the Fifth Doctor, Sixth Doctor and the Seventh Doctor, takes us back to the year of Doctor Who's creation.



The second release is called "1963: The Space Race" and stars Colin Baker, as the Sixth Doctor, and Nicola Bryant, as Peri.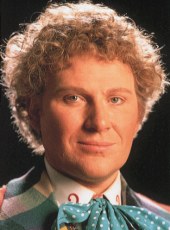 Sixth Doctor

This story has been written by Jonathan Morris and has been directed by Nicholas Briggs. It was recorded on the 28th and 29th May 2013.



Also starring are: Karen Henson, David Shaw-Parker, Tom Alexander, Stuart Denman and Samantha Béart.


The Doctor arrives in Kazakhstan and gets involved in the Soviet space programme. There's this long-held conspiracy theory that maybe the Soviets landed on the Moon before the Americans did, and this story explores that idea. There's also, we find out, something else on the Moon that we didn't know about...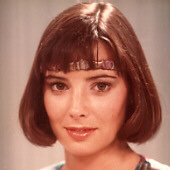 Peri

'In the early 1960s you had the first man in space, the first woman in space, and President Kennedy making the famous speech saying "We will have a man on the Moon by the end of the decade"', writer Jonathan Morris has revealed. 'So that's all going on. But what intrigued me is that the Russians' space programme was doing extremely well up until about November 1963, and then it ground to a halt. What caused the Russians to fall behind? What meant that the Americans ended up being the first to the Moon?'



'In writing it I read a lot about the space programmes of the time. Various bits of jargon they'd use for space flights, even the name of a crater on the Moon where people believe there to have been an alien spaceship - it was great fun. Because the tone I wanted to take was to be as realistic as possible. I wanted to avoid anything which took you out of the story, so for instance, normally in a Doctor Who story if you're on a rocket to the Moon, it will get you there the next day, but in reality it would be three or four days - so I made it three or four days. But then it's about how you keep the pace up when a story takes place over several weeks. I got around it by telling a story that needed longer; a slow-burn'.



This story has a 1980s Doctor and companion (in the form of the Sixth Doctor and Peri) in a 1960s story designed to celebrate 50 years of Doctor Who and its overall feel is not traditional. As Jonathan Morris has revealed, 'It's set in the past, but it's not backward looking. It's not a nostalgia thing at all. There are nods back to things like "Marco Polo", "The Seeds of Death" and "The Ambassadors of Death" - but I think the best way of celebrating 50 years of Doctor Who is to be original'.

---
Big Finish Magazine - Vortex: Issue 56 (October 2013)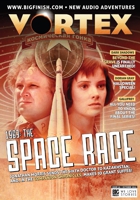 Vortex: Issue 56

Issue 56 of 'Vortex - The Big Finish Magazine' was also sent out to subscribers with this release.



In this issue...
1. Sneak Previews and Whispers – Blake's & For 2014

2. Editorial - Paul Spragg

3. Article - Writes Issues - Jonathan Morris

4. Article - Ghoulies, Ghosties and Long-Legged Beasties - Dorian Gray

5. Article - Broadcast Critical - The Story Of Beyond The Grave

6. Article - My Grave Place - Dark Shadows

7. Article - It's The End - Gallifrey

8. Article - Listen Again... - Companion Chronicle The Glorious Revolution

9. Vortex Mail

10. Forthcoming Releases - October 2013 – July 2014



| | |
| --- | --- |
| Published By: | Big Finish Productions Ltd |
| Managing Editor: | Jason Haigh-Ellery |
| Editor: | Paul Spragg |
| Executive Producer: | Nicholas Briggs |
| Line Producer: | David Richardson |
| Design: | Mark Plastow |
| Published: | October 2013 |
| Page Count: | 24 |
Notes:
Featuring the Sixth Doctor and Peri.
Number of Episodes: 4
Cover Length: 120 minutes
Episode Lengths: 1 = 29'55", 2 = 30'30", 3 = 29'58", 4 = 30'56"
Total Length: 121'19"
Also features 22 minutes of trailers, music and special behind-the-scenes interviews with the cast and producers.
Cover Illustration: Anthony Lamb
Recorded: 28th and 29th May 2013
Recording Location: Moat Studios
Released: October 2013
ISBN: 978-1-78178-079-4
---
On the Back Cover:

November 1963, and the Soviet space programme reigns supreme. Having sent the first animals, then the first men beyond Earth's atmosphere, now they're sending a manned capsule into orbit around the Moon.



Just as Vostok Seven passes over into the dark side, however, its life support system fails. Only the intervention of the Sixth Doctor and Peri, adopting the identities of scientists from Moscow University, means that contact with the capsule is regained.



But something has happened to the cosmonaut on board. She appears to have lost her memory, and developed extreme claustrophobia. Maybe she's not quite as human as she used to be…

---
On the Inside Cover:


Director's Notes


As a child of the Sixties, the Space Race has a great resonance with me. I actually remember collecting those little cards called The Space Race, which featured pictures of all the Russian and US spacecraft built in that mad rush to get to the Moon and fulfil President Kennedy's promise. So this story had me fired up and on my launch pad from the very beginning.



It's always a pleasure to work with Colin Baker, but for me, this time round, it was great to work with Nicola Bryant again. It had been ages since I'd directed a story featuring Peri. Of course, Nicola and I have chatted a lot over the years, when I was visiting the studio as executive producer, but I've always been impressed by her work and her dedication to the character of Peri, so it was really great to get to grips with that character again.



We had a fantastic supporting cast in this story. Really brilliant jobbing actors with great voices.



Early on, I made the slightly controversial decision for the Russian characters not to have Russian accents. It's that old 'TARDIS translation' problem. If the Doctor and Peri are speaking Russian and all the other characters are speaking English with a Russian accent, then shouldn't the Doctor and Peri be doing Russian accents too? Gaaah! It's infuriating. So I thought to myself, 'No, they can all sound English'. Then, the problem came when the Americans were hearing one of the Russian characters speaking English! Suddenly, in mid-sentence, that character had to sound Russian. That led to much hilarity in the studio, but I'd like to state here and now for anyone who's confused by it... it really does make sense. Honestly...

NICHOLAS BRIGGS



Writer's Notes


A Brief History of Doctor Who



1963: A year of momentous events. The assassination of John F Kennedy, the Great Train Robbery, the Profumo Affair, the rise of the Beatles and, most momentous of all, the first episode of Doctor Who is broadcast.



1973: Doctor Who is ten years old. Writer of Doctor Who stories Jonathan Morris is born.



1983: Jonathan Morris is ten years old. Doctor Who is his favourite programme. He writes Doctor Who stories all the time. He pesters his parents into buying a video recorder so he can watch it all the time. This he proceeds to do for the next seven years.



1993: Tragically, Doctor Who is no longer on television. Jonathan Morris is twenty years old and at university. He has a girlfriend and no longer watches his Doctor Who videos. A bleak time that will hitherto become known as "the wilderness years'.



2003: Jonathan Morris is thirty years old and now watches Doctor Who on DVD and writes Doctor Who books and audios. At a party he learns that Doctor Who is coming back to television. This is the best news he has ever heard, ever.



2013: Doctor Who is fifty years old. Jonathan Morris considers himself to be in his 'mid-thirties'. Just like when he was ten, he writes Doctor Who stories all the time, as books, audios and comic strips. Doctor Who is still his favourite programme. It has brought him a lifetime of excitement, joy, friendship and even love, and he hopes it will never end.
JONATHAN MORRIS

---
Full Cast List:
| | |
| --- | --- |
| The Doctor | Colin Baker |
| Peri | Nicola Bryant |
| Larisa Petrov | Karen Henson |
| General Mikhail Leonov/General Paterson | David Shaw-Parker |
| Captain Alexei Kozlov/Lieutenant Andrews | Tom Alexander |
| Sergeant Leonid Kurakin | Stuart Denman |
| Marinka Talanov | Samantha Béart |
| | |
The Production Team:
| | |
| --- | --- |
| Writer | Jonathan Morris |
| Director | Nicholas Briggs |
| Sound/Music | Howard Carter |
| Theme Music | David Darlington |
| Script Editor | Alan Barnes |
| Producer | David Richardson |
| Executive Producers | Nicholas Briggs and Jason Haigh-Ellery |