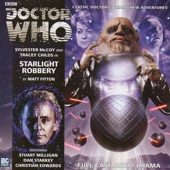 Starlight Robbery
(Matt Fitton)

The release for August 2013 is called "Starlight Robbery" and sees Sylvester McCoy, as the Seventh Doctor, and Tracey Childs, as UNIT's scientific advisor Dr Elizabeth Klein, in the second of three releases for 2013.



This story has been written by Matt Fitton and has been directed by Ken Bentley. It was recorded on the 16th and 17th January 2013.



This story sees The Doctor, Dr Elizabeth Klein and new companion Will Arrowsmith (played by Christian Edwards) taken by the TARDIS to an intergalactic arms auction. Stuart Milligan plays Garundel, while Dan Starkey (Strax in the television show) plays a whole army of Sontarans! Also starring are Jo Woodcock, as Ziv, and Lizzie Roper as the Krakenmother.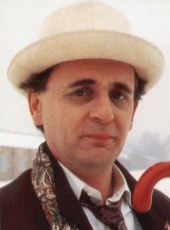 Seventh Doctor

Everyone's favourite potato-faced warmongers are back!



In many of the Sontarans' most recent appearances - both in on television and on audio - they've been used comically, and that, writer Matt Fitton has stated is nothing new. 'If you go back and watch "The Time Warrior", they're funny there. They have absolute faith in themselves as galactic conquerors, which is quite funny in context'.



'But the thing I wanted to do with my Sontarans in "Starlight Robbery" was to have an elite squadron. They've got to have acquired this reputation for being warmongers and galactic conquerors from somewhere - some of them have got to be good at being Sontarans! - so that's what I went for'.



It's the Seventh Doctor who encounters them this time round, and this is not the first Seventh Doctor story Matt Fitton has written. 'It's nice to be able to do a lot more with the Seventh Doctor, because I was limited with what I could do with him in "Black and White" last year. He's an older Doctor here. He's taken a step back from the universe, and is taking a higher overview of things. You can tell he's older - he's more considered - but he hasn't learned enough to stop making the same mistakes again, trying to juggle too many balls in the air at once'.



This story also sees the return of Garundel - who was introduced in the "Black and White" - a shady alien played by Stuart Milligan. In contrast to "Black and White" this story is more Garundel's natural environment! 'This is much more his world. He's in control, and thinks he's doing rather well for himself. He's somebody who straddles that moral ambiguity, and is out for himself'.

---
Big Finish Magazine - Vortex: Issue 54 (August 2013)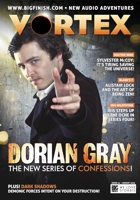 Vortex: Issue 54

Issue 54 of 'Vortex - The Big Finish Magazine' was also sent out to subscribers with this release.



In this issue...
1. Sneak Previews and Whispers – The Avengers

2. Editorial - Paul Spragg

3. Article - Gray Times - Dorian Gray

4. Article - The Lucifer Gambit - Dark Shadows

5. Vortex Mail

6. Article - Sylv In The Universe - Sylvester McCoy

7. Article - It's A Lock - Alistair Lock

8. Article - Wright Place, Wright Time - Iris Wildthyme

9. Article - Listen Again - The Wormery

10. Forthcoming Releases - August 2013 – May 2014



| | |
| --- | --- |
| Published By: | Big Finish Productions Ltd |
| Managing Editor: | Jason Haigh-Ellery |
| Editor: | Paul Spragg |
| Executive Producer: | Nicholas Briggs |
| Line Producer: | David Richardson |
| Design: | Mark Plastow |
| Published: | August 2013 |
| Page Count: | 24 |
Notes:
Featuring the Seventh Doctor and Elizabeth Klein and Will Arrowsmith.
Number of Episodes: 4
Cover Length: 120 minutes
Episode Lengths: 1 = 30'16", 2 = 28'19", 3 = 31'20", 4 = 31'23"
Total Length: 121'18"
Also features 25 minutes of trailers, music and special behind-the-scenes interviews with the cast and producers.
Cover Illustration: Simon Holub
Recorded: 16th and 17th January 2013
Recording Location: Moat Studios
Released: August 2013
ISBN: 978-1-78178-076-3
---
On the Back Cover:

Sick of the same-old slaughter-appliances? In need of a killer new killing-machine? Then look no further than Garundel Galactic's secret arms auction. Blasters, tanks, missiles and bombs – no bang too big or micro-laser too small. If you've got the credits, Garundel's got the kill-sticks. (Cash buyers get preferential rates.)



In search of the key to a sinister alien technology, the Doctor, Klein and Will set their sights on an illicit intergalactic arms fair run by an old acquaintance – the slippery Urodelian crook, Garundel. But what are their chances of pulling off a particularly audacious heist from under the noses of Garundel and his alien clients, the ever-belligerent Sontarans…?

---
On the Inside Cover:


Director's Notes



Some characters leap off the page, and ever since Garundel's first appearance, he did (and continues to do) just that. When I heard he was returning I couldn't wait to read about his exploits, and Matt Fitton didn't fail to deliver. But what's most exciting about the character is hearing Stuart Milligan bring him to life. Stuart is a bold actor with a wonderful sense of theatricality, and in Garundel he's created what I hope will become an enduring Doctor Who villain. If villain is the right word.



But there's even more Starlight Robbery should be remembered for. The return of Garundel the Urodelian is one. But as if successfully introducing one new breed to the Whoniverse isn't enough, Fitton presents us with another. Created this time by the quite awesome Lizzie Roper, and ably assisted by Dan Starkey, the Kraken are simply magnificent. They appear all too.briefly, and I'd like to take this opportunity to begin a campaign for their return. I just hope Nick and David are reading this...


KEN BENTLEY
Writer's Notes



I've always wanted to write a heist movie.



I Love The Sting, Hustle, The Italian Job. Even the one with Bruce Willis that no one else likes. So that's what this is. A heist movie. With cons, double-crosses, and shoot-outs. Only there's much more at stake than gold bullion.



And so many toys to play with... The Seventh Doctor! Klein! Sontarans! Funny how all of them, while ruthless characters to various degrees, are played by the loveliest people you'd ever want to meet. And the new characters. Will, Ziv and Benarra, were just perfectly inhabited by Christian, Jo and Lizzie.



Little did I know when creating Garundel for Black and Whitethat he'd ever be back. Stuart Milligan did such a fantastic job of capturing exactly what I had in mind, I was delighted when Alan said he wanted me to add the Urodelian into the mix for Starlight.



So I get to add a whole new element to the heist movie: a big green devious alien salamander. And it feels like he's always been there...

There's just one more thing I'd promised to say: 'Ziv' is named by Isaac Fitton.


MATT FITTON
---
Full Cast List:
| | |
| --- | --- |
| The Doctor | Sylvester McCoy |
| Elizabeth Klein | Tracey Childs |
| Will Arrowsmith | Christian Edwards |
| Garundel | Stuart Milligan |
| Marshal Stenn/Major Vlaar/Sergeant Gredd/Asallis | Dan Starkey |
| Ziv | Jo Woodcock |
| Krakenmother Benarra | Lizzie Roper |
| | |
The Production Team:
| | |
| --- | --- |
| Writer | Matt Fitton |
| Director | Ken Bentley |
| Sound/Music | Simon Robinson and Howard Carter |
| Theme Music | David Darlington |
| Script Editor | Alan Barnes |
| Producer | David Richardson |
| Executive Producers | Nicholas Briggs and Jason Haigh-Ellery |