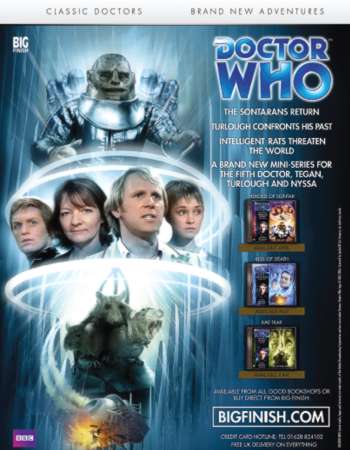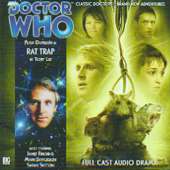 Rat Trap
(Tony Lee)

June 2011 sees Peter Davison, in the third of three releases, as the Fifth Doctor, once again reunited, in the Big Finish Productions Doctor Who audio range, with his three companions: Nyssa, played by Sarah Sutton; Tegan Jovanka, played by Janet Fielding, and Turlough, played by Mark Strickson.



"Rat Trap" has been written by Tony Lee - who has previously written Doctor Who graphic novels for IDW Publishing. This though is Tony Lee's first Big Finish Productions audio story.



The guest star is none other than Terry Molloy, who played the part of Davros in the 1975 Fourth Doctor classic "Genesis of the Daleks". In "Rat Trap" Terry Molloy is playing the part of Dr Wallace.



Also starring in this story are: John Banks, Alison Thea-Skot, David Seymour, Andrew Dickens and Charlie Norfolk.



Set on Earth, in 1983, 'It's a bit Edge of Darkness-y', Alan Barnes, the script editor of the stories has stated. 'If Edge of Darkness had been all about a bunch of laboratory rats conducting experiments on humans in a top secret government complex, that is'.



This story has been directed by Ken Bentley and was recorded on the 10th and 13th December 2010.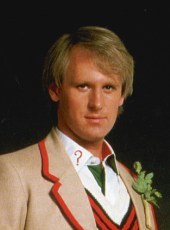 Fifth Doctor

Producer David Richardson has revealed that this story is set in the 1980s, and it's about genetic experiments that have created a race of super-intelligent rats, who are now undertaking experiments on humans.



Director, Ken Bentley has revealed that "Rat Trap" is a self-contained story, which takes place in some tunnels beneath an old castle somewhere in England. 'It's rare to be presented with a story which takes place all in one location - we're usually bouncing around here, there, and everywhere - and I think Rat Trap has a wonderful atmosphere because of that, because it only takes place in these tunnels'.



But the big question is what is going on in these tunnels? Ken Bentley has also revealed 'Everybody expects them to be abandoned but obviously we find out over the course of the story that they're not, and they've been taken over by these rats which, having been experimented on, have turned into mutant zombie rats from hell that are bent on revenge! The cast did a superb job of realising these creatures with absolute truth and conviction. It would've been all-too-easy to poke fun at this one, but it would have died on its arse if we had. We've tried to make the villain as frightening as possible. The sort of creature that would have had our eight-year-old selves scurrying for cover!'.



Even though this story has been described as a 'claustrophobic chiller' and is about confinement and wartime political shenanigans. It is a tragedy too. Ken Bentley has also stated 'It wouldn't be right to treat it with levity. But all tragedy has a little comedy, as does all comedy a little tragedy'. So it seems that this story is not all gloom-and-doom.


---
Big Finish Magazine - Vortex: Issue 28 (June 2011)
Vortex: Issue 28

Issue 28 of 'Vortex - The Big Finish Magazine' was also sent out to subscribers with this release.



In this issue...
1. Editorial - David Richardson

2. Sneak Previews and Whispers - Doctor Who: The Five Companions.

3. In The Studio - The Fourth Doctor Adventures

4. Feature - Master Piece

5. Feature - Tales From the Script Editor II

6. Feature - Sutton Who

7. Forthcoming Releases - June 2011 – March 2012

8. Feature - Bond of Friendship

9. Feature - The Write Stuff



| | |
| --- | --- |
| Published By: | Big Finish Productions Ltd |
| Managing Editor: | Jason Haigh-Ellery |
| Editors: | Nicholas Briggs and David Richardson |
| Assistant Editor: | Paul Spragg |
| Design: | Alex Mallinson |
| Graphics and Layout: | Anthony Lamb |
| Published: | June 2011 |
| Page Count: | 24 |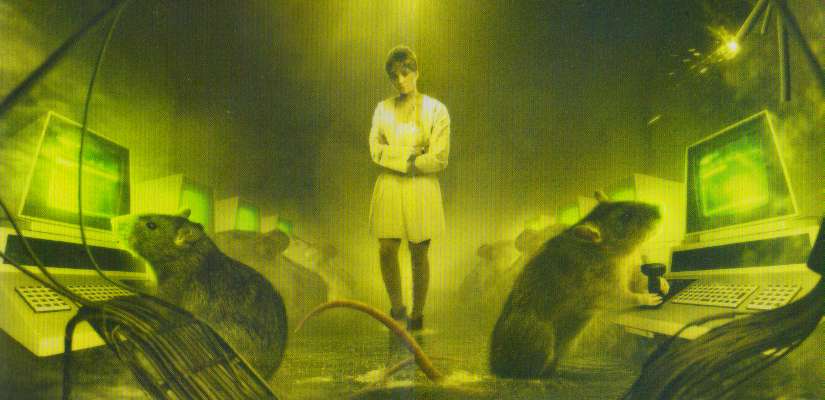 Notes:
Featuring the Fifth Doctor, Nyssa, Tegan Jovanka and Turlough.
Serial Number: 6H/F
Number of Episodes: 4
Cover Length: 120 minutes
Episode Lengths: 1 = 26'08", 2 = 32'40", 3 = 26'50", 4 = 22'04"
Total Length: 107'42"
Also features 24 minutes of trailers, music and special behind-the-scenes interviews with the cast and producers
This story takes place between the television stories "Enlightenment" and "The King's Demons".
Cover Illustration: Anthony Lamb
Recorded: 10th and 13th December 2010
Recording Location: Moat Studios
Released: June 2011
ISBN: 978-1-84435-560-0
---
On the Back Cover:

1983: as the country goes to the polls, two 'Urban Explorers', together with a freelance journalist, break into the long-defunct Cadogan Tunnels, once a secret wartime facility… and later, so rumour has it, the site of an experimental laboratory with a nasty sideline in vivisection.



What they find, in its twisting underground corridors, is something the most cynical conspiracy theorist could never have imagined: a highly-evolved society of questing, intelligent creatures, living right under humanity's nose for decades.



But there's no way out of the tunnels - as the Doctor, Nyssa, Tegan and Turlough are about to discover when the TARDIS brings them, too, into the complex. It's a rat trap - and they've all been caught!

---
On the Inside Cover:

Writer's Notes


I'm a comic writer. For the last few years, I've made the bulk of my career, including my Doctor Who work, from multicoloured panels laid out sequentially on a page. It's a business where my loose descriptions are drawn by a competent artist rather than myself, where the reader can instantly take in a scene's situation from a single image, and where a picture does indeed paint a thousand words.



To be thrown into an audio setting, especially one so prestigious as this, is a definite departure from my comfort zone. Suddenly every line of dialogue needs to be more descriptive, every sound needs to be relevant. I rely on actors reading my words and interpreting them rather than the reader doing so.



It helps to have a good script editor when leaping with both feet into such deep water, and I was lucky to have Alan Barnes, a man who has also worked in both the comics and audio mediums. He kept me focused and showed me both my weak and my strong points, and for that I truly thank him.



A learning process from start to finish and with a last-minute deadline that was crazy even for an experienced writer to take, Rat Trap is probably one of the most enjoyable things I have ever worked on. And now I must go and kill some writers, so I can do it again...

Tony Lee
February 2011


Director's Notes



I've always been excited by the idea of Secret Britain, so when Rat Trap landed on my desk it didn't take long to get its claws into me. Naturally I hope a small amount of my excitement comes across in the final production, but all credit for this one goes to the cast.



One of the things I enjoy most about my job is working with actors. They're nothing short of magicians, and I'm constantly in awe of their courage and skill. The team on Rat Trap saw instantly what was required and delivered in spades. They've treated us to some of the finest ensemble work I've been privileged to witness - genuinely selfless, truthful performance at the very highest level. I've worked with some of them before. I look forward to working with all of them again.



This studio recording (as Rat Trap was recorded before Heroes of Sontar) marked my first outing with this particular TARDIS team. What a great bunch they are. I hope you've enjoyed the journey as much as I have.

Ken Bentley
February 2011
---
Full Cast List:
| | |
| --- | --- |
| The Doctor | Peter Davison |
| Tegan Jovanka | Janet Fielding |
| Vislor Turlough | Mark Strickson |
| Nyssa | Sarah Sutton |
| Clifford Andrews | John Banks |
| Sally Lucas | Alison Thea-Skot |
| Dr Wallace | Terry Molloy |
| Kevin | David Seymour |
| Matthew | Andrew Dickens |
| Caitlin Jones | Charlie Norfolk |
| Major Harris | Andrew Dickens |
| | |
The Production Team:
| | |
| --- | --- |
| Writer | Tony Lee |
| Director | Ken Bentley |
| Sound/Music | Andy Hardwick |
| Theme Music | David Darlington |
| Script Editor | Alan Barnes |
| Producer | David Richardson |
| Executive Producers | Nicholas Briggs and Jason Haigh-Ellery |