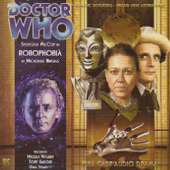 Robophobia
(Nicholas Briggs)

The Seventh Doctor, played by Sylvester McCoy, returned in July 2011 in a brand new three-part mini-series in which he encountered some familiar, impassive faces - the Robots of Death - in the first story, "Robophobia".



'In many ways, "Robophobia" picks up where "The Robots of Death" left off in 1977', Executive Producer, writer and director of this new story, Nicholas Briggs, has revealed. 'However it goes in an entirely new direction, and I don't just mean out into space...'.



The guest cast for this story is led by Nicola Walker, best known for playing Ruth in Spooks, as Liv Chenka. 'We've wanted to work with Nicola for ages', Producer David Richardson has announced, 'and suddenly everything fell into place and she was available for this story. And she was absolutely brilliant, and so lovely and funny. She really embraced the opportunity to appear in the audio adventures of Doctor Who'.



The cast also includes Toby Hadoke (Moths Ate My Doctor Who Scarf) and Dan Starkey (who plays Sontarans in the television series). Also starring are: William Hazell, Nicholas Pegg, Matt Addis and John Dorney.



"Robophobia" was recorded on the 7th and 8th March 2011.



"The Robots of Death", first shown in 1977, is considered by many to be one of the best Doctor Who stories ever. So it was only a matter of time that an audio sequel would be released.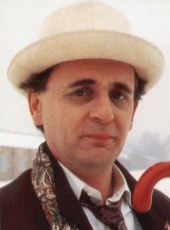 Seventh Doctor

'There are many similarities', writer Nicholas Briggs has revealed. 'It's set in an isolated place and there's a feeling you could get lost in the location; it takes The Doctor ages to get from one side of the spaceship to the other. There are also loads of deactivated robots being transported somewhere...'.



For those who have seen "The Robots of Death", it would be natural to think that the same thing is going to happen as in that earlier story But Nicholas Briggs has stated 'There's a twist to it...'.



The Seventh Doctor is travelling alone throughout this new trilogy, but in "Robophobia" he gets assistance from a character, called Liv Chenka, who is played by Spooks star Nicola Walker.


The story opens with a person, who Liv Chenka is having an involvement with, having been murdered. She has to examine him, because of her position as the spaceship's medical officer, so it's quite a difficult beginning to the story for her. And The Doctor appears while she's in the process of doing this'.


Of course The Doctor gives the impression that he knows everything about the situation - and Liv Chenka of course knows nothing! It's not a good period of her life. It's not a good day for her - in fact, it's probably the worst day of her life! - Nothing is making any sense to her. Therefore she spends most of the time a lot of the story being incredibly suspicious of The Doctor.



This three-part mini-series took a short break in August to allow for a special release, starring Colin Baker as the Sixth Doctor, to mark Big Finish Production's 150th Doctor Who audio story in their main range.


---
Big Finish Magazine - Vortex: Issue 29 (July 2011)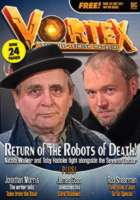 Vortex: Issue 29

Issue 29 of 'Vortex - The Big Finish Magazine' was also sent out to subscribers with this release.



In this issue...
1. Editorial - Nicholas Briggs

2. Sneak Previews and Whispers - Graceless 2

3. In The Studio - Sherlock Holmes

4. Letters

5. Feature - Liv From the Studio

6. Feature - Toby or Not Toby

7. Feature - The Trask at Hand

8. Feature - Rob Seeker's Allowance

9. Forthcoming Releases - July 2011 – April 2012

10. Feature - All My Vault



| | |
| --- | --- |
| Published By: | Big Finish Productions Ltd |
| Managing Editor: | Jason Haigh-Ellery |
| Editors: | Nicholas Briggs and David Richardson |
| Assistant Editor: | Paul Spragg |
| Design: | Alex Mallinson |
| Graphics and Layout: | Anthony Lamb |
| Published: | July 2011 |
| Page Count: | 24 |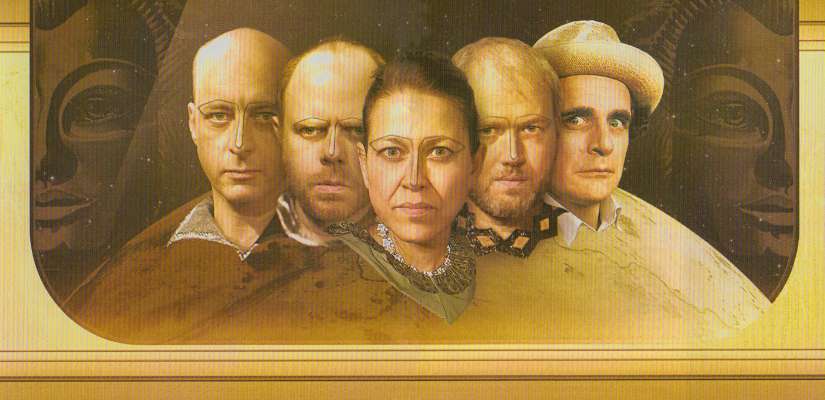 Notes:
Featuring the Seventh Doctor.
Serial Number: 7Z/AA
Number of Episodes: 4
Cover Length: 120 minutes
Episode Lengths: 1 = 30'55", 2 = 27'08", 3 = 24'34", 4 = 30'20"
Total Length: 112'57"
Also features 30 minutes of trailers, music and special behind-the-scenes interviews with the cast and producers
This story takes place after "Survival".
Cover Illustration: Simon Holub
Recorded: 7th and 8th March 2011
Recording Location: Moat Studios
Released: July 2011
ISBN: 978-1-84435-577-8
---
On the Back Cover:

Nothing has ever been officially confirmed, but there is a rumour that on a Sandminer, bound for Kaldor City, the robots somehow turned homicidal and nearly wiped out the entire crew. Can that really be true?



The robot transport ship Lorelei has a cargo of over 157,000 robots on board, all deactivated. So even if there were any truth in the rumour of that massacre, there'd still be no danger. Surely, there wouldn't...



But then, the Doctor witnesses a murder.
---
On the Inside Cover:

Writer's Notes


The Robots of Death is one of my favourite Doctor Who stories. Like The Ark in Space, it is part of a Doctor Who template for how to 'do' that kind of story. You know the one: the Doctor arrives somewhere, which is in some vital way totally isolated, and has to save the ever-decreasing number of survivors from some terrible foe. The element that The Robots of Death added was the 'whodunnit' vibe; except that the audience was in on who 'dunnit' right from the start, Columbo-style.



So, for a sequel, how do you get the unique flavour of the original without just repeating the same story? Let's face it, most sequels are just elaborate reworkings of the original, because, in a way, that's what's expected from them.



What we decided was to add a new twist and give the Doctor a different role. That was our theory. All the ingredients that made The Robots of Death are there, but for different reasons and in a different context.

Nicholas Briggs
May 2011


Director's Notes



Directing your own script is particularly enjoyable. You've lived with the story for months, discussed it with your brilliant script editor (Alan Barnes), pored over ever detail of it and now here it is, coming to life before your very ears. It was also a chance to work with some particularly fine actors. Well, you always need good actors, don't you? But in a story which is all about fear and how it affects people's behaviour, really good emotional acting is essential. And because the Doctor has a more mysterious role in this story, it was important that the 'supporting' cast were able to take centre stage with ease. It's their story, not the Doctor's.



It was a long-held ambition of mine to work with Nicola (Ruth from Spooks) Walker, and a great chance for me to finally work with Dan Starkey, who is superbly dexterous with his voice. Nicholas Pegg is a great old mate of mine, and, frankly, every time I wrote Captain Seleral's lines, I kept hearing Nick's voice in my head. Maybe I should see a doctor about that. As for Toby Hadoke... well, he does some breathtaking stuff in this story. A privilege to behold.

Nicholas Briggs
May 2011

---
Full Cast List:
| | |
| --- | --- |
| The Doctor | Sylvester McCoy |
| Liv Chenka | Nicola Walker |
| Farel | Toby Hadoke |
| Bas Pellico | William Hazell |
| Selerat | Nicholas Pegg |
| Cravnet | Dan Starkey |
| Tal Karus | Matt Addis |
| Leebar | John Dorney |
| Elicien | Nicola Walker |
| SV10 | Matt Addis |
| Computer Voice | John Dorney |
| Robots | Matt Addis, Nicholas Briggs, John Dorney, Toby Hadoke and Dan Starkey |
| | |
The Production Team:
| | |
| --- | --- |
| Writer | Nicholas Briggs |
| Director | Nicholas Briggs |
| Sound/Music | Jamie Robertson |
| Theme Music | David Darlington |
| Script Editor | Alan Barnes |
| Producer | David Richardson |
| Executive Producers | Nicholas Briggs and Jason Haigh-Ellery |