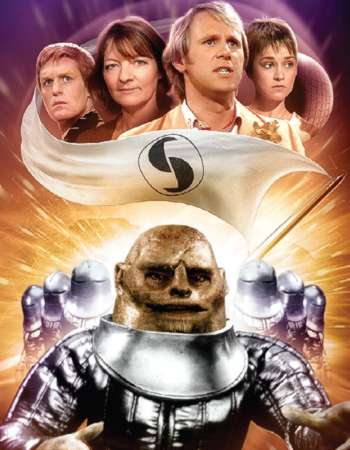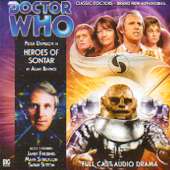 Heroes of Sontar
(Alan Barnes)

The release for April 2011 is "Heroes of Sontar" and sees Peter Davison, in the first of three releases, as the Fifth Doctor once again reunited, in the Big Finish Productions Doctor Who audio range, with his three companions: Nyssa, played by Sarah Sutton; Tegan Jovanka, played by Janet Fielding, and Turlough, played by Mark Strickson.



Also making a shocking comeback, and in their Big Finish Productions audio debut, are the Sontarans. 'I have no idea why it's taken the Sontarans so long to get to Big Finish!' line producer David Richardson has admitted 'This is their first adventure with us - and it won't be their last'.



"Heroes of Sontar" has been written by Alan Barnes and has been directed by Ken Bentley. It was recorded on the 17th and 20th December 2010.



In over 140 monthly Doctor Who plays Big Finish Productions have never featured Sontarans. 'Alan Barnes has written a storming story for them, and Steven Moffat was kind enough to give his blessing for us to use them', Nicholas Briggs has revealed. 'These are definitely the Sontarans of old dressed in their black armour, and from the same brood hatching as Commander Linx' (as seen in the 1973/74 Third Doctor story "The Time Warrior").



The squat clone soldiers have featured in a number of television stories. As well as "The Time Warrior" they have also appeared in "The Sontaran Experiment", "The Invasion of Time", "The Two Doctors" and "The Sontaran Stratagem/The Poison Sky". They have also appeared inThe Sarah Jane Adventures spin-off series starring Elisabeth Sladen as Sarah Jane Smith.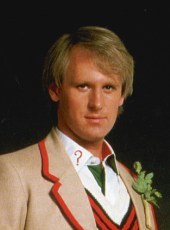 Fifth Doctor

'We thought the obvious thing to do with the Sontarans would be a very 1980s, "Earthshock"-style, "capture the bridge" action piece', Alan Barnes has revealed. 'So rather than that. "Heroes of Sontar" is quite stripped-back - just The Doctor, his companions and a platoon of seven Sontarans trapped in a deserted alien citadel, fighting to survive'.



'Casting the Sontarans has been an interesting process', Nicholas Briggs has revealed. 'We initially considered guest star names, but then realised that the most important thing was to make sure the voices were absolutely authentic. We wanted to hire people who would spend time watching "The Time Warrior", and mastering those very distinctive rasping tones. In the end, we went for actors who we know very well and work with regularly: Duncan Wisbey, John Banks, Alex Lowe, Andrew Fettes and Derek Carlyle. And we started day one of recording with a "Sontaran Masterclass" in the studio - just to make sure that everyone was on the same page'.



Big Finish Productions have put a lot of effort in getting the Sontaran performers right and so doing Alan Barnes's superb script justice. We have also been promised that "Heroes of Sontar" definitely does them justice and that Big Finish Productions have taken the Sontarans into new territory. 'It's absolutely a Sontaran-fest', David Richardson has revealed. 'There are no other human characters in the story, other than The Doctor's companions, so the casting of it was crucial. Everybody has come prepared to do their best Commander Linx for this!'



And it is not just the Sontarans who are making a welcome return, as this story features the Fifth Doctor, Tegan, Turlough, and the older version of Nyssa who reunited with them in a trilogy of stories released last year. 'When Alan first came up with the idea of bringing an older Nyssa in, it didn't fire my imagination up', David Richardson has admitted. 'But it's been brilliant. The older Nyssa is a Nyssa who is more aware, more sassy; she can hold her own against Tegan and Turlough more than she could before. Peter, Mark, Sarah, and Janet have such an amazing relationship away from Doctor Who that when you put them in front of a microphone, that osmotically seeps into the performance. There's a real spark in there; it just feels special, and very authentic to Doctor Who at that time'.



Being the first of three releases, in this second mini-series for The Dream Team David Richardson has revealed that all three will be closely linked 'This is very much a continuing arc, in which the older Nyssa is still searching for a cure to the disease - Richter Syndrome - which has decimated the population in her time'.


---
Big Finish Magazine - Vortex: Issue 26 (April 2011)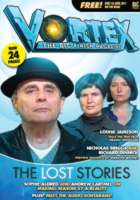 Vortex: Issue 26

Issue 26 of 'Vortex - The Big Finish Magazine' was also sent out to subscribers with this release.



In this issue...
1. Editorial - Nicholas Briggs

2. Sneak Previews and Whispers - Robophobia.

3. Feature - Holmes Sweet Holmes

4. Feature - Ace In The Pack

5. Feature - Tales From The Script Editor

6. Letters

7. Feature - Facial Feature

8. Feature - Home A Clone

9. Forthcoming Releases - April 2011 - January 2012



| | |
| --- | --- |
| Published By: | Big Finish Productions Ltd |
| Managing Editor: | Jason Haigh-Ellery |
| Editors: | Nicholas Briggs and David Richardson |
| Assistant Editor: | Paul Spragg |
| Design: | Alex Mallinson |
| Graphics and Layout: | Anthony Lamb |
| Published: | April 2011 |
| Page Count: | 24 |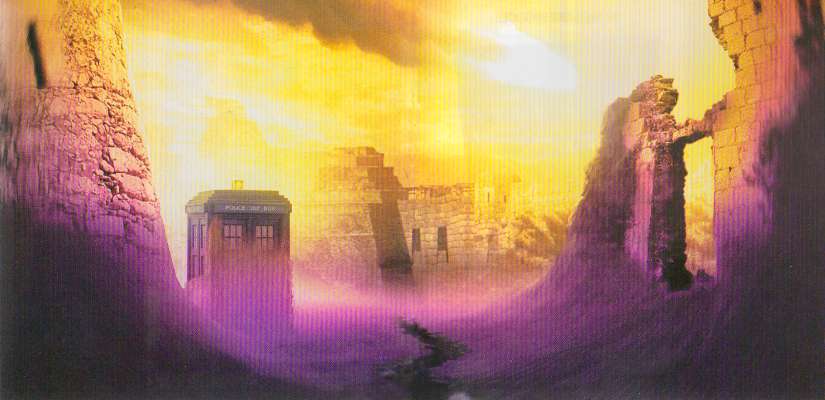 Notes:
Featuring the Fifth Doctor, Nyssa, Tegan Jovanka and Turlough.
Serial Number: 6H/D
Number of Episodes: 4
Cover Length: 120 minutes
Episode Lengths: 1 = 26'29", 2 = 29'48", 3 = 28'22", 4 = 34'43"
Total Length: 119'22"
Also features 24 minutes of trailers, music and special behind-the-scenes interviews with the cast and producers
This story takes place between the television stories "Enlightenment" and "The King's Demons".
Cover Illustration: Anthony Lamb
Recorded: 17th and 20th December 2010
Recording Location: Moat Studios
Released: April 2011
ISBN: 978-1-84435-558-7
---
On the Back Cover:

Planet Samur was once a peaceful haven. Pilgrims journeyed across the seven galaxies to meditate in the courtyards of the vast Citadel that spanned its equator. It was Samur's misfortune, however, to find itself situated on the furthermost frontier in the eternal war between the amoeboid Rutan Host and the belligerent, troll-like Sontarans…



Twenty years after detonating a bacteriological weapon over Samur, rendering it uninhabitable, a select platoon of seven Sontarans has landed here on a secret mission, carrying sealed orders given to them by Fleet Marshal Stabb.



The TARDIS has landed here, too, bringing the Doctor, Tegan, Turlough and Nyssa into the second great Battle of Samur. Fighting not only the Sontarans, but mystical mercenaries… and a deadly, decades-old curse.

---
On the Inside Cover:

Writer's Notes


Monsters! Monsters matter, I think. You can make a Doctor Who adventure out of almost anything - politics, pop music, pigeon fancying - but if it doesn't have a half-decent monster at its heart, you're on a hiding to nothing. Monsters need to be about more than invading too; the best monsters articulate something more than mere menace.



In the Sontarans, the great Robert Holmes came up with a truly great monster - a clone species dedicated to nothing but war. Reviewing the Sontaran serials again ahead of starting work on this script, it struck me that, despite their clone status, the Sontarans are one of the few alien species composed, clearly, of individuals - so where The Time Warrior's Linx was an out of-his-depth buffoon, The Sontaran Experiment Styre was an out-and-out sadist... and so on. Clones, yes - but clones with their own particular personalities.



So what would happen, I wondered, if the dramatic conflict this time around wasn't simply the fact of the Sontarans' ongoing battle against the Rutans, rather the conflict between the distinct personalities making up a single Sontaran platoon?



And that's how Heroes of Sontar came about...

Alan Barnes
January 2011


Producer's Notes



Heroes of Sontar is something of a milestone release for us - the first appearance of the Sontarans in a Big Finish audio! And no, I haven't the faintest idea why it's taken all this time either...



When it came to casting the Sontarans, we considered all sorts of names. And then it hit us - we didn't have to trawl far and wide to find the right actors. They were people we already knew, performers who we work with regularly who we could trust to do their homework and come to the studio knowing exactly how to play one of the diminutive clone warriors. Each of them was directed to The Time Warrior as research, and they all spent a considerable amount of time getting the tone and delivery just right.



The Sontarans are here at last. And they'll be back soon enough, I promise...

David Richardson
February 2011
---
Full Cast List:
| | |
| --- | --- |
| The Doctor | Peter Davison |
| Tegan Jovanka | Janet Fielding |
| Vislor Turlough | Mark Strickson |
| Nyssa | Sarah Sutton |
| Fleet Marshal Stabb | John Banks |
| Field-Major Thurr | Duncan Wisbey |
| Sergeant Mezz | Alex Lowe |
| Corporal Clun | Andrew Fettes |
| Trooper Vend | Derek Carlyle |
| Trooper Jorr/Witch Guard | John Banks |
| Trooper Nold | Alex Lowe |
| Adjutant/Orbital Command | Duncan Wisbey |
| | |
The Production Team:
| | |
| --- | --- |
| Writer | Alan Barnes |
| Director | Ken Bentley |
| Sound/Music | Jamie Robertson |
| Theme Music | David Darlington |
| Script Editor | Alan Barnes |
| Producer | David Richardson |
| Executive Producers | Nicholas Briggs and Jason Haigh-Ellery |