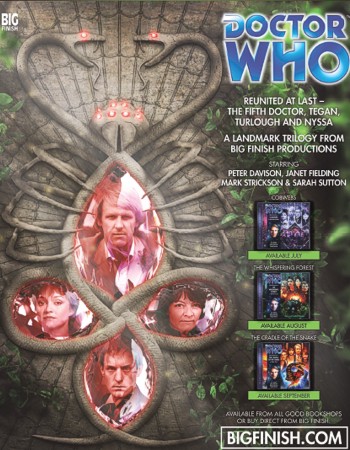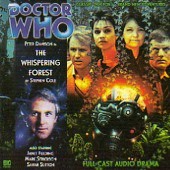 The Whispering Forest
(Stephen Cole)

The release for August 2010 sees the second of three stories starring Peter Davison as the Fifth Doctor, Sarah Sutton as Nyssa, Janet Fielding as Tegan Jovanka and Mark Strickson as Turlough.



"The Whispering Forest", by Stephen Cole, is set on an alien world where a colony has become obsessed with cleanliness - while strange creatures are prowling among the trees.



Guest stars include Hayley Atwell (who stars in the remake of The Prisoner and appeared in the Doctor Who audio story "Blood of the Daleks"), Paul Shelley ("Four to Doomsday") and Harry Melling (the Harry Potter films) - who just happens to be the grandson of Second Doctor Patrick Troughton! Also starring are: Sue Wallace, Lennox Greaves and Aneurin Barnard.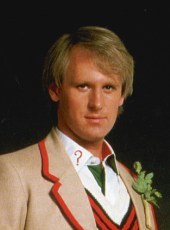 Fifth Doctor

This story has been directed by Barnaby Edwards and was recorded on the 30th December 2009 and 5th January 2010.



'On a thematic level, it's a story about purity in various forms', writer Stephen Cole has revealed. 'The characters and races are either in pursuit of it, or obsessed with it and fixated by it. It's interesting to come at that from different angles in the context of what is hopefully an exciting, hectic science-fiction story'.



'Half the TARDIS crew discover a camp of humans obsessed with the need to be clean, and the other half discover the entities that are apparently preying on them. Nyssa and Turlough spend a lot of time together. It's the two of them against... who knows what! In the first few minutes, they're being attacked by strange shadowy things, and then menaced by mysterious Takers, so they actually get buffeted around a lot from danger to danger. Meanwhile, the Doctor and Tegan concentrate on the mystery at the heart of things: what are the people actually doing there, and how have they come to evolve this society?'



As to the recording of this story with so many key characters reunited after such a long time Sarah Sutton has stated: 'It's just amazing how everyone's working - we're making suggestions and changing bits of the script here and there. We all know our own and each other's characters so well. After all this time, we've picked up where we left off, and are all very much in tune with each other'.


---
Big Finish Magazine - Vortex: Issue 18 (August 2010)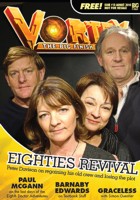 Vortex: Issue 18

Issue 18 of 'Vortex - The Big Finish Magazine' was also sent out to subscribers with this release.



In this issue...
1. Editorial - David Richardson

2. Sneak Previews and Whispers - Companion Chronicles: Peri and the Piscon Paradox.

3. In The Studio - Graceless

4. Feature - After Eight

5. Interview - Fifth Fight

6. Feature - The Stuff of Legend

7. Your Letters

8. Writer's Notes - John Dorney

9. Forthcoming Releases - August 2010 - May 2011



| | |
| --- | --- |
| Published By: | Big Finish Productions Ltd |
| Managing Editor: | Jason Haigh-Ellery |
| Editors: | Nicholas Briggs and David Richardson |
| Assistant Editor: | Paul Spragg |
| Design and Layout: | Alex Mallinson |
| Published: | August 2010 |
| Page Count: | 20 |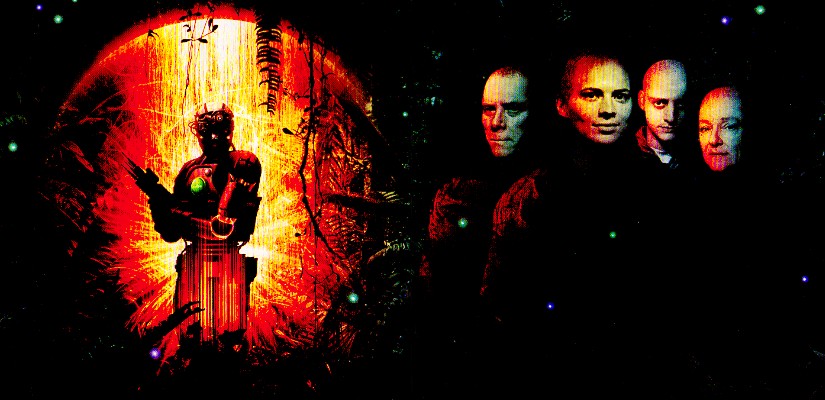 Notes:
Featuring the Fifth Doctor, Nyssa, Tegan Jovanka and Turlough.
Serial Number: 6H/B
Number of Episodes: 4
Cover Length: 120 minutes
Episode Lengths: 1 = 24'50", 2 = 27'30", 3 = 27'59", 4 = 27'22"
Total Length: 107'41"
Also features 22 minutes of trailers, music and special behind-the-scenes interviews with the cast and producers.
This story takes place after "Cobwebs".
Cover Illustration: Iain Robertson
Recorded: 30th December 2009 and 5th January 2010.
Recording Location: Moat Studios
Released: August 2010
ISBN: 978-1-84435-473-3
---
On the Back Cover:

The TARDIS arrives in alien woodlands, where a small group of humans hold tight against the the menace of the Takers – strange creatures who come by night to spirit away members of their settlement.



But if there's one thing that the inhabitants of Purity Bay fear more than the Takers, it's the dirt and disease spread by strangers. Strangers like the Doctor, Tegan, Turlough and Nyssa…



The fanatical Sister Mertil and her hygiene-obsessed acolytes are victims of a terrible corruption – but not in the way they think. Only the whispering forest knows the truth…

---
On the Inside Cover:

Writer's Notes: Stephen Cole


Long ago the Doctor missed out on the chance to visit The Screaming Jungle so I am glad now to be taking him to The Whispering Forest. The colony of Purity is a little kinder on the ears, if not the skin.



I am gladder still to be able to bring along the full complement of season twenty companions, whose adventures and relationships I so relished back in the early Eighties. Twice a week for a couple of months a year, you could forget the boredom of school and escape with a TARDIS team by turns breathless, argumentative, sweet and scheming.



Now, I missed Mawdryn Undead episode one on transmission. Transmitter went down. I spent 25 minutes watching static and bawling my eyes out. I had to wait nine years to watch the episode on video. Oh, for 'TV on demand' technology back then! It's got so good now that you can actually hear the audio soundtracks of stories they never even showed, whenever you choose! These wonderful characters can go on. Just for us.


Director's Notes: Barnaby Edwards



After the explosive comeback story Cobwebs, which saw the Fifth Doctor's TARDIS crew reunited in a high-octane technothriller, we needed a change of scene and pace - and The Whispering Forest delivers that in spades.



On a primitive planet our heroes discover a colony in extremis where technology has become indistinguishable from magic and where people accept the existence of ghosts amongst them as perfectly normal. It's a harsh world where the strong survive, the weak are 'taken'.



Stephen Cole's ambitious script is peopled with forceful personalities, which made it tricky to cast. I had to select actors who were capable of bringing light and shade to what was effectively a bunch of hard-nosed survivors. But the devil is in the details and Stephen had made sure to give each character moments where they drop the tough guy facade and reveal the raw emotions within.



I remember we laughed a lot during the recording, mainly at the script's fiendish tongue-twisters: 'I'm sure she'll shout should she see Sister Sesha'.

---
Full Cast List:
| | |
| --- | --- |
| The Doctor | Peter Davison |
| Tegan Jovanka | Janet Fielding |
| Vislor Turlough | Mark Strickson |
| Nyssa | Sarah Sutton |
| Seksa | Hayley Atwell |
| Mertil | Sue Wallace |
| Jestan | Paul Shelley |
| Hervey | Harry Melling |
| Anulf | Lennox Greaves |
| Antan | Aneurin Barnard |
| Woman | Sue Wallace |
| Man/Taker | Paul Shelley |
| Taker/Demi-Taker | Harry Melling |
| Takers | Lennox Greaves and Aneurin Barnard |
| | |
The Production Team:
| | |
| --- | --- |
| Writer | Stephen Cole |
| Director | Barnaby Edwards |
| Sound/Music | Richard Fox and Lauren Yason |
| Theme Music | David Darlington |
| Script Editor | Alan Barnes |
| Producer | David Richardson |
| Executive Producers | Nicholas Briggs and Jason Haigh-Ellery |