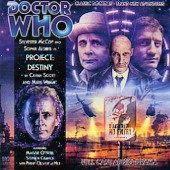 Project: Destiny
(Cavan Scott and Mark Wright)

The Forge, the secret organisation led by the vampire Nimrod, makes a comeback for one final outing in the release for late September 2010.



The Sixth Doctor first encountered them in the 2001 audio "Project: Twilight", then the Sixth Doctor and the Seventh Doctor were embroiled in another Forge encounter in the 2003 "Project: Lazarus".



Writers Cavan Scott and Mark Wright have therefore teamed up once again to create "Project: Destiny", as the first story in 2010's second Sylvester McCoy mini-season, which has been directed by Ken Bentley and was recorded on the 26th and 27th April 2010.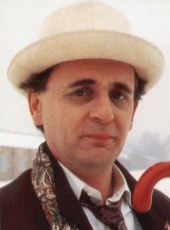 Seventh Doctor

In the last audio adventure for the Seventh Doctor and his travelling companions Ace and Hex, things had gone very badly wrong. After a harrowing adventure in the Crimean War (in the 2009 story "The Angel of Scutari"), Hex had been shot, and when we left him, he was close to death.



Now, over a year later, a new trilogy picks up where "The Angel of Scutari" left off with Ace pushing a wheelchair out of the TARDIS, desperately trying to get Hex to hospital. As revealed by Sophie Aldred 'It's full-on, right at the beginning. Often, you sort of meander into this new world, whereas this one, it's like, boom! You're straight in there, lots of action!'



It appears that The Doctor has been keeping some secrets about Hex's mother, and those are finally revealed in this story. As explained by co-writer Cavan Scott 'We've been waiting for him to find out a) what happened to his mother, and b) that the Doctor was involved. It's a major betrayal of trust. When we were writing it, it was like, "Right, so he's got to find out that The Doctor knew his mum, she was an agent for a black ops organisation... oh, and she was a vampire too!"'.



But what about Hex? Philip Olivier has played Hex since 2004 but will this story be a fitting end? 'I never want to go out on any story', Philip Olivier has stated.'Though I've just been told I do a good dying scene! It's a good story to go out on, because you do find out all of Hex's past'.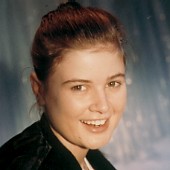 Ace

And more importantly how much will the loss of Hex affect Ace? It has been apparent for some time that Hex and Ace have developed a very close relationship. As revealed by Sophie Aldred, 'For Ace, it's very emotionally charged, this Hex-not-being-around thing. It means a hell of a lot. It's very well written in the first few scenes, where Ace is really urgently trying to get him sorted, desperate that he will get well again'. But it seems that destiny will be conspiring against her.



Actor Stephen Chance returns as Nimrod in a story which sees the Seventh Doctor and Ace returning to Earth after the shooting of their companion Hex, only to find that London is not what it was. Also guest starring in the adventure is Maggie O'Neill (Shameless, Peak Practice, Invasion: Earth) playing the part of Captain Lysandra Aristedes. Also starring are: Philip Dinsdale and Ingrid Oliver.



'Over the years we've had many requests to continue the Forge storyline', Executive Producer Nicholas Briggs has revealed, 'and they're back with a vengeance in this thrilling story of alien mutation and personal betrayals. Be warned - a long kept secret is about to be divulged, and things may never be the same again'.


---
Big Finish Magazine - Vortex: Issue 19 (September 2010)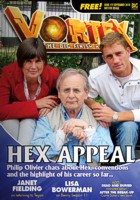 Vortex: Issue 19

Issue 19 of 'Vortex - The Big Finish Magazine' was also sent out to subscribers with this release.



In this issue...
1. Editorial - Nicholas Briggs

2. Sneak Previews and Whispers - Companion Chronicles: Quinnis & The Eighth Doctor Adventures: Relative Dimensions.

3. In The Studio - Fielding Questions

4. Feature - Let's Talk About Hex

5. Feature - carrie on baggage

6. Interview - Benny is Back

7. Feature - Benny-Mation

8. Forthcoming Releases - September 2010 - June 2011

9. Your Letters




| | |
| --- | --- |
| Published By: | Big Finish Productions Ltd |
| Managing Editor: | Jason Haigh-Ellery |
| Editors: | Nicholas Briggs and David Richardson |
| Assistant Editor: | Paul Spragg |
| Design and Layout: | Alex Mallinson |
| Published: | September 2010 |
| Page Count: | 20 |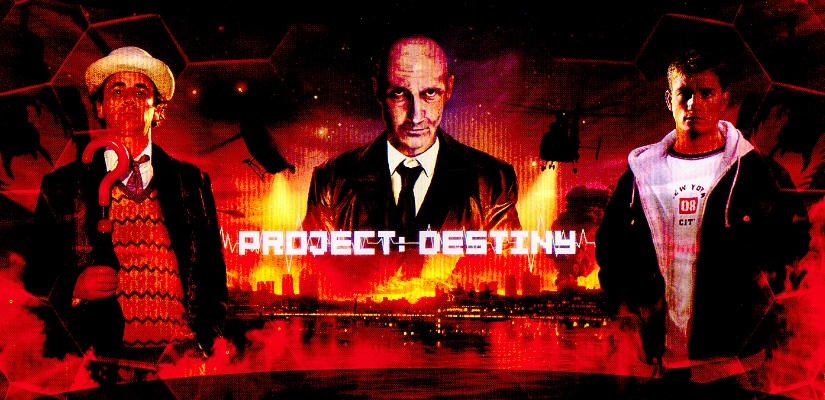 Notes:
Featuring the Seventh Doctor, Ace and Hex.
Serial Number: 7W/M
Number of Episodes: 4
Cover Length: 120 minutes
Episode Lengths: 1 = 22'08", 2 = 28'08", 3 = 32'23", 4 = 32'26"
Total Length: 114'05"
Also features 24 minutes of trailers, music and special behind-the-scenes interviews with the cast and producers.
This story takes place after "The Angel of Scutari".
Cover Illustration: Simon Holub
Recorded: 26th and 27th April 2010.
Recording Location: Moat Studios
Released: September 2010
ISBN: 978-1-84435-475-7
---
On the Back Cover:

1999: Leaving her infant son behind, a young mother named Cassandra Schofield departs Bolton, seeking a better life amid the lights of London.



2004: Despite the best efforts of the time-travelling Doctor, 'Cassie' Schofield dies on Dartmoor, a vampirised victim of the sinister organisation called The Forge.



2021: All grown up, and a nurse at St Gart's Hospital, Thomas Hector Schofield – known as 'Hex' - meets, and becomes a companion to, that time-travelling Doctor… but remains unaware that his alien friend knew his mother, and watched her die.



1854: In the Crimean War, Hex takes a bullet, and is seriously injured. The Doctor promises to return him to St Gart's.



2025: Now. In a London ravaged by a deadly contagion… destiny awaits

---
On the Inside Cover:

Writers' Notes: Cavan Scott & Mark Wright


In the closing moments of The Angel of Scutari, a wounded Hex asks the Doctor to take him home. Project: Destiny, appropriately, chronicles that homecoming. Appropriately, as this story marks something of a homecoming for ourselves.



It's seven years since we penned Project: Lazarus, the second story to feature The Forge. We had no idea the effect it would have on the ongoing story arc of the Seventh Doctor. The tragic Cassie, murdered by Nimrod, left behind a son - her 'little Tommy'. In a moment of foresight, former Big Finish producer Gary Russell (who we thank from the bottom of our hearts) decided that 'little Tommy', had a much greater role to play in the Doctor Who universe. And so, Thomas Hector Schofield was born.



And you, the listeners, hove known Hex's parentage for some time, and of the Doctor's part in his mother's death, while Hex has remained oblivious. There have been teases over the years, but now the Doctor's deceit is about to catch up with him. We guarantee that nothing will ever be the same again...


Director's Notes: Ken Bentley



I may have been partly responsible for shooting Hex a year or so ago, but as for what happens next, I've been as much in the dark as you. The responsibility fell on Cavan Scott and Mark Wright to tell us. For many the very mention of their names will give you some idea of where this story is going, and I'm sure you're hoping we tie up a few loose ends!



But to say anything about this play is to give too much away. So I'll stick with some acknowledgements:



My thanks to Howard Carter for his wonderful sound design and score.



And to Big Finish, who occasionally give me the opportunity to fulfil a lifetime ambition. This time round it was the opportunity to work with Maggie O'Neill. She was a delight, and I would be grateful if someone would start a campaign to have Captain Aristedes return soon!



But what of the bigger questions? Does this story feature The Forge? Has Stephen Chance returned to reprise the role of Nimrod? Is Hex toast? There's only one way to know for sure...

---
Full Cast List:
| | |
| --- | --- |
| The Doctor | Sylvester McCoy |
| Ace | Sophie Aldred |
| Hex | Philip Olivier |
| Sir William Abberton | Stephen Chance |
| Captain Lysandra Aristedes | Maggie O'Neill |
| Sergeant Jarrod | Philip Dinsdale |
| Helen | Ingrid Oliver |
| Oracle | Ingrid Oliver |
| | |
The Production Team:
| | |
| --- | --- |
| Writers | Cavan Scott & Mark Wright |
| Director | Ken Bentley |
| Sound/Music | Howard Carter |
| Theme Music | David Darlington |
| Script Editor | Alan Barnes |
| Producer | David Richardson |
| Executive Producers | Nicholas Briggs and Jason Haigh-Ellery |