"Klein's Story" - A Single Episode Adventure
"Survival of the Fittest" - An Adventure in Three Episodes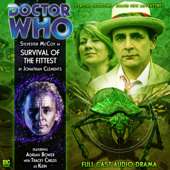 Survival of the Fittest and Klein's Story
(Jonathan Clements)

The second release of stories in the season for the Seventh Doctor and new companion Elizabeth Klein (played by Tracey Childs) comprises a three-part story called "Survival of the Fittest", by Jonathan Clements, and a one-part adventure called "Klein's Story" by John Ainsworth and Lee Mansfield. Both stories were recorded on 7th and 8th September 2009 and have been directed by John Ainsworth.



"Klein's Story" features a very special guest star - none other than Eighth Doctor Paul McGann himself! Producer David Richardson has explained, 'Paul will be appearing in "Klein's Story", playing the enigmatic role of Johann Schmidt... Someone who we discover is a key player in Klein's life!'



This story is written by John Ainsworth and Lee Mansfield. 'Klein first appeared in "Colditz"', John Ainsworth has said, 'and anyone who has listened to that adventure will already have an inkling as to who exactly Schmidt is and why Paul is playing him. It's been great to take the bare bones of Klein's back-story and flesh it out in to a full episode. I think Paul's guest appearance makes it quite a special little story'. "Colditz" is a Seventh Doctor and Ace story and was released in October 2001.



Also starring in these stories are Rupert Wickham, Adrian Bower, Hannah Smith, Evie Dawnay, Mark Donovan and Alex Mallinson.

"Klein's Story" will allow listeners find out a little more about the new Nazi companion. Elizabeth Klein is an anomaly. A renegade from an alternate future in which the Nazis won World War II, In an attempt to get to know his latest companion, the Doctor invites Klein to tell him how exactly she came to be in possession of his TARDIS and of the events that led to her trip into the past to Colditz Castle.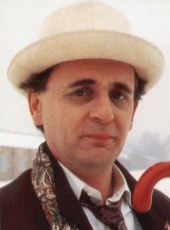 Seventh Doctor

As explained by Director and co-writer John Ainsworth: 'To an extent, "Klein's Story" is based on information we were given briefly in "Colditz", so it's dramatising something that was already there. But it all becomes important, what motivates her to do what she does - particularly in the final story'.



'The interesting thing is that although there's a whole fabulous alien story with the Vrill, the first episode sees The Doctor and Klein locked together in the TARDIS, and The Doctor decides to start conversing with Klein', Tracey Childs has revealed. 'We get to hear Klein's story before "Colditz", before she travelled to 1944. Why she travelled there, who persuaded her, who else was in her life... So it was fabulous for me to get to flesh out Klein, to find out the man she was in love with, and so on. You also have this fabulous character Schmidt, who Klein gets close to, and who is the person who persuades her to travel to 1944. She gets a little too close to Schmidt, which is why she has such an extreme reaction when she finds out who he is...'



Following on from "Klein's Story" is the three part story "Survival of the Fittest" in which The hive of the Vrill bears the scars of a terrifying cataclysm. Only a handful remain alive, hatched after the holocaust of the mysterious Winterlack. The Vrill seek a new Authority. They find the Doctor, a two-legged creature who can lead them to survival. He must solve the mystery of the Carrion beast that haunts the lower chambers. He must face the Winterlack that still stalk the mountains. And he must find a path that does not lead to extinction...



This story shows us a softer side of Klein. 'It's been written so that there have been other adventures - this is just the first one you hear about', explains Tracey Childs, 'But it's an interesting one, because you see Klein seeing an oppressed insect race, and having compassion for them, She's outraged on their behalf at the humans that are destroying their world, and yet she doesn't have too many scruples about destroying human beings herself... It's good to see her getting a little emotion and humanity; to see her growing up'.



'I didn't want the audience to sympathise with her', adds John Ainsworth. 'If she's likeable, I think that's good. Someone who has extreme views is not always a moustache-twirling villain'.



Klein's relationship with The Doctor is evolving, too – as revealed by Tracey Childs: 'Because they're thrown together in this small space, and because they've had several other unheard adventures, they've come to a kind of uneasy relationship. Whether Klein really gets on with The Doctor or whether she's just biding her time is another matter! Klein starts to realise just how much he's manipulating her, and how much he's responsible for obliterating her past, and therefore her future. If he thinks she's going to take that lying down, he's very much mistaken! Cos this is Klein! You've got the bizarre dual thing of her being outraged at these insects against whom mass genocide is taking place, but at the same time she's plotting revenge against The Doctor!'.

---
Companion Chronicles

This release also includes the twelfth and final part of "The Three Companions" - the 12-part Companion Chronicles mini-series which are a bonus feature on the monthly Doctor Who plays since April 2009. Each of the 10-minute episodes has been written by Marc Platt and has been directed by Lisa Bowerman.


This special story brings together Sir Alistair Gordon Lethbridge-Stewart (aka The Brigadier) (played by Nicholas Courtney) and Polly (played by Anneke Wills), who discover that their past travels with The Doctor share a common link... Meanwhile, Thomas Brewster (played by John Pickard) is watching from a distance, and he is now the owner of a stolen TARDIS...



Also starring in this episode is Russell Floyd.



Episode Twelve: "The Sacrifice": As London floods, can Polly and Thomas Brewster save the Brigadier from the clutches of the Hunter?


---
Big Finish Magazine - Vortex: Issue 12 (February 2010)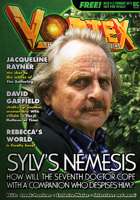 Vortex: Issue 12

Issue 12 of 'Vortex - The Big Finish Magazine' was also sent out to subscribers with this release.



In this issue...
1. Editorial - Nicholas Briggs

2. Sneak Previews and Whispers - Jago and Litefoot – Series 1 Box set and Doctor Who - The Companion Chronicles: "The Time Vampire"

3. In The Studio - Putting The Band Back Together

4. Interview - 7 Up

5. Forthcoming Releases - February 2010 - November 2010

6. Q&A - Sally Humphreys

7. Letters

8. Q&A - Jac Rayner

9. Q&A - David Garfield

10. Team Twitter

11. Behind-The-Scenes

| | |
| --- | --- |
| Published By: | Big Finish Productions Ltd |
| Managing Editor: | Jason Haigh-Ellery |
| Editors: | Nicholas Briggs and David Richardson |
| Assistant Editor: | Paul Spragg |
| Design and Layout: | Alex Mallinson |
| Published: | February 2010 |
| Page Count: | 20 |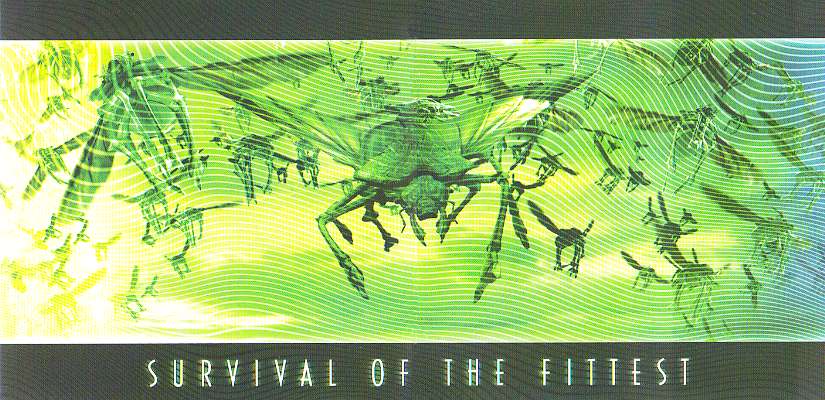 Notes:
Featuring the Seventh Doctor and Elizabeth Klein.
Serial Number: 7Z/F & 7Z/G
Number of Episodes – "Klein's Story": 1 and "Survival of the Fittest": 3
Cover Length: 120 minutes
Main Story Episode Lengths – "Klein's Story": 1 = 32'18" and "Survival of the Fittest": 1 = 30'15", 2 = 27'42", 3 = 28'30"
Main Story Total Lengths – "Klein's Story": 32'18" and "Survival of the Fittest": 86'27"
Extra Story Episode Length: 12 = 12'29"
Also features 18 minutes of trailers and special behind-the-scenes interviews with the cast and producers.
This story takes place takes place after "Survival" and the audio story "A Thousand Tiny Wings".
Cover Illustration: Alex Mallinson
Recorded: 7th and 8th September 2009
Recording Location: Moat Studios
Released: February 2010
ISBN: 978-1-84435-434-4
---
On the Back Cover:

On a distant world, the Doctor and Klein discover that the insect-like race that they come to know as the Vrill have been call but wiped out by the mysterious and terrifying Winterlack. Discovering the true nature of the Winterlack, Klein is cast out of the Vrill nest into the jungle beyond. There, she is forced to confront the Winlerlack threat alone.



In the Vrill nest, the Doctor desperately searches for a way to save the Vrill from extinction. But the odds are against him and time is running out.

---
On the Inside Cover:

Writer's Notes: Jonathan Clements


My grandmother was convinced she'd been had. After gassing the nest and plugging up the holes, the exterminator returned a few days later to check on it. When he unplugged the entrance, a bunch of wasps flew out and away. But he assured us that the nest was dead, and that the fugitives were merely the last hatchlings, from post-apocalyptic eggs.



The idea of insect civilisation brings questions of its own. How would it operate? How would they feel about being born, already forced into incontrovertible specialisms? As her first act after hatching, a newborn bee queen will murder her twin sister in the neighbouring cocoon. Every insect must know its place. When Big Finish asked me to think on the implications of taking Klein's ideology to logical conclusions, I drew on my childhood memories, and the concept of a group of creatures, born alone in the dark in the ruins of their world, then freed to fly away to an unknown fate. Where did they think they were going? Were they only following orders?


Writer's Notes: John Ainsworth



Having decided that Survival of the Fittest would work better as a three-part story, I immediately thought that it would he a great opportunity to tell Klein's back-story in her own words. It also gave us the chance to feature Paul McGann in an unusual guest-star role!



If you've already heard Klein's original adventure, Colditz, hopefully you'll enjoy this dramatised reminder of what was briefly spoken about in that story. By listening to Klein's Story, new listeners don't really need to have heard Colditz at all to understand this trilogy of adventures (although you should, because it's very good and it's got David Tennant in it as a Nazi!).



I soon discovered that writing a script from scratch is a different experience from script-editing another author's work. Writing can be a painful but rewarding experience. I am very thankful that I was able to work with my co-author, Lee Mansfield, who put the flesh and the flair on my bare bones of a script. We hope you enjoy this glimpse into Klein's lost past.

---
Who's Who?

The Seventh Doctor

First television appearance: "Time and the Rani"
First chronological Big Finish audio appearance: "Unregenerate!"



He has been exploring the universe for hundreds of years. He fights injustice. He defeats evil. He helps people. In the past, the Doctor has shared his adventures with friends, but now he travels clone. In this regeneration, the Doctor can be impish, devious even, but also greatly compassionate; whimsy and melancholy do battle inside this persona, but the good and the just can always rely on him.


Elizabeth Klein

First chronological Big Finish audio appearance: "Colditz"



A committed and ambitious Nazi from an alternative future in which Germany won the war. Dr Elizabeth Klein made the fatal mistake of travelling bock in time to Colditz Castle in 1944 in order to meet the Doctor. Unwittingly, her own actions returned time to its proper course, Germany lost the war and now Klein is all that is left of a future that no longer exists, if she can't return home, then she is determined to recreate the world that only she remembers. The key to her dreams is the Doctor, someone she never expected to see again.
---
Full Cast List:
Survival of the Fittest
The Doctor
Sylvester McCoy
Elizabeth Klein
Tracey Childs
Steffen
Adrian Bower
Rose
Hannah Smith
Lilly
Evie Dawnay
Jackson
Mark Donovan
The Carrion
Alex Mallinson
The Authority
Adrian Bower
The Vrill
Hannah Smith and Evie Dawnay
The Watcher
Mark Donovan
Klein's Story
The Doctor
Sylvester McCoy
Elizabeth Klein
Tracey Childs
Faber
Rupert Wickham
Johann Schmidt
Paul McGann
Companion Chronicles - Episode Twelve: "The Sacrifice"
Polly Wright
Anneke Wills
Sir Alistair Lethbridge-Stewart
Nicholas Courtney
Thomas Brewster
John Pickard
Gerry Lenz
Russell Floyd
The Production Team:
Survival of the Fittest
Writer
Jonathan Clements
Director
John Ainsworth
Sound/Music
Simon Robinson
Klein's Story
Writer
John Ainsworth and Lee Mansfield
Director
John Ainsworth
Sound/Music
Simon Robinson
Companion Chronicles - Episode Twelve: "The Sacrifice"
Writer
Marc Platt
Director
Lisa Bowerman
Sound/Music
Richard Fox and Lauren Yason
All Three Stories:
Theme Music
David Darlington
Script Editor
Alan Barnes
Producer
David Richardson
Executive Producers
Nicholas Briggs and Jason Haigh-Ellery