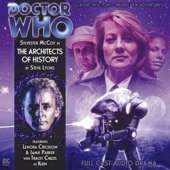 The Architects of History
(Steve Lyons)

The release for March 2010, "The Architects of History", is a four-part story and is the dramatic climax for the trilogy for the Seventh Doctor and his new companion Elizabeth Klein (played by Tracey Childs). This story has been written by Steve Lyons and is set in Earth's future.



This story was recorded on the 1st and 2nd August 2009 and has been directed by John Ainsworth.



Reunited with the character that he created, Steve Lyons eagerly took the opportunity to write "The Architects of History" and bring Klein's story to an exciting conclusion.



As the Klein Trilogy comes to a dramatic climax, it seems she may finally have made some progress in restoring the timeline she remembers - a timeline where the Nazis won World War Two. The question is could Big Finish Productions do a story where she actually succeeded but without it getting too messy? To try and answer this question writer Steve Lyons has revealed: 'We've tried to do an alternate timeline story, whilst also keeping it contained'.



As to Klein's as a companion Big Finish Productions have had to be careful regarding her origins and aims. 'I did try to make her sympathetic', Steve Lyons has revealed. 'I don't stress the Nazi views - that actually doesn't come up a lot, She hasn't thought too hard about what her world was built on, and that's something that she has to confront in this story, as she rebuilds that world. She has to think about the sacrifices she makes to do it'.

Producer David Richardson has added to this: 'This is us doing Klein on full steam. We really ramp up the action, the epic space adventure. The plan was always to start small, and get bigger, and this is our big sci-fi epic, which takes everything that's gone before, and ramps it up to a factor of ten!'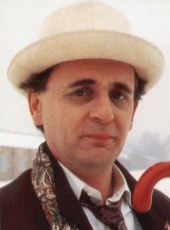 Seventh Doctor

As well as Klein, Steve Lyons has also employed some of his other creations from the past. For the first time on audio, The Doctor will come face-to-face with his old enemies, the Selachians - a race of aquatic aliens that the Second Doctor previously met in Steve Lyons's The Past Doctors novels "The Murder Game" and "The Final Sanction". As Steve Lyons has revealed: 'I'm thrilled to be back writing the Selachians ten years on, and to be pitting them against a new Doctor in a new medium. I originally created them for a Second Doctor base-under-siege story, and so designed them to be very typical old-school Doctor Who monsters. Their hobbies are stomping around, firing guns and shouting. Hopefully, though, they still have a few surprises up their sleeves!'



Guest stars include, Lenora Crichlow (who appeared in the 2007 television story "Gridlock") as Rachel, Lloyd McGuire (who guest starred in the 1977 story "The Face of Evil") as Tendexter while Jamie Parker (who starred in the movie The History Boys) plays Richter. Also starring are: Ian Hayles, Chris Porter, Rachel Laurence and David Dobson.



This story may conclude Klein's adventures for the time being, but actress Tracey Childs is reluctant to say goodbye and has revelled that she is desperately fond of Klein. So maybe we have not heard the last of what has turned out to a rather likeable, if different, companion.

---
Big Finish Magazine - Vortex: Issue 13 (March 2010)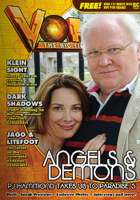 Vortex: Issue 13

Issue 13 of 'Vortex - The Big Finish Magazine' was also sent out to subscribers with this release.



In this issue...
1. Editorial - Nicholas Briggs

2. Sneak Previews and Whispers - Doctor Who – The Lost Stories: The First Doctor Box Set and Doctor Who – Short Trips

3. In The Studio - New Moon

4. Q&A - PJ Hammond

5. Forthcoming Releases - March 2010 - December 2010

6. Feature - Jago & Litefoot

7. Letters

8. Interview - Lyons & Sharks

9. Team Twitter


| | |
| --- | --- |
| Published By: | Big Finish Productions Ltd |
| Managing Editor: | Jason Haigh-Ellery |
| Editors: | Nicholas Briggs and David Richardson |
| Assistant Editor: | Paul Spragg |
| Design and Layout: | Alex Mallinson |
| Published: | March 2010 |
| Page Count: | 20 |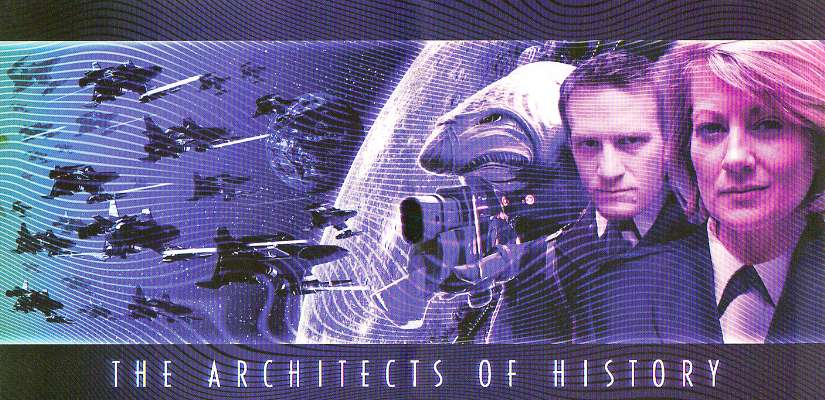 Notes:
Featuring the Seventh Doctor and Elizabeth Klein.
Serial Number: 7Z/H
Number of Episodes: 4
Cover Length: 120 minutes
Episode Lengths: 1 = 28'42", 2 = 27'48", 3 = 29'35", 4 = 31'47"
Total Length: 117'52"
Also features 28 minutes of trailers, music and special behind-the-scenes interviews with the cast and producers.
This story takes place takes place after "Survival" and the audio story "Survival of the Fittest".
Cover Illustration: Alex Mallinson
Recorded: 1st and 2nd August 2009
Recording Location: Moat Studios
Released: March 2010
ISBN: 978-1-84435-435-1
---
On the Back Cover:

The year is 2044. Earth is enjoying a Golden Age of peace, prosperity and technological advancement… but somebody is plotting to destroy all that. The Selachians, shark-like alien monsters, launch a crippling attack on Earth's Moonbase, using deadly weapons from the future.



Help is at hand. A police telephone box appears in a Moonbase hangar. A time-travelling hero has returned in the hour of Earth's greatest need. Now, Elizabeth Klein must fight to save not only the Galactic Reich but Time itself from the mysterious prisoner who has orchestrated these fateful events... the Doctor.

---
On the Inside Cover:

Writer's Notes: Steve Lyons


It happened during the recording of Colditz in May 2001. As soon as we heard Tracey's brilliant performance, director Gary Russell asked me to pitch another story for her. Things don't always turn out as planned, however, and what with various delays and changes in direction (at one point, Klein was slated to turn up in the Forge series), it's taken until now for that return to become a reality.



I'd had some thoughts about Klein's immediate future after Colditz - I'd been nursing them for eight years - but now, suddenly, there was a whole trilogy to fill and we needed to take things much further. John Ainsworth and I chatted about making her the Doctor's companion - could we do that? - and about the image that John had in his mind of Nazi spaceships in the future. I'm not keen on alternative timeline stories, because there's always a reset switch looming at the end of them, but perhaps, just perhaps, there was away...


Director's Notes: John Ainsworth



With a gap of eight years between Klein's first appearance in Colditz and this new trilogy of adventures, there's been quite a build-up to this concluding adventure. Just like the Doctor, we here at Big Finish weren't altogether sure about what to do with our time travelling Nazi. We knew this final story had to be big and epic, but as a conclusion to Klein's own story, it had to be both satisfying and surprising.



Happily, Steve Lyons knew exactly what to do with his creation. He also, after a bit of nudging from me, brought his Selachians with him: nasty fish creatures in shark-shaped body armour. It's their first time on audio but they've appeared in Steve's Doctor Who novels before. They are the quintessential Doctor Who monster!



I have enjoyed bringing Klein back for this fantastic trilogy and I am particularly pleased with The Architects of History. Sylvester and Tracey lead a tap notch supporting cast and, along with Steve's excellent script and some fantastic music and sound design from Jamie Robertson, this sounds like a first rate Doctor Who adventure to me.

---
Who's Who?

The Seventh Doctor

First television appearance: "Time and the Rani"
First chronological Big Finish audio appearance: "Unregenerate!"



He has been exploring the universe for hundreds of years. He fights injustice. He defeats evil. He helps people. In the past, the Doctor has shared his adventures with friends, but now he travels clone. In this regeneration, the Doctor can be impish, devious even, but also greatly compassionate; whimsy and melancholy do battle inside this persona, but the good and the just can always rely on him.


Elizabeth Klein

First chronological Big Finish audio appearance: "Colditz"



A committed and ambitious Nazi from an alternative future in which Germany won the war. Dr Elizabeth Klein made the fatal mistake of travelling bock in time to Colditz Castle in 1944 in order to meet the Doctor. Unwittingly, her own actions returned time to its proper course, Germany lost the war and now Klein is all that is left of a future that no longer exists. She can't return home, but is determined to recreate the world that only she remembers. The key to her dreams is the Doctor's TARDIS, but changing history can have unforeseen consequences...
---
Full Cast List:
| | |
| --- | --- |
| The Doctor | Sylvester McCoy |
| Elizabeth Klein | Tracey Childs |
| Rachel Cooper | Lenora Crichlow |
| Sam Kirke | Ian Hayles |
| Major Richter | Jamie Parker |
| Generalleutnant Tendexter | Lloyd McGuire |
| Selachian Leader | Chris Porter |
| Feldwebel/Computer Voice | Rachel Laurence |
| Pilot/Selachian | David Dobson |
| | |
The Production Team:
| | |
| --- | --- |
| Writer | Steve Lyons |
| Director | John Ainsworth |
| Sound/Music | Jamie Robertson |
| Theme Music | David Darlington |
| Script Editor | Alan Barnes |
| Producer | David Richardson |
| Executive Producers | Nicholas Briggs and Jason Haigh-Ellery |