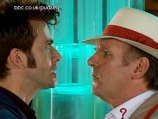 The Doctor meets The Doctor

After saying farewell to Martha, The Doctor soon encounters a problem with the TARDIS. Suddenly, and to the astonishment of The Doctor, his fifth incarnation appears in the console room. After recovering from the initial shock the Tenth Doctor is gleeful at the meeting, but the Fifth Doctor is initially baffled, assuming his future incarnation is a deranged fan..



The Tenth Doctor explains that he forgot to put the shields up after rebuilding the TARDIS, after it was taken over by The Master, thus allowing it to collide with the Fifth Doctor's TARDIS in the timestream. Unfortunately this event generates a paradox at the heart of the ship, which is powerful enough to rip a hole in the universe. And to confirm this the Cloister Bell is heard signaling the impending end.



The Tenth Doctor manipulates the TARDIS controls to manipulate a supernova so as to cancel out the black hole caused by the paradox - thus making sure that all matter remains constant. This amazes the Fifth Doctor, but he quickly realises that the Tenth Doctor came up with the solution only because he remembered this encounter.



With the universe safe The Fifth Doctor says his farewells and so departs. But before he does so he reminds his future self to raise the TARDIS shields again, but he is too late as the hull of the RMS Titanic crashes through one of the TARDIS walls (as originally seen at the end of the last series).


'Look at you! The hat, the coat, the crickety-cricket stuff, the... stick of celery, yeah... brave choice, celery, but fair play to you, not a lot of men can carry off a decorative vegetable. '

The Tenth Doctor
Format
Title
Release Date (UK)
Code Number
Cover Art
Remarks

DVD

Released in March 2008, along with "Voyage of the Damned". Due to be released as part of a boxed set in November 2008.
Format
Title
Release Date (UK)
Publisher
Author
Cover Art
Remarks

Novel
No Book release.
| | |
| --- | --- |
| Doctor Who Magazine Archive: | |
| Doctor Who In-Vision Magazine: | No In-Vision release. |