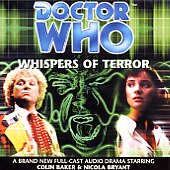 Whispers of Terror
(Justin Richards)

The next story released, on the 1st November 1999, was "Whispers of Terror". Originally titled The Sound of Fear it was written by Justin Richards and directed by Gary Russell. It was recorded on the 17th and 18th July 1999 and stars Colin Baker, as the Sixth Doctor, Nicola Bryant, as Peri, and has a guest appearance by Bernice Summerfield adventures star Lisa Bowerman. Also starring are: Rebecca Jenkins, Hylton Collins, Matthew Brenher, Harvey Summers, Peter Miles, Mark Trotman, Nick Scovell and Steffan Boje.

It is late at night, well past closing time at the Museum of Aural Antiquities where every sound is stored for posterity including the personal recordings of the late actor-turned-politician Visteen Krane. Curator, Gantman, plays some of the Museum's new additions completely unaware that two unauthorised visitors have just broken into the museum. He is also unaware that the TARDIS has materialised in one of the galleries, and that The Doctor is exploring the museum, followed by a rather less than enthusiastic Peri who hears whispering in the distance.



Elsewhere in the museum the other two intruders are interfering with some of the museum's recordings. They too hear whispering and other strange voices when suddenly the whispering echo suddenly rises to a tortuous volume, causing one of the intruders to stagger helplessly into an electrified security door.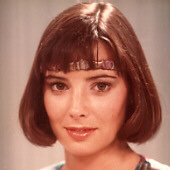 Peri

It is not long before the museum's staff become not only aware of the death but also of The Doctor and Peri's presence. The Doctor and Peri are soon accused of murder. When further killings occur, the local police need not look for anybody else when there are two very obvious suspects who cannot account for their presence in the museum. The Doctor and Peri find themselves not only trying to prove their innocence but also trying to uncover who the real murderer is.

Why have a pair of mercenaries broken into the Museum and why are they intent on altering Krane's recordings? And what is so important about the wording that is being altered. With more strange sounds being heard within the corridors and galleries of the museum The Doctor is unable to identify their source. He is also unable to understand the meaning of one single furious voice that can be heard, within the echoes of whispering, babbling, bits of Krane's speeches, repeating the same words over and over again "Tell me who I am! Tell me who I am!"



The Doctor then makes a startling discovery which leads to a quandary. How do you defeat a creature that is made of pure sound?


Notes:
Featuring the Sixth Doctor and Peri.
Serial Number: 6Z/A
Number of Episodes: 4
Cover Length: 110 minutes
Episode Lengths: 1 = 22'51", 2 = 23'16", 3 = 22'50", 4 = 21'40"
This story takes place between "Revelation of the Daleks" and "The Trial of a Time Lord".
Cover Illustration: James Arnott
Recorded: 17th and 18th July 1999
Recording Location: NU Groove Studios
Released: November 1999
---
On the Back Cover:



The Doctor and Peri find themselves in the Museum of Aural Antiquities, where every sound is stored for posterity - from the speeches of Visteen Krane to security service wire taps and interrogation tapes. But they also find an intruder, mysteriously changed recordings, and a dead body.



Before long The Doctor realises that there is more going on than a simple break-in or murder. How can he defeat a creature that is made of pure sound?
---
On the Inside Cover:



The starting point for "Whispers of Terror" was a desire to do something with the aural medium that just could not be done in the same way on television or in a novel. Having decided that, I then turned to Shakespeare - always a useful inspiration, I find! - and asked myself, What if the voice of her conscience that drives Lady Macbeth to suicide were 'real? Just as her husband actually sees Banquo's ghost, what if she really hears someone whispering to her - driving her quite deliberately to suicide?



I was aware as I was writing that I was asking for a lot technically. But it was only during the recording that I realised the extent of my ambition. Sitting beside Harvey Summers while he sighed and swore and mumbled about how BBC studio engineers would say all this was possible only confirmed my evolving suspicions. I was indeed asking a lot both of the technicians and the actors. But as you will hear, I was asking it of the people best qualified in the world to deliver.
Justin Richards,
July 1999
---
Full Cast List:
Part One
The Doctor
Colin Baker
Peri
Nicola Bryant
Amber Dent
Rebecca Jenkins
Goff Fotherill
Hylton Collins
Visteen Krane
Matthew Brehner
Radio Announcer
Harvey Summers
Museum Curator Gantman
Peter Miles
Miles Napton
Mark Trotman
Detective Berkeley
Nick Scovell
Part Two
The Doctor
Colin Baker
Peri
Nicola Bryant
Museum Curator Gantman
Peter Miles
Amber Dent
Rebecca Jenkins
Detective Berkeley
Nick Scovell
Hans Stengard
Steffan Boje
Beth Pernell
Lisa Bowerman
Visteen Krane
Matthew Brehner
Goff Fotherill
Hylton Collins
Miles Napton
Mark Trotman
Part Three
The Doctor
Colin Baker
Peri
Nicola Bryant
Beth Pernell
Lisa Bowerman
Visteen Krane
Matthew Brehner
Detective Berkeley
Nick Scovell
Museum Curator Gantman
Peter Miles
Hans Stengard
Steffan Boje
Computer Voice
Hylton Collins
Miles Napton
Mark Trotman
Part Four
The Doctor
Colin Baker
Peri
Nicola Bryant
Computer Voice
Hylton Collins
Visteen Krane
Matthew Brehner
Beth Pernell
Lisa Bowerman
Hans Stengard
Steffan Boje
Museum Curator Gantman
Peter Miles
Detective Berkeley
Nick Scovell
Miles Napton
Mark Trotman
Car Computer
Rebecca Jenkins
The Production Team:
Writer
Justin Richards
Director
Gary Russell
Sound/Music
Nicholas Briggs
Theme Music
Mark Ayres
Producers
Jason Haigh-Ellery and
Gary Russell
Executive Producer for the BBC
Stephen Cole