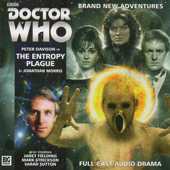 The Entropy Plague
(Jonathan Morris)

The story released in March 2015 is "The Entropy Plague" written by Jonathan Morris and directed by Ken Bentley.



This Fifth Doctor story stars Peter Davison. He is travelling with his three companions: Nyssa, played by Sarah Sutton; Tegan Jovanka, played by Janet Fielding, and Turlough, played by Mark Strickson. Also starring are: Alistair MacKenzie, Catherine Skinner, Robert Duncan, John Voce and Chris Finney.



The latest run of Fifth Doctor stories has thrilled its cast. As revealed by Sarah Sutton 'This trilogy is one of the best that has been written for older Nyssa, It feels like it's been written specially for her. I'm delighted with what they've given me'.



'The brief was to tie up the E-Space thing, and get back into N-Space' writer Jonathan Morris has revealed. But as script editor Alan Barnes has stated 'It's less of a "What happens next?" sort of story, more a "What just happened?" story. We begin with the regulars attempting to come to terms with an emotionally shattering event. Then the flashbacks begin! But even if you think you know what's just occurred, you won't know how it came about. And we mean to keep you guessing, until the last moment!'



The shanty-town setting was inspired by current events. 'When I was writing it, the news was full of refugees', Jonathan Morris has revealed. 'It's a Noah's Ark moment for a whole universe. Everyone is trying to be on the last ship out, when the universe itself is dying. It's got science-fiction trappings, but it's a humanitarian crisis. It would play on Nyssa's conscience, because she sees people in need and she's selfless, she puts other people first'.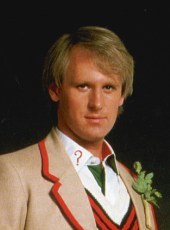 Fifth Doctor

'Essentially, every story needs a monster of some sort, something creepy and memorable and idiosyncratic. I was trying to come up with monsters, and the idea of entropy as a disease that makes you gradually dry out and calcify and turn to dust, and then become a monster that feeds on that, was not only quite creepy and effective, but also it tied in with Nyssa's background, because her home planet was destroyed by entropy. It becomes her particular nightmare made flesh'.



This story comes to a very emotional conclusion which as revealed by Jonathan Morris 'Was actually straightforward to write because, writing the rest of it, I'd always had that in my mind as something I was working towards. There were certain things that really needed to be said, for the characters gain closure. The challenge of it all was I have to make myself feel the emotion in order to write it believably. And that; a heartbreaking moment'.



'Part of it was just trying, with the audios, to move Doctor Who into twenty-first century storytelling, where it's much more character-based and emotional, and much more about getting the audience to feel, whereas back in the 1980s it was very action-and special-effect-oriented. It was very science-fiction, and the characters were never treated with any great depth. So there's that aspect as well. This is Doctor Who a bit more grown-­up than usual'.


---
Big Finish Magazine - Vortex: Issue 73 (March 2015)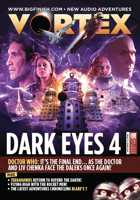 Vortex: Issue 73

Issue 73 of 'Vortex - The Big Finish Magazine' was also sent out to subscribers with this release.



In this issue...
1. Sneak Previews & Whispers – The Companion Chronicles The First Doctor Box Set

2. Editorial - Zelda

3. Article - Dark Eyes 4 - The Eyes Have It!

4. Article - Blake's 7 - Eleventh Heaven

5. Article - Terrahawks - The Reign of Terra

6. Article - Requiem for the Rocket Men - Kings of the Rocket Men

7. Article - Listen Again - The Invasion of E-Space

8. Vortex Mail

9. Coming Up... Release Schedule – March - December 2015



| | |
| --- | --- |
| Published By: | Big Finish Productions Ltd |
| Managing Editor: | Jason Haigh-Ellery |
| Editor: | Kenny Smith |
| Executive Producer: | Nicholas Briggs |
| Line Producer: | David Richardson |
| Design: | Mark Plastow |
| Published: | March 2015 |
| Page Count: | 24 |
---
Notes:
Featuring the Fifth Doctor, Nyssa, Tegan Jovanka and Turlough.
Number of Episodes: 4
Cover Length: 120 minutes
Episode Lengths: 1 = 25'42", 2 = 25'20", 3 = 23'53", 4 = 27'07"
Total Length: 102'02"
Also features 28 minutes of trailers, music and special behind-the-scenes interviews with the cast and producers.
Cover Illustration: Will Brooks
Recorded: TBA
Recording Location: Moat Studios
Released: March 2015
ISBN: 978-1-78178-449-5
---
On the Back Cover:

A Great Darkness is spreading over E-Space. Entropy increases. In search of a last exit to anywhere, the TARDIS arrives on the powerless planet of Apollyon, where the scientist Pallister guards the only way out - a mysterious portal. But the portal needs power to open, and the only power Pallister can draw on is the energy contained within the molecular bonds of all living tissue...



The Doctor, Nyssa, Tegan and Turlough soon learn that neither Pallister nor his ally, the space pirate Captain Branarack, will stop at murder to ensure their escape. But they're not the only menace on Apollyon. The Sandmen are coming - creatures that live on the life force; that live on death.



Death is the only way out into N-Space. Death, or sacrifice.



But whose death? Whose sacrifice?

---
On the Inside Cover:


Director's Notes



I've come to terms with the fact that my job is to take your favourite characters and make sure the very worst things happen to them. I wish there could be another way, but that's just how drama works.



I also firmly believe there's a cosmic equation that determines the nicer and more popular the character, the more unpleasant their life has to be. It's what makes stories so satisfying. Not just that things happen to them, but seeing how they cope.



One of the most intriguing concepts in The Entropy Plague is that life has a value. Life isn't just at stake - as it often is in Doctor Who- but here life is a commodity over which people are prepared to lose their own. Life and the value of life is discussed on so many levels that the play manages to both prepare us for and, in many ways, enable us to come to terms with what ultimately happens.



In itself that would be an achievement, but the play manages to do all this and still be a bundle of fun along the way. It is at times quite literally a roller coaster. So hold on tight, because things are going to get emotional.


KEN BENTLEY


Writer's Notes



The Entropy Plague was written in March 2014. Back then, the Syrian refugee crisis was the main story on every day's edition of the news. And I think this story reflects that. It's about another refugee crisis, a story of people abandoned and left behind, and the terrible choices that have to be made in the name of survival. Can it ever be justifiable to sacrifice an innocent life to save others?



Of course, that's not all it's about. I was inspired by the Naples section of Russell T Davies' Casanova, and the memento mori carnivals of New Orleans, the idea of people partying as the world collapses in rubble around them. There are scary monsters and sinister robots, brutish space pirates and an unscrupulous scientist. All the ingredients for a classic Doctor Who story. But given a bit of a twist. I wouldn't claim this story is 'experimental' but it takes a slightly different narrative approach than usual.



Because - and this isn't a spoiler - The Entropy Plague marks the final chapter in a storyline that began with Cobwebs back in 2010. If you haven't heard that story, you don't need to. have done so. You also don't need to have heard Prisoners of Fate from 2013, but if you did, you may feel that its ending left a few issues unresolved. That was always the plan, and the pay-offs to those set-ups can be found in The Entropy Plague. I hope you find they were worth the wait. (Yes, I've shamelessly plugged my own stories but I highly recommend all the other ones too!)



While I have your attention, I'd just like to thank Peter Davison, Janet Fielding, Sarah Sutton and Mark Strickson for their fantastic performances in these stories, and for all the adventures - past, present and future.


JONATHAN MORRIS
---
Full Cast List:
| | |
| --- | --- |
| The Doctor | Peter Davison |
| Tegan | Janet Fielding |
| Nyssa | Sarah Sutton |
| Turlough | Mark Strickson |
| Adric | Alistair MacKenzie |
| Cherryanne | Catherine Skinner |
| Pallister | Robert Duncan |
| Branarack/Refugee/Dancer | John Voce |
| Raldarin/Sentinals/Sandmen/Trader | Chris Finney |
| | |
The Production Team:
| | |
| --- | --- |
| Writer | Jonathan Morris |
| Director | Ken Bentley |
| Sound/Music | Andy Hardwick |
| Theme Music | David Darlington |
| Script Editor | Alan Barnes |
| Producer | David Richardson |
| Executive Producers | Nicholas Briggs and Jason Haigh-Ellery |